'This Is Us': How Close Are the Cast Members In Real Life?
Anyone who watches This Is Us secretly hopes the cast hang out after hours. The show is convincing enough, with characters you root for (and cry over) week after week. It's one thing to have chemistry on-screen, but do the actors feel the same in real life?
There are 'This Is Us' traditions in place for a reason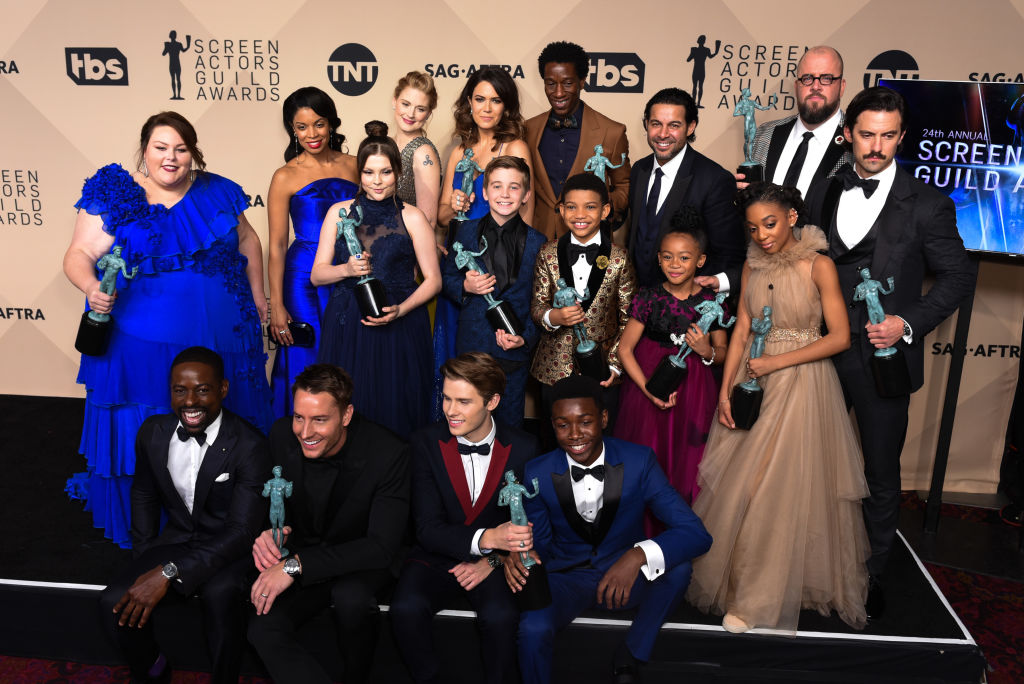 The magic of This Is Us begins with patriarch and matriarch, Jack (Milo Ventimiglia) and Rebecca Pearson (Mandy Moore). Moore explained to E! News that she and Ventimiglia "met in a handshake in a test. She said it felt right "because the chemistry was so effortless and palpable."
You'd never guess they didn't know each other before, by the way they parent their fictional children so seamlessly. She also confessed the two watch every episode together (except one) in creator, Dan Fogelman's office.
"It's like our little tradition," she told Huffington Post.
It's a tradition the entire cast has been part of many times over, helping them bond over their craft, and with one another.
Moore previously told The Hollywood Reporter what the secret sauce is to having such an easy relationship on set, saying the most important thing is that they "love each other."
With Moore's TV history, she admitted she was initially reluctant, but the script had her sold.
"I'm a huge fan of Dan's and felt certain that I was Rebecca and was dying to be a part of it."
The rest of the cast seems to feel the same. Their bond on set is clear, but where do they fare off set?
Sterling K. Brown weighed in on why 'This Is Us' works
"We have so much fun with each other," Brown told E! News. "Whether it's a serious or sincere scene, there's still this sense of play that underscores everything that we do that I have appreciated. It's always a joy."
If there's one thing Brown can compare his This Is Us costars to, it's a family.
"It seems so clichéd, like, 'Do they really love each other as much as it seems?' The answer is yes!" he said. "The joy is what I feel for my brother and sister, for my wife, for my mother and father, my mom who's younger than me, and my dad who's younger than me, these kids, my children, the younger versions of us."
The family-like feeling is mutual. Brown went on to explain why it's important for the show's success.
"You can't fake a relationship on-screen if you don't have it off-screen," he said. "I don't know what the alchemy is, what Dan Fogelman saw in all of us…but he brought together a group of wonderful thespians who happen to be even better individuals."
Mandy Moore credits on co-star with 'galvanizing everyone to hang out together'
In various interviews, it's clear each This Is Us star knows the others pretty well. It might be because they spend so much time together on set, or because they spend almost as much time together in their free time.
Regardless, Ventimiglia is known on set as the true patriarch of everyone involved with This Is Us. He's the star who learns everyone's name, cast and crew, and the one who comes bearing gifts for the little versions of The Big 3.
Not only that, Moore can attest to Ventimiglia's Jack-isms, especially when it comes to the behind-the-scenes stuff the public doesn't see.
"He's the one that galvanizes everyone to hang out together," she told E! News. "Somehow information makes its way to him first," she said. "I'm surprised he didn't know about the pick-up before any of us. He's that guy. He knows everyone. Everybody loves him. He talks to everybody."
He continued on his and Moore's relationship on and off set saying, "We both feel protective of our group. Not just our cast but our entire group. There is a level of looking out for everyone. I know Susan has called me 'Papa Pearson' or 'Papa Bear' before. So if she says it it must be true."
There's something comforting knowing your favorite Pearson family is just as close in real life. Take a cue from the This Is Us cast and make the effort to know your coworkers. Maybe then, it won't feel less like work and more like family. Jack would approve.