'This Is Us': This Kate and Marc Theory Will Have You Re-Watching the NBC Series for Clues
This Is Us Season 4 might be on hiatus, but fans aren't slowing down with their theories anytime soon. The NBC drama returns with all-new episodes starting Tuesday, Jan. 14. And hopefully, This Is Us viewers will get a few more questions answered, including what's going on between teenage Kate (Hannah Zeile) and her boyfriend Marc (Austin Abrams). But of course, fans have already come up with a few clever — and devastating — ideas about what happened to Kate in the past. So hold on tight. This one isn't for the faint of heart.
What happened to Kate and Marc in the first half of 'This Is Us' Season 4?
This Is Us Season 4 hasn't shown viewers much of Kate and Marc's relationship. In the fourth episode, titled "Flip a Coin," Kate meets Marc at a record store. And after a brief flirtation, Marc hires Kate to work at the shop.
Then in the next episode, titled "Storybook Love," Marc shows up unannounced to a Pearson family dinner hosted by Rebecca (Mandy Moore) to celebrate teenage Kevin (Logan Shroyer) and Sophie's (Amanda Leighton) marriage. Upon arrival, Marc also introduces himself to the family as Kate's boyfriend. Of course, on the surface, this doesn't seem like an issue. However, Kate referred to him as a friend from work before Marc made his "grand gesture."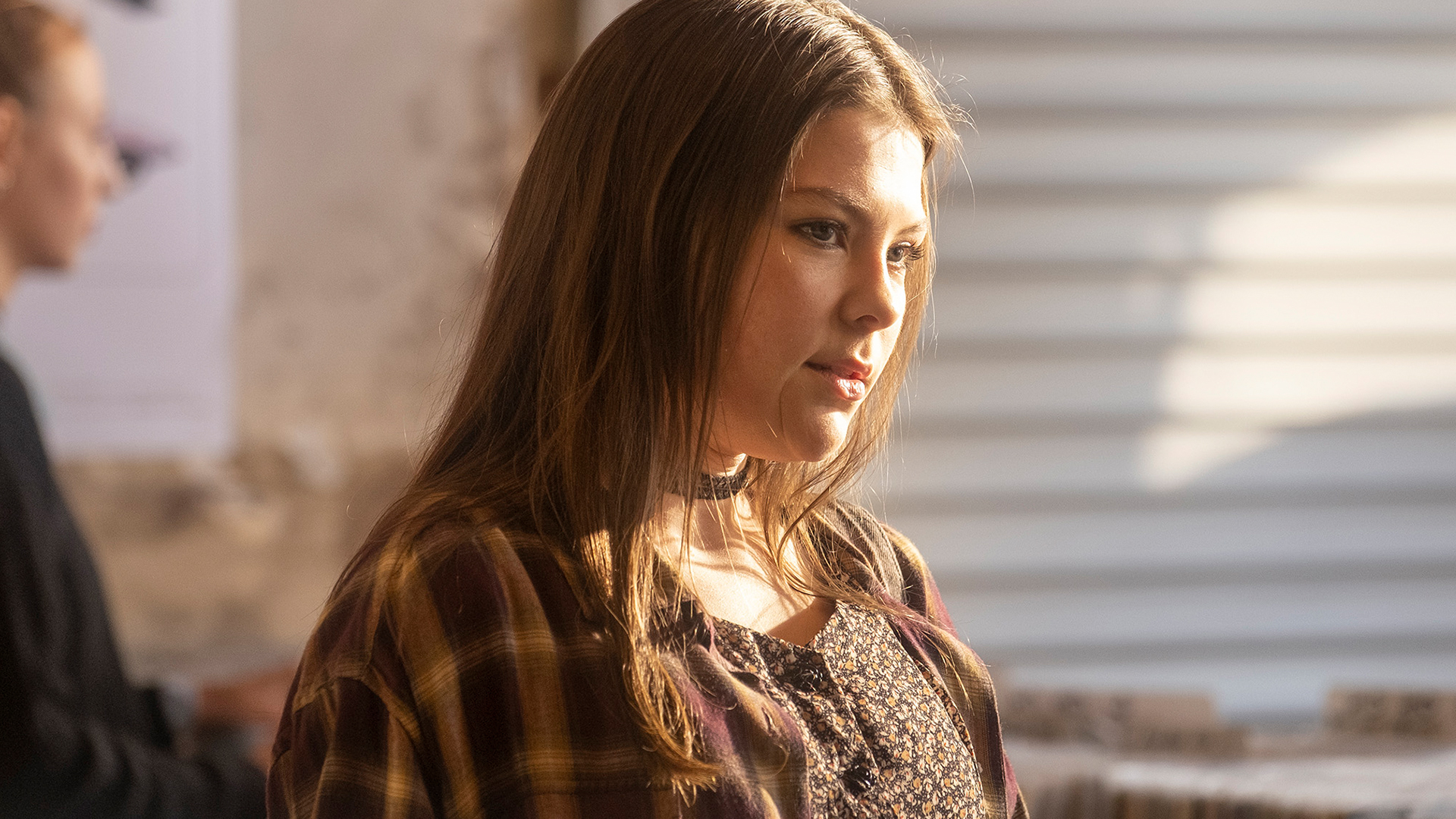 Later in the episode, present-day Kate (Chrissy Metz) and Rebecca are sifting through polaroids from the Pearson family dinner. And Kate appears fond of the memory until she stumbles on a picture with Marc. Rebecca tells her daughter that she "didn't see what was happening" back then because she desperately wanted to believe everyone was happy after Jack (Milo Ventimiglia) died.
Marc also makes a short appearance in the eighth episode, titled "Sorry." And while he doesn't receive much screen time, the scene makes an impression. Marc walks straight into the Pearson household the pick up his girlfriend for a movie date. He refers to teenage Randall (Niles Fitch) as "Randy," and waltzes right into the family's fridge without asking. Then he shuts down Kate's desire to watch "Practical Magic," by making a snarky comment about the film.
'This Is Us' fans think Kate and Marc will have an abusive relationship
Now, Marc and Kate's relationship arc on This Is Us has been put on pause. As mentioned, the fourth season is currently on hiatus. Meanwhile, the fall finale did not include any scenes involving the couple.
Nevertheless, this break didn't stop viewers from speculating what's on the horizon. Then one fan on Reddit shared a popular theory that suggests Kate and Marc had an abusive relationship — and one throwaway line from the first season could have foreshadowed it.
"Back in season 1 when Kate was first dating Toby [Chris Sullivan] she said she broke her arm and Kevin was miles away and could feel it," the fan wrote. "I wonder if we'll see this unfold in the next part of the season with the back story of mark. I know a lot of people have speculated that could have been some sort of abuse in their relationship."
The quote in question comes from the third episode, titled "Kyle." During an argument, Kate tells Toby, "We're twins, we're not like regular people. When I was a kid, I broke my arm. And he cried out in pain ten miles away."
That said, it seems more likely that this quote has nothing to do with Kate's relationship with Marc. At this point, Kevin lives in New York with Sophie, which is more than 10 miles from Pittsburgh.
Regardless, many fans believe the This Is Us theory is plausible. But even so, others pointed out there will be plenty of digging through past seasons once the NBC series dives further into the story.
"I have a good feeling after we see what happens with her and Mark we will rewatch it and so much about her personality will make sense to the ones that aren't too fond of her," a fan wrote.
What 'This Is Us' executive producers say about Kate and Marc in season 4
On Oct. 22, This Is Us executive producers Elizabeth Berger and Isaac Aptaker confirmed fans should be worried about Kate and Marc's relationship.
"Fans should have a healthy amount of concern," Aptaker told Entertainment Weekly. "There's something ominous looming there, the way that Rebecca and Kate are speaking about that relationship in present day. And although he seems like a sweet guy now, it certainly seems like that did not end well for Kate."
Then in a separate interview with Entertainment Weekly on Nov. 12, Aptaker and Berger teased the relationship further. And the executive producers explained that while fans know Kate is fine in the present day, her relationship with Marc has devastating — and lasting — effects.
"Kate is now 39 years old and a highly functioning woman, so she got out of the relationship somewhat unscathed in the long run," Berger said. "But I think it was definitely a formative relationship and it was a relationship that left serious emotional wounds."
"It definitely goes to an unhealthy place that's going to make a real impact on Kate and stay with her over the years," Aptaker added. "I don't want to say much more than that because I want people to experience it."
Read more: Wait, Did We Already See the 'This Is Us' Season 5 Premiere?