Why 'This Is Us' Fans Think Kate and Toby Get Divorced In the Flash-Forward
This Is Us fans might be worried about teen Kate (Hannah Zeile) and her new boyfriend, Marc (Austin Abrams). But things aren't rainbows and butterflies with present-day Kate (Chrissy Metz) and Toby (Chris Sullivan), either. There's plenty of tension building between Toby and Kate in This Is Us Season 4, especially with the birth of baby Jack and the introduction of a new neighbor, Gregory (Timothy Omundson). However, with the ominous season 3 flash-forward still looming over fans, This Is Us viewers are seriously considering the possibility of Kate and Toby's divorce as the fourth season continues.
[Spoilers for This Is Us Season 4 ahead!]
What happened to Kate and Toby in 'This Is Us' Seasons 3 and 4?
In the This Is Us flash-forward, Kate is nowhere to be seen and Toby may no longer be married, as he is missing his wedding ring. Later, Randall asks Toby if he is coming to see Rebecca (Mandy Moore). And Toby isn't sure if he should go. Randall convinces Toby to come. Then upon arrival, Toby — who is alone — reveals he spoke with his son, Jack, and says "they're on their way."
Now, fast-forward to This Is Us Season 4 — Kate and Toby are learning how to care for their newborn, who they discovered is blind. Both parties are also stressed about becoming new parents and have been seen arguing with each other. Meanwhile, Toby lies to Kate about working out, which causes another rift in the relationship. But ultimately, Kate and Toby are not on the same page.
Then enters Gregory, Kate and Toby's neighbor who is recovering from a stroke. And it appears Kate and Gregory are comfortable with one another. In This Is Us Season 4 Episode 8, titled "Sorry," Kate goes over to Gregory's house and baby Jack ate an avocado — his first solid food — without the presence of Toby. But rather than telling Toby the truth, Kate lies about Jack's first real eating experience at Gregory's.
'This Is Us' fans theorize Kate and Toby's divorce as a result of events rising in season 4
Throughout This Is Us Season 4 thus far, fans have applauded the writers for introducing a subtle slow — yet very real — "unraveling" of Kate and Toby's relationship.
That said, fans wonder how Kate and Toby's This Is Us Season 4 storyline will fit in with the flash-forward. And although some viewers think Kate dies in the future, some speculate Kate and Toby get divorced and Kate will leave Toby for Gregory.
Following the premiere of "Sorry," a Reddit user asked if the lie about the avocado will lead to a bigger fight between Kate and Toby. "Anyone wonder to themselves tonight if the avocado thing with Katoby's neighbor is like a mini sign of an impending feud?" the user wrote.
Then some fans even went as far as hypothesizing that Kate or Toby will have an affair, breaking their marriage.
"Just the final scene where Kate realizes how much Toby is missing out of the baby growing up. My guess is that he is having an affair," one fan wrote.
Another fan replied: "I thought she was thinking about how she hid the earlier avocado from him. I watch another show where a character had an affair and said once they made the first small lie, it was so much easier to lie about bigger things. Maybe Kate will be the one with the affair."
Of course, the This Is Us fan theory could give a whole new meaning to the "they" in the flash-forward sequence. "I think that the 'they' Toby references in the future scene is the neighbor, Kate and Jack," a fan wrote.
But even if Kate and Gregory don't get together as This Is Us continues to move forward, it's likely there will be turbulence ahead for Kate and Toby.
Kate tells Toby about baby Jack's first avocado in the 'This Is Us' fall finale
After "Sorry" ended on NBC, This Is Us released the promo trailer for the season 4 fall finale, airing on Nov. 12. In the clip, it seems Kate tells Toby the truth about baby Jack's first solid food. And he appears to take the news well.
"There will be plenty of firsts," he says.
However, in a sneak peek clip from the This Is Us fall finale, titled "So Long, Marianne," there might be more to the story than we think. Kate tells Toby about baby Jack's first avocado in an airplane to the Pearson family Thanksgiving. And Toby is clearly upset.
"Wow, so you've just been lying to me for the last 24 hours?" he says, adding the lie was "humiliating."
Kate then apologizes and Toby says the line uttered in the fall finale preview clip. However, as the This Is Us teaser fades to black, Toby looks down in disappointment and Kate glances over at her husband.
Chrissy Metz says secrets will affect Kate and Toby's relationship in 'This Is Us' Season 4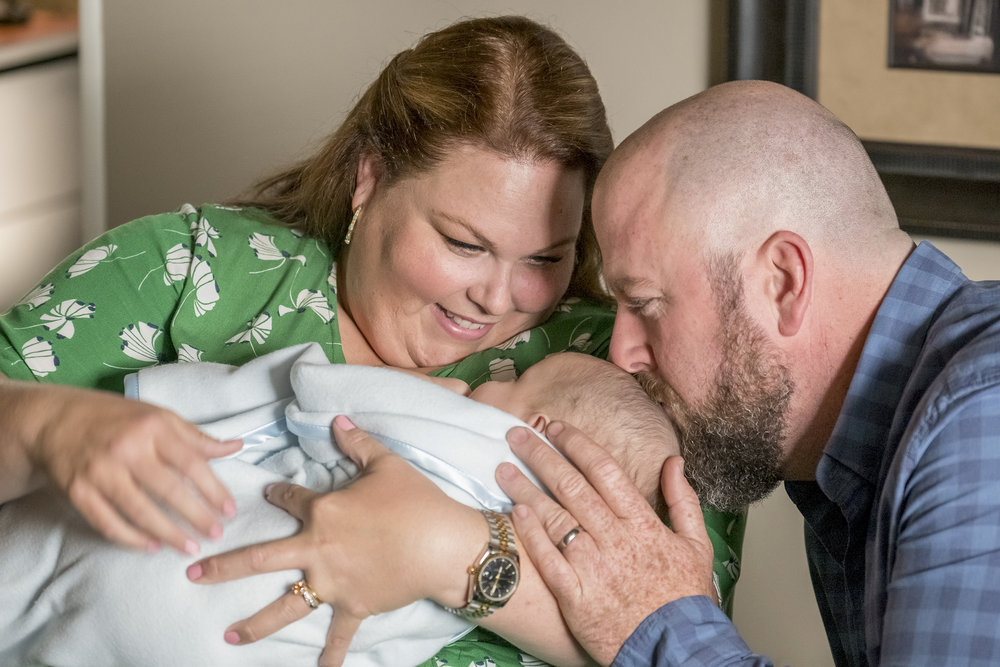 Throughout the course of the fourth season, fans watched as Kate and Toby kept secrets from one another. But will this necessarily lead to Kate and Toby's divorce on This Is Us? Only time will tell at this point. However, in an interview with People in October 2019, Metz hinted that Toby's lies about his weight loss may "evolve" into something more serious in the future.
"I don't think that fans will necessarily expect the secrets that Toby was keeping and how that'll affect their relationship and moving forward," she said. "Trust really is intimacy. The physical stuff is great and wonderful, but real intimacy is trust and so there's a bit of trust that's broken in him keeping this weight loss and working out a secret. We'll see how that evolves and unfolds with them."
Check out Showbiz Cheat Sheet on Facebook!