'This Is Us': Kevin and Sophie Marry for This Heartbreaking Reason, According to Producers
Promos for the fifth episode of This Is Us Season 4 show teen Kevin (Logan Shroyer) telling Rebecca (Mandy Moore) he and Sophie (Amanda Leighton) married. The news is, of course, a shock to all. The reason behind the nuptials might be a little more complicated than you think. Spoilers from episode four below.
Episode four of 'This Is Us' followed Kevin's existential crisis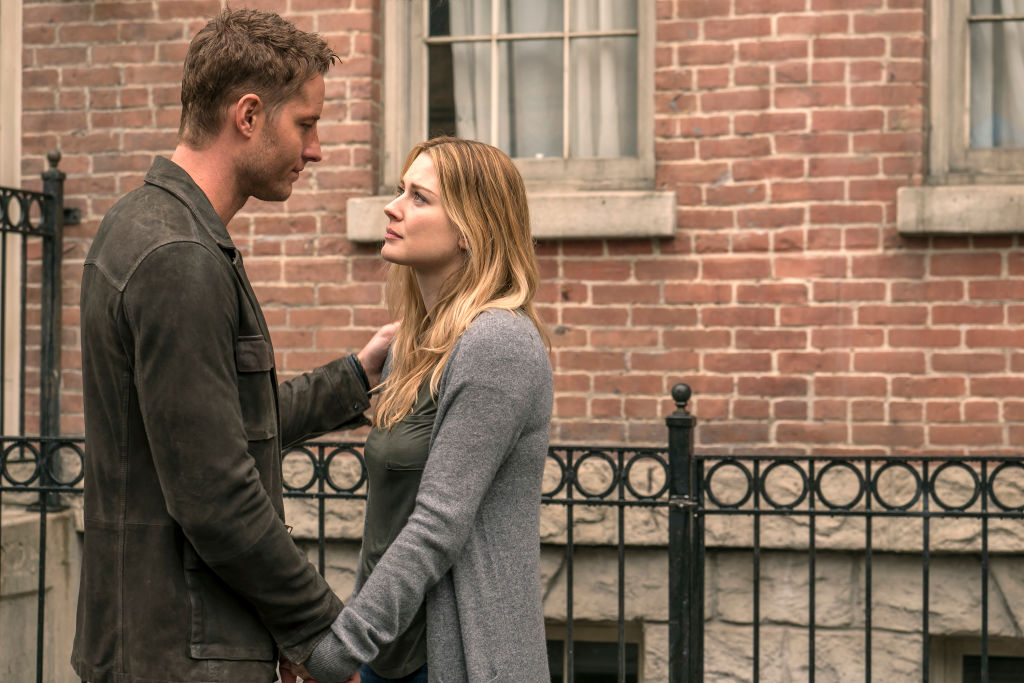 "Flip A Coin" shows adult Kevin (Justin Hartley) after he received the news The Manny, the show that made him famous, was canceled. He left the show to pursue movies (and it ended badly). But, the news reminded him why he chose acting at all.
Kevin reflected, finding himself at a crossroads. He remembered his first episode when he somehow calmed a crying baby on set, which mirrored the relationship he now has with Kate's (Chrissy Metz) baby, Jack.
Though he wondered why he took the job at first, this moment changed his outlook about The Manny and his place on it.
Though Kevin's supposed to stay focus on healing himself from the inside out, he does things his own way. Instead of going through the usual motions of self-care, Kevin flew to Nicky's (Griffin Dunne) doorstep to help him heal from the inside out.
Add to this veteran, Cassidy (Jennifer Morrison), who Kevin also decides he'll help. The three of them bond over their similar pains.
Meanwhile, in a flashback scene 12 years prior, Rebecca (Mandy Moore) answers the phone to Kevin who just booked a commercial and has a bomb to drop.
"And I got married!" he said. "Married to Sophie. Can you send me some money?"
The episode ended there, but the promo showed next week picks up where those words left off.
Why Kevin and Sophie's adult relationship fell apart
Last season Kevin was in a relationship with Zoe (Melanie Liburd). The two attended couple's therapy to dissect why he relapsed. Kevin decided he wanted to have kids, and Zoe said she never wanted kids.
The conversations led Kevin back to an already engaged Sophie, to find answers. He ultimately decided to choose Zoe over kids but as we all know now, that relationship fizzled.
Last he'd seen Sophie, Kevin was in the throes of addiction. He confessed a future with her wasn't in his plans. The reason? Fear of not living up to everything Jack Pearson (Milo Ventimiglia) was to him.
"I don't know how to be a husband to you," he said. "I don't know how to be a father to our kids. I don't. I don't have anything to give you. There's nothing inside of me to give to you, OK? I don't have anything. I'm an empty shell."
The two broke up because Kevin couldn't picture himself sober with all the pain he had yet to deal with. Knowing the young marriage eventually ends with Kevin cheating, fans wonder if the two will eventually find their way back to one another again.
Creator Dan Fogelman previously told Us Weekly ahead of Season 3, "I would not count Sophie out at all."
'This Is Us ' Producers explain why Kevin and Sophie marry
While some might think Kevin's rush to the altar has more to do with his impulse control, it's actually more heartbreaking. Executive producers Isaac Aptaker and Elizabeth Berger told Entertainment Weekly it's about Jack's death, more than his life.
"They all experienced this tragic, devastating loss of their father in their home, and it's sent everybody spinning in different directions, and it looks very different on each of our Big Three," Aptaker said. "For Kevin, I think he had to just grab onto some type of stability, and for him that was Sophie."
Beger echoed Apataker's thoughts saying Kevin's decision to marry was "somewhat born out of tragedy and grief and needing to find a place to put that grief, and going into acting was one of those things."
She continued: "It happened very quickly and it happened at a time when he was in pain, and it kind of snowballed into him getting this part, which changed his life."
She went on to point out that this particular fork in the road affected all his future choices. Kevin is looking for meaning in his life, so he dove into helping Cassidy and Nicky.
Looks like Kevin may have married Sophie to fill the void of losing Jack, but it sets up the possibility of them re-connecting down the road. In other news, we hear Ventimiglia directed the next episode of This Is Us. So, Jack isn't gone, even after death. At least take comfort in that.