'This Is Us': Is Mandy Moore Married to a Real-Life 'Jack Pearson'?
We love watching Mandy Moore and Milo Ventimiglia on This Is Us so much that we often forget that they are not married in real life. Ventimiglia's character, Jack Pearson is every woman's dream man.
It turns out that Moore might have found her very own Jack. Let's take a look at who the This Is Us star is married to and what he is like in real life.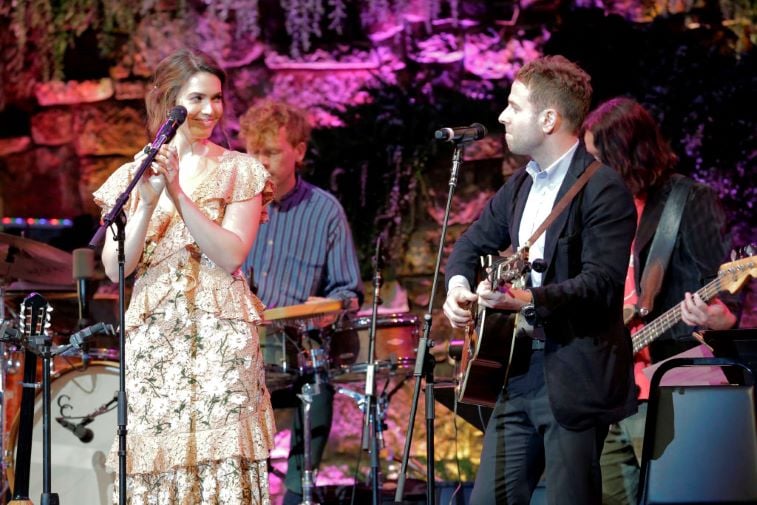 Moore found her husband, Taylor Goldsmith on Instagram
In May 2015, Moore posted on Instagram that she was excited for a new album for Taylor Goldsmith's band, Dawes. She wrote, "Real excited about this one. Have a feeling it's going to be the soundtrack of my summer."
Goldsmith saw Moore's post and contacted her. The pair ended up emailing back and forth, which led to their first date. The relationship was primarily via the internet and FaceTime in the beginning due to Goldsmith's hectic touring schedule.
Moore explained that she loved their courting experience, "We fell in love before we'd even really held hands or kissed or anything. It was great."
Although Jack and Rebecca on This Is Us didn't have the technology we do today, the beginning of both relationships sound similar. On the show, the young Jack and Rebecca take things slowly as well. 
Just like Jack Pearson, Goldsmith supports Moore in every aspect of her life
Goldsmith and Moore started dating at a pretty hard time in the This Is Us star's life. She was still in the process of divorcing Ryan Adams from an emotionally abusive relationship. 
"I was still dealing with the trauma of my divorce when we started dating," Moore told Glamour. "Taylor was steadfast in his support—that was a huge sign for me… He makes me melt. I can imagine no better partner. He's going to be the most tremendous father. I view the past as a stepping-stone to get me where I am today. I would gladly weather all of that a million times over if it brought me to Taylor again."
Goldsmith was just what Moore needed. He also accompanies her to the many awards shows she is apart of due to the success of This Is Us. 
Goldsmith is helping Moore's musical career flourish
Moore's ex-husband, Adams stifled her musical career. He would not let her meet new people in the industry that would help her grow in her music.
Goldsmith, on the other hand, is entirely supportive of Moore's music. He already co-wrote a song with her titled, "Invisible Ink," which was featured on This Is Us.
Moore wrote on Instagram, "Taylor Goldsmith is a dreamboat in every way. And now we get to make music together? Life is good."
Although Jack Pearson did not make music alongside Rebecca, he did encourage Rebecca to pursue her dreams of singing. 
It sounds like the two men are very alike.  We are very happy for Moore and Goldsmith. Now we have a real-life Rebecca and Jack to follow. We just hope they don't own a crockpot.