'This Is Us': The Show's Twitter Account Stirred Up Holiday Drama With This 1 Question
It's been eons since This Is Us last aired. Centuries. An eternity. At least, for fans of the show, that's how it feels. So many new questions posed, so little satisfaction in having the slightest clue as to how writers will jump back in when the show returns in January 2020. To keep everyone interested, the show's Twitter account posted a controversial question that led to nearly 600 opinions.
Fans are restless while 'This Is Us' remains on a break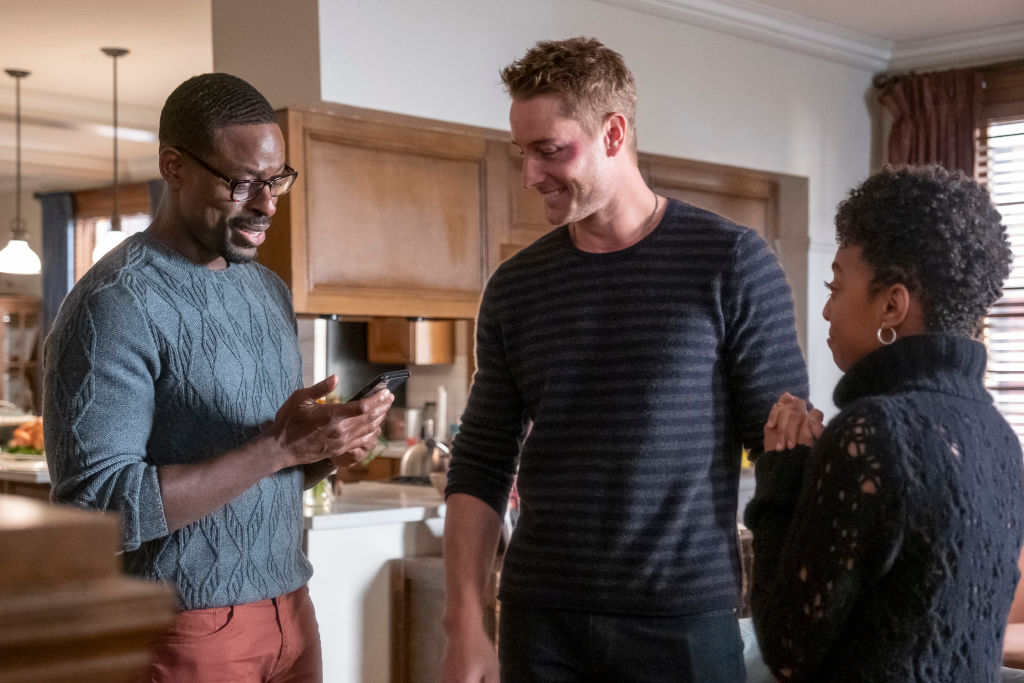 What happened on the This Is Us fall finale? It's been so long, only the most dedicated fans remember all that went down. Whether the ongoing discussions revolve around the state of Toby (Chris Sullivan) and Kate's (Chrissy Metz) marriage or Kevin's (Justin Hartley) future baby mama, the conversations continue to flow.
Threads with various theories also continue to develop on a daily basis. Something new surfaces nearly every day — and with no new content to pull from. Some think Jack (Milo Ventimiglia) isn't Rebecca's (Mandy Moore) soulmate after all (gasp!).
Others are deep in their feelings about what in the world could possibly come between Randall (Sterling K. Brown) and Kevin in nine short months. Those theories span from issues with Rebecca's health to Kevin's involvement in Tess's (Eris Baker) coming out. Toss in a couple of Miguel (Jon Huertas) anecdotes and it's a party.
The point is, even when there is stone-cold silence, fans find a way to keep This Is Us relevant. To their credit, those in charge of the show's social media accounts often pose questions to get people talking. A recent post on Twitter, however, caused a bit of pre-holiday stress.
The show's Twitter account asked a controversial question
The post in question landed on every follower's Twitter feed on Dec. 20.
"Roll call: Christmas dinner at the Pearsons," the post said. "Who are you sitting next to this year?"
The options included Jack, Rebecca, Randall, Kevin, Kate, Miguel, Nicky (Griffin Dunne), Toby, or Beth (Susan Kelechi Watson). The question appears simple enough on the surface, but if you dig into the responses, fans are majorly conflicted.
"This is horribly difficult," one fan tweeted. "I'm sitting on Kevin's lap," another joked. "Next to Beth, across from Kevin. She'd be fun to talk to, and well, Kevin is fun to look at," another thoughtfully commented.
Many of the comments pinned their hopes and dreams of this family dinner on sitting next to Beth. Their reasons included everything from Beth's pantry wine, to gossiping about the others, to "real talk," and everything in between.
All in all, the post caused a little sweat on the brows of those who love this family like their own. How do you possibly choose a favorite (Jack, always)?
Then, they asked a follow-up question
"The kids' table is where it's at," the post said. "Who are you sitting with for Christmas dinner?"
The options include Tess and Annie (Faithe Herman), Deja (Lyric Ross) and Malik (Asante Blackk, The Teen Three (Logan Shroyer, Hannah Zeile, and Niles Fitch), and The Little Three (Mackenzie Hancsicsak, Parker Bates, and Lonnie Chavis).
This one didn't stir up quite as much emotion, but the thread continues to grow.
"Teen three…love a messy dinner table," one fan said. "Tess and Annie because they're both keeping it real plus, Annie doesn't have any filters yet so I want to hear what's going on," another added. "Tess and Annie but I will be overhearing the teen three table for the drama," another viewer echoed.
This Is Us may be on a [never-ending] break, but clearly those behind the social media curtains are having as much fun keeping the Pearsons front and center. And honestly, we're not mad about it.
This Is Us returns Tuesday, January 7, 2020, on NBC.