'This Is Us' Star Asante Blackk Reveals The 1 Thing He's Not Doing For His Birthday
This Is Us Season 4 star Asante Blackk is the latest of forces to be reckoned with. Not only is he an Emmy-nominated young actor for his role in Netflix's When They See Us, but he's become a pivotal character on the NBC hit drama. He's accomplished so much — all before his 18th birthday.
While walking the red carpet, Blackk revealed the one thing he won't be doing much of to celebrate his milestone year.
Asante Blackk wants to learn piano for good reason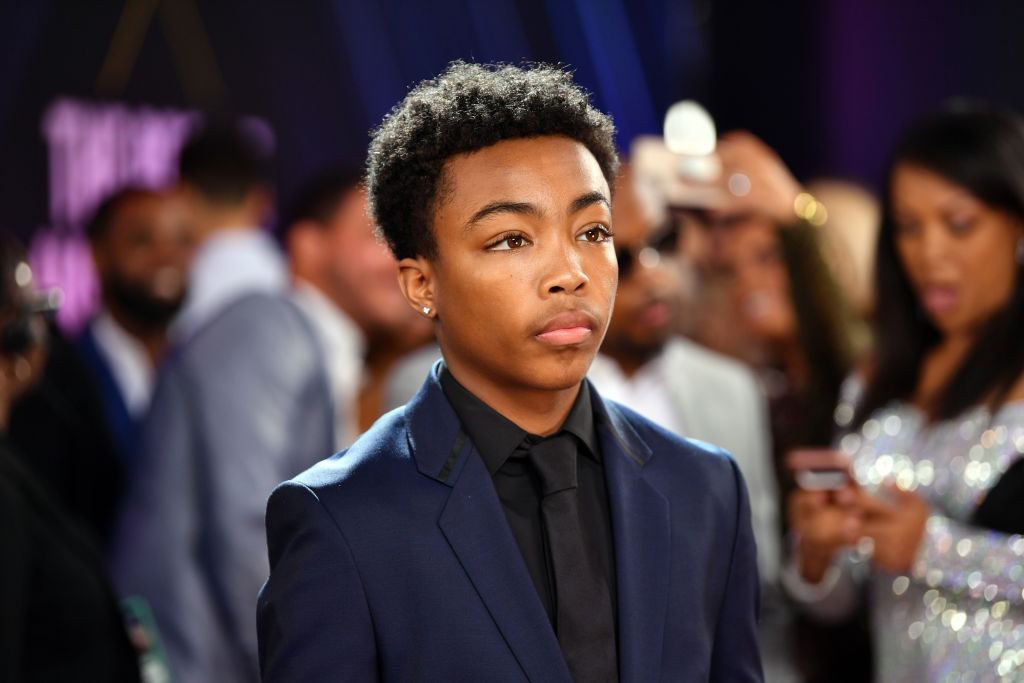 Blackk isn't only a talent on the small screen. In his latest Tweet — posted while Blackk attended the People's Choice Awards — he mentioned his desire to "be good at piano."
While the timing seems strange, because the awards show is kind of a big deal, the actor alluded to the fact that he could "write love songs and finally reach simp level 9000."
Any 18-year-old can probably relate. In another Tweet, Blackk received the support of fellow This Is Us alum, Lyric Ross (who plays Deja), for a possible collaboration for a Lauren Hill biopic (um, yes please).
When Blackk isn't capturing hearts on the web or wishing he could write better love songs through piano, he's busy graduating from North Point High School in Waldorf, Maryland and celebrating his birthday on the red carpet and Tweeting about how hungry he is (still, from the awards show). Relatable.
Here's the 1 thing Blackk won't do for his birthday
Some teen celebrities are into having a flashy birthday bash. Not Blackk. The one thing he said he won't do is have a big party.
"I'm not a big celebration guy," he told E! News.
So how did Blackk spend his birthday?
"I just went to the movies, but it's what I love to do, just studying other actors. It's the best birthday treat for me," he said.
The humble star used his time on the red carpet to give thanks, pulling the focus off his birthday.
"I just feel extremely, extremely blessed to be in the position I'm in," he said. "But these projects, you know it's any actor's dream and I'm so blessed to be doing it at this time right now."
He also extended his gratitude to his support system back home.
"Haley and Christina, if you guys are watching, thank you guys for being some of my best friends and supporting me all the way. I love you guys," he said.
He may not want a traditional birthday blow-out but Blackk's already surrounded by pretty good company, including his aunt, Samira Wiley, who stars in The Handmaid's Tale and Orange Is the New Black.
Blackk's portrayal of Malik on 'This Is Us' is an important one
Season 4 of This Is Us introduced a few new faces to the set, alongside Blackk as Maik. He told the Hollywood Reporter ahead of the season premiere he was "greeted with open arms by the cast. They're all amazing, and it's great to have such a great show and have such great writing."
Blackk hinted that teen father Malik's story spans through the rest of the season saying he's "a great young man. He's connected to the Pearsons in a very, very [key way]. He gets close to them as as the season goes along."
Series creator Dan Fogelman also spoke to the Hollywood Reporter saying he's "so excited" about watching Blackk as Malik opposite Ross.
"We can't get enough of them," he said, referring to their developing love story.
Even with all the fame and accolades, the 18-year-old is still taking it all in. "It's so crazy to think about because I never thought that this early in life people were going to be looking up to me," he previously said. "That's kinda weird."