'This Is Us': Thanksgiving Episodes Ranked By How Much They Will Make You Cry
Every November, This Is Us gives us a substantial cryfest right around Thanksgiving. The fantastic part about the show is that we often get to see celebrations from different years spanning decades of the lives of Rebecca (Mandy Moore) and Jack Pearson and their three children. Kevin (Justin Hartley), Kate (Chrissy Metz), and Randall (Sterling K. Brown) are in various stages of life in just one episode.
Let's take a look at the past 4 Thanksgiving episodes and which ones will make you cry the most.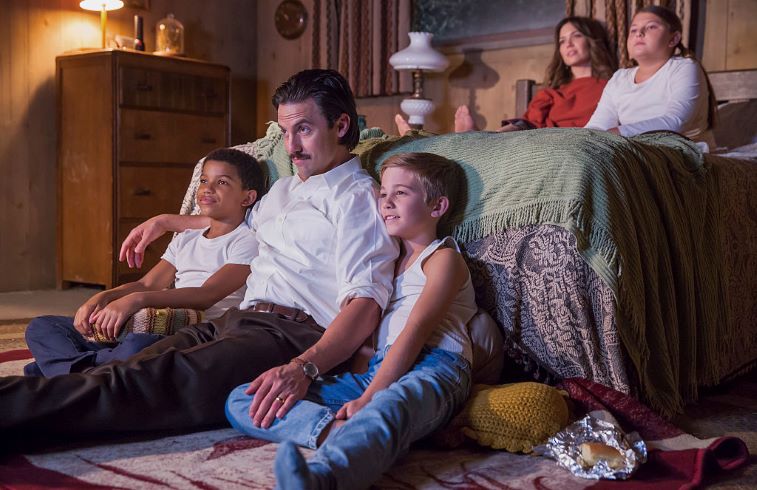 'This Is Us' Season 3, 'Six Thanksgivings': Grab yourself 3-4 tissues
Although this episode is titled 'Six Thanksgivings,' we don't think you will need six tissues. There is quite a bit of politics involved with Randall's campaign that doesn't bring about the rush of tears. There's also a sweet moment between Kate and Tess (Eris Baker) over the young girl's first period, but again not tissue worthy.
The moments that will have you grabbing those tissues are when Tess reveals she is bisexual, and Kate tells her that her parents will love her no matter what. The journey back in time to Vietnam also pulls at our heartstrings when Jack (Milo Ventimiglia) fixes a young boy's wound, and then, in turn, the mother gives him a necklace, which present-day Kevin now holds.
Another tissue moment is when Jack helps Miguel (Jon Huertas) through his first Thanksgiving after his divorce. Miguel is afraid his wife is turning the kids against him. In the present day, he attempts to have dinner with his estranged children, but they only push him away further. Our hearts ache for Miguel.
'This Is Us' Season 1, 'Pilgrim Rick': Grab yourself 5-10 tissues
The inaugural Thanksgiving episode of This Is Us pulls at our heartstrings because Jack saves the day and creates so many new traditions for the family. Randall still upholds the traditions each year, having hot dogs, watching Police Academy 3, and wearing the Pilgrim Rick tophat. 
In the present day, we see Randall's biological father, William (Ron Cephas Jones)—who is dying of cancer—give the best advice to Kevin's non-girlfriend, "I know it feels like you have all the time in the world, but you don't. So quit trying to play it so cool. And when a nice boy who adores you offers you pie, say thank you." The tears start flowing with that one.
Then the episode ends with 11-year-old Randall telling his mom that he wants every Thanksgiving to be just like it was that day in that run down motel. We end up using the rest of the tissues right at that moment. 
'This Is Us' Season 2, 'Number Three': You will likely need about half of a box of tissues
The second Thanksgiving episode of This Is Us didn't revolve quite as much around Thanksgiving, but it still brought plenty of tears. It begins with Randall completing a project with their adopted daughter, Deja (Lyric Ross).
The two share a heartfelt moment when she gives the presentation in class and talks about her foster dad. She has grown a lot and settled in to be apart of this family. 
However, the carpet is pulled out from under Randall and Beth when her mother, Shauna (Joy Brunson), gets out of jail and takes Deja back. The episode ends with plenty of ugly crying from viewers at home as Deja leaves the Pearson household.
We also get to see—cry through—a moment when William almost visited Randall at the Pearson home, but he stopped himself because he didn't know which bike was Randall's.
Kate and Toby (Chris Sullivan) suffer from a miscarriage. Then the episode ends with Kevin getting arrest for a DUI as his niece, Tess, breaks down in the back seat while watching her uncle being taken in by the police. It's quite a sobfest.
'This Is Us' Season 4, 'So Long, Marianne': You will need the entire box of tissues for this one
Our most recent Thanksgiving episode of This Is Us was by far the best and worst all at the same time. The two additional guests coming to dinner, which viewers thought might cause the most problems, turn out to create the most tears. 
Jack's previously thought to be dead brother, Nicky (Griffin Dunne), is upset that his brother wrote him out of the family's life. However, he finds that the traditions Jack kept up include Nicky more than he ever thought. Nicky becomes a part of the family and has so many moments that make us ugly cry.
The other tear-jerker yet again surrounds Deja. Her mother, Shauna, comes to Thanksgiving and tells Deja how well she is doing. Shauna loves her job, her co-workers, and her great apartment with a fireplace. Deja is distraught that her mom is doing so well without her, but couldn't get her act together to raise her. It pulls at our heartstrings, seeing Deja in that much pain.
As if those two storylines were not enough heartache for one show, we find that Rebecca's declining health is actually happening nine months in the future, at the big three's 40th birthday party. Sadly though, Jack and Randall are no longer on speaking terms, and we have no idea why. The gut-wrenching turn of events is sure to make you burn through that entire box of tissues.
If you still need more tears after those four episodes, you will have to wait until This Is Us returns from winter break on Jan. 14, 2020.