'This Is Us': The One Crucial Detail You Might've Missed in the Show's Pilot
It's been an emotional ride throughout the last three seasons of This Is Us. So far in season 4, new characters and storylines have moved ahead of old wounds such as Jack Pearson's (Milo Ventimiglia) death. That doesn't mean the wounds are healed. Read on to find out why the pilot foreshadowed Jack's death long before fans ever realized.
Season 1 of 'This Is Us' set up the loss of Jack Pearson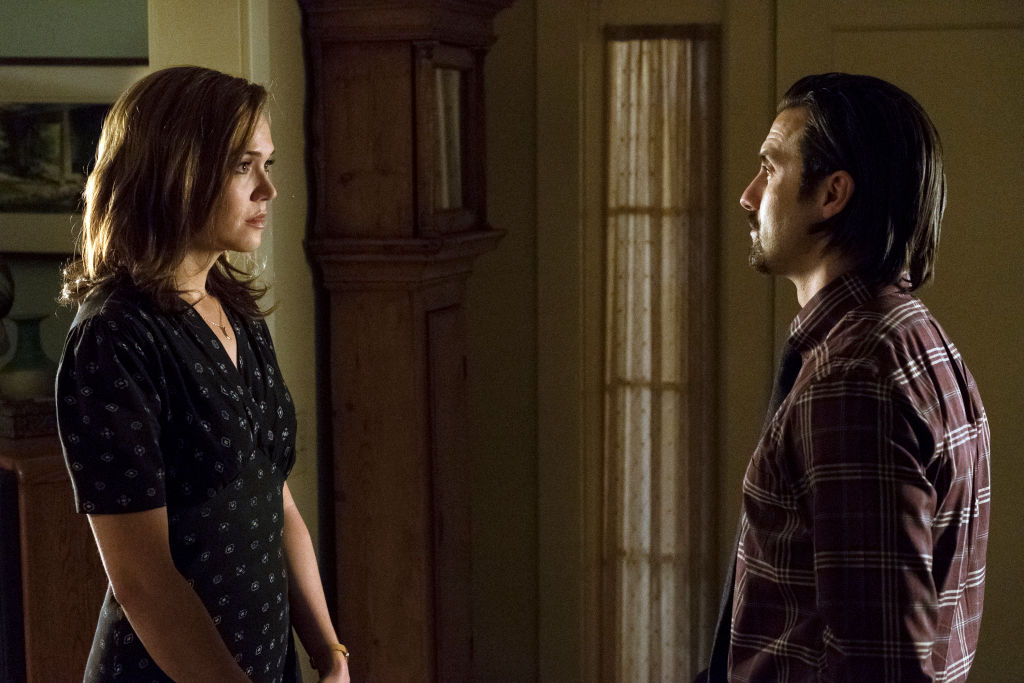 Brace yourself, Jack Pearson fans: We know it's still hard to process the loss of Jack. Creator, Dan Fogelman, and showrunners may have written This Is Us with Jack gone from the first few episodes. And we know his death was teased throughout the entire first season. But, that doesn't make his death any easier.
While the pilot explored the idea of people who share the same birthday, viewers didn't get a sense of the connections or alternate timeline until the end of the pilot.
The two timelines alternate between three adult siblings (Justin Hartley, Chrissy Metz, and Sterling K. Brown) in present-day, and Jack and wife, Rebecca's (Mandy Moore) story as their parents decades prior.
The timelines connect when Jack overlooks his newly born babies — two of his own, and one brought in by a firefighter. Since Rebecca delivered one stillborn triplet, Jack and Rebecca would adopt that abandoned baby as their own (Randall).
Everyone knows This Is Us writers drop clues in every episode. There's one critical clue about Jack's death in the opening scenes of the pilot you may have missed. Had you known it was important then, you may have figured out one of the biggest mysteries of the series before everyone else.
How did Jack Pearson die?
We assume everyone knows how Jack died by now. This is, in no way, a spoiler. However, if you've somehow missed the Season 2 episode titled "Super Bowl Sunday," watch it now.
Jack's death was caused by a few very ordinary things. First, he had tachycardia diagnosed before he went to fight in Vietnam but kept it a secret. The heart condition doesn't always have symptoms, and if left untreated, it may cause death.
Second, Jack and Rebecca didn't replace the batteries in their smoke alarm. Had they done that, they may have awakened sooner when their house burned down.
Their house caught fire when a gifted slow cooker's faulty switch turned on, burning washcloths Jack set beside it after cleaning the kitchen. It's also revealed Jack tried to convince Rebecca to buy a new house in the months before the fire, but she wasn't interested.
All of these ordinary decisions combined with Jack's tragic, untimely, and ultimately devastating death.
That said, fans of This Is Us still grieve Jack's passing because most of the things that caused it are avoidable. The events are also things that happen every day. Because of that, his death serves as a reminder to all that our time is short and to live each moment to its fullest.
Also, replace your smoke alarm's batteries.
What crucial detail is shown in the pilot?
The pilot episode presented a few clues towards future threads. The biggest happens towards the beginning. On Jack's birthday, Rebecca plans to perform an annual celebratory dance. She's very pregnant with triplets. The scene ends with her going into labor.
Before all of this — before you get to know Jack and Rebecca — the camera pans across their kitchen. It's there you see the (now) infamous slow cooker that eventually causes the fire that causes Jack's death (smoke inhalation).
There you have it. Long before Jack's death is revealed, that old slow cooker took up space on the Pearson counter. If you're disappointed in yourself for not noticing sooner, we feel your pain. Long live Jack.