'This Is Us': Who Plays Beth's Mom Carol? Phylicia Rashad Returns in Season 4
This Is Us Season 4 is reigning in more characters than we can count. Aside from the Pearson family regulars, every new episode seems to feature a fresh guest star. But, on the Oct. 15 episode, titled "Flip a Coin," fans will be reintroduced to a familiar face, as Phylicia Rashad — who plays Beth's (Susan Kelechi Watson) mom, Carol — returns to This Is Us in the fourth season.
That said, it's been a hot minute. So we don't blame you too much if you don't remember every detail about Beth's mom and want to know more about the actress behind her. So who is Rashad? Chances are, you've seen her before her role as Carol on This Is Us.
Phylicia Rashad plays Beth's mom, Carol in 'This Is Us'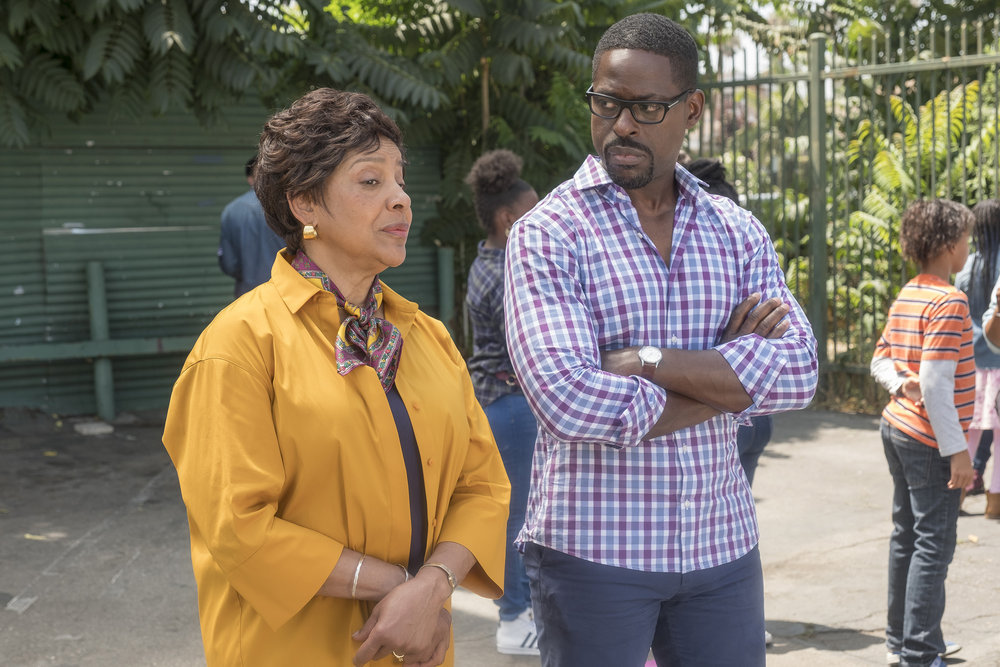 For those of you who may not remember, Rashad played Beth's mom, Carol, in a season 3 episode of This Is Us, titled "Our Little Island Girl." The episode served as the highly anticipated backstory to Beth. Rashad was also nominated for an Emmy for the role. However, this comes as no surprise. Rashad is an established name in the entertainment industry and has had a long career prior to her guest spot on the NBC drama.
According to Rashad's IMDb profile, the 71-year-old actress has been acting since 1972. She appeared in a number of smaller projects before landing her breakthrough role on The Cosby Show as Clair Huxtable. She also played Ruth Lucas in 1996's Cosby. Fans may also recognize her as Gilda from For Colors Girls, Mary Anne Creed from the Creed franchise, and Lena Younger in A Raisin in the Sun. But, more recently, Rashad has been seen in Empire as Diana DuBois and David Makes Man as Dr. Woods-Trap.
What happened in season 3?
When Rashad made her debut in This Is Us Season 3, fans fell in love with the sharp-tongued and brilliant Mama C. In the episode, the NBC series built up the relationship between Beth and her mother — both in the past and present.
Back in the past, viewers learned Beth's icy relationship with her mom stemmed from Beth's dream to dance and Carol's skepticism. As a teen, Bath wanted to become a dancer and she was supported by her father. However, Carol didn't believe Beth could be the best and ultimately wanted a different path for her daughter.
After Beth's father passed, Carol encouraged Beth to pursue other options — which she did. And without her father there to remind her she was his "little island girl, who danced before she could walk," Beth forgot to dance.
Fast-forward to the present, Beth finally confronts her mother. She blamed Carol for making her quit dance and the only joy in her life. Beth also believed her relationship with her mother is reflected in her relationship with her own children and husband. And she claimed she had "no air" around her.
After the confrontation, Carol apologized. She expressed her point of view, explaining she, too, had a mother to impress. Carol then noted her husband gave her air, just like he did for Beth. And although both women were conclusively satisfied with their lives up to this point, they acknowledged what they already lost.
What happens when Beth's mom, Carol, returns in 'This Is Us' Season 4?
Now, Rashad is back for another run on This Is Us in season 4. But, it looks like Carol and Randall (Sterling K. Brown) will go head-to-head this time around.
The teaser trailer for the episode indicates parallel storylines in both the past and present. While college-aged Randall (Niles Fitch) and young Rebecca (Mandy Moore) meet young Carol and Beth (Rachel Hilson) for the first time, Carol seems to disapprove of the Pearson boy.
In the preview, Beth reveals she went on a date with Randall, but it didn't seem like it was going to work out. "It's probably for the best," Carol responds. Ouch.
Then in the present, Beth is preparing to open her new dance studio, according to Entertainment Weekly. However, when Mama C comes to visit, a nasty smell threatens the grand opening. Back to the trailer, Randall and Carol face off. It seems Carol tries to help out. But then, Randall explodes. "Don't tell me what I can and can't do, Carol," he says, as the clip flashes back to Beth, who is clearly uncomfortable. Same.
Rashad's legendary presence is enough to make any This Is Us fan excited for the upcoming episode. Let's just hope Carol, Beth, and Randall all make it out the other end in one piece.