'This Is Us': Who Plays Jack Damon? The Actor Has One Big Thing In Common With His Character
'This Is Us' introduced a new character on season 4. The role of Jack Damon, played by Blake Stadnik, is a big one. So who is Stadnik?
This Is Us returned for season 4 with a plethora of new characters. The premiere, both ambitious and chaotic, left fans with a huge reveal in the end. If you missed the episode, consider this your spoiler alert and go watch it now.
Who plays Jack Damon on 'This Is Us'?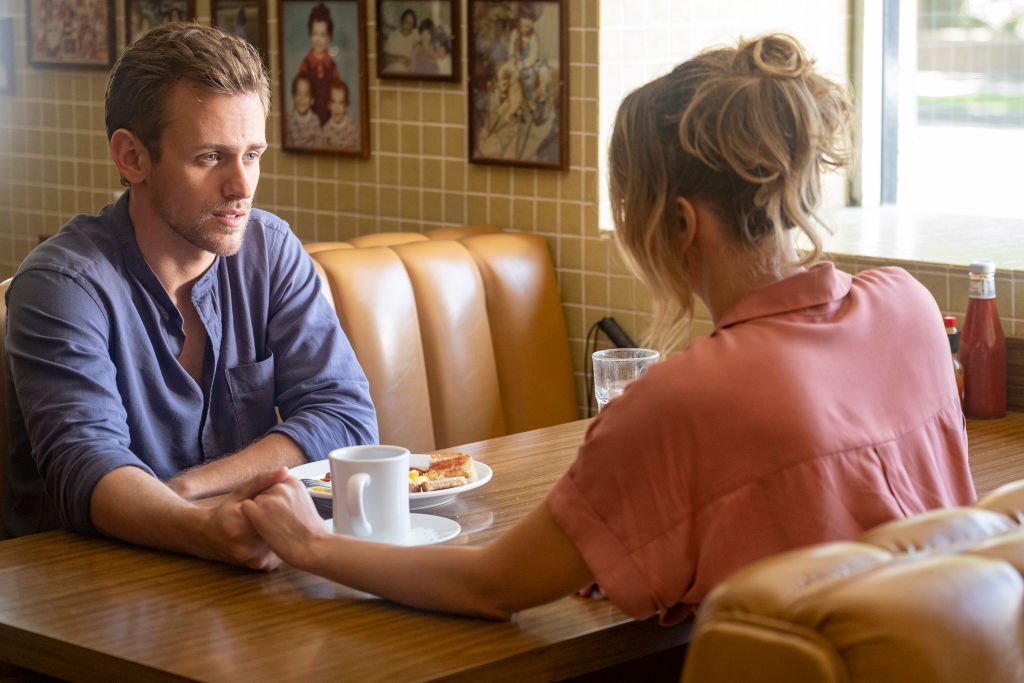 This Is Us premiered with "Strangers." The Pearsons took a back seat while viewers met new characters that eventually tie into the beloved family.
Among them was a visually-impaired musician, "Jay," who falls in love with a waitress named Lucy (Auden Thornton).
Jay and Lucy marry, and Lucy reveals she's pregnant. The end scenes reveal this man is actually Jack Damon — Kate and Toby's son, all grown up.
The actor who plays Jack is a 27-year-old theater actor from Beaver County, Pittsburgh, Blake Stadnik. Stadnik graduated from Penn State. His production credits include Newsies, 42nd street, Guys and Dolls, and Sweeney Todd.
What else has Blake Stadnik done, other than 'This Is Us'?
Theater credits aside, This Is Us is Stadnik's first on-screen acting credit. If you followed Jack "Jay" Damon's journey, you may have the episode-ending song, "Memorized" in your head.
You can thank castmember Mandy Moore's husband, Taylor Goldsmith, for that. He co-wrote the song with series composer Siddartha Khosla. The song is now available on Amazon, iTunes, Google Play, and more.
Stadnik performed the song at the famed Greek Theater in Los Angeles while the Chicago show was on intermission. This Is Us is Stadnik's biggest role to date. No pressure, though.
In an interview with TV Line, creator, Dan Fogelman, spoke about Stadnik's first-day shooting. Stadnik had to "lie completely naked in bed, then have a six-hour makeout scene with a young woman." Yikes.
What 'big' thing does Blake Stadnik have in common with his character, Jack Damon?
Stadnik is legally blind, like Jack. He received his diagnosis of Stargardt disease at 6 years old. According to the National Eye Institute stated the disease is a form of macular degeneration, causing damage to the center of the retina.
In 2015, Stadnik told the Los Angeles Times that the disease manifests for him through blurred vision, blind spots, and difficulty distinguishing colors.
In an interview with Entertainment Weekly, Fogelman said, "It was important to us to not cast a sighted actor here. It was also very important to us that we have somebody who can hold the screen and sing, and Blake just checked a tremendous amount of boxes."
He added, "I found myself increasingly proud of him. He's a young man who was put into an atmosphere—regardless of vision, just in terms of acting experience—that was pretty new to him."
Stadnik's Instagram bio says he's an "Advocate for Disabled Artists." Upon the premiere's end, Stadnik took to Instagram to thank Fogelman, executive producer, Ken Olin, and cast, and crew for allowing him the chance to represent this disability on TV.
"It is a dream come true to be on screen with the incredible cast of This Is Us, and it's an enormous honor to represent a low-vision character who is so powerful and nuanced," he captioned.
In another photo, he thanked Fogelman and executive producer, Ken Olin.
"I am so grateful for these two individuals. Not only did they profoundly change my life by trusting me with such a beautiful story, but they also know how important it is to tell stories using proper representation."
The caption continued: "When I was young, it would have been so special to see some on television with whom I could relate telling a story like Jack's. To any child or adult with a disability who might read this, you are not alone."
If Stadnik hasn't made you cry with his acting, singing, or adorable Instagram posts, wait for it. We have a feeling his role in season 4 of This Is Us will get you there.