'This Is Us': Why Fans Think Toby and Kate's Future Is Connected With This Piece of Kate's Past
Speculation over the slow-burning demise of Kate and Toby's marriage on This Is Us continues. The season 4 fall finale revealed yet another bump in their journey, leaving fans to wonder if the two can make it to the end of the season, let alone the end of the series. Let's talk about why the answer to Kate and Toby's future may have been a part of Kate's story all along. [Spoilers for This Is Us Season 4 ahead!] 
Kate and Toby had a rough start to their relationship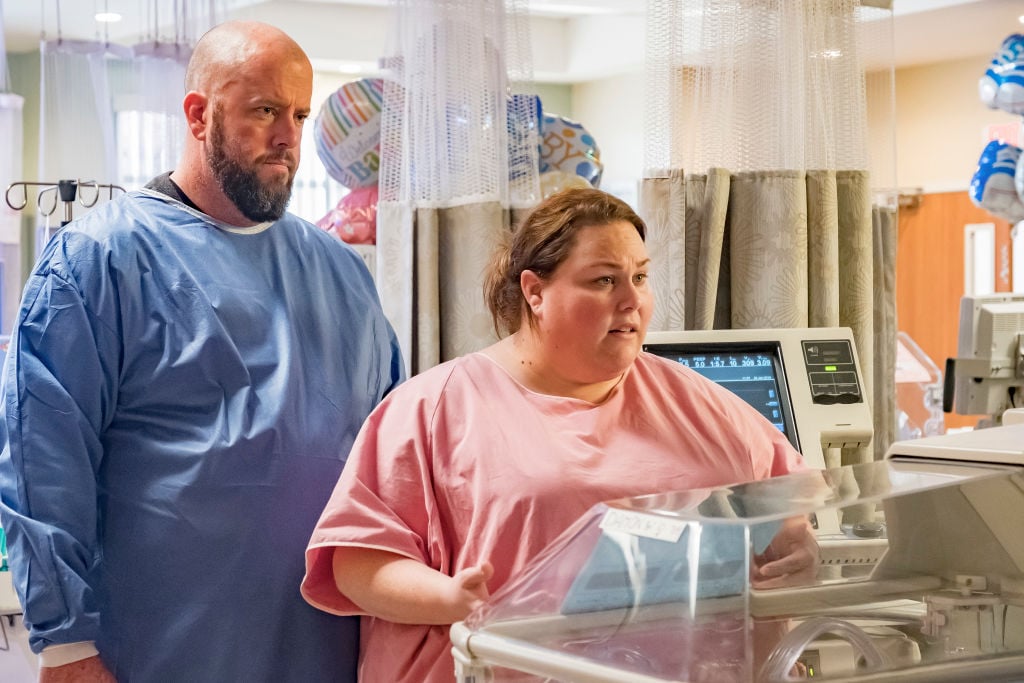 All the way back in the pilot episode of the series, Kate and Toby felt destined for a complex relationship. They met at a support group for those struggling with weight. Right off the bat, Kate said she couldn't "fall for a fat person," leaving room for the couple to embark on a weight-loss journey together. Kind of.
Even back then, Toby's struggle wasn't at the level of Kate's. When she'd workout all hours and cut her food to basically nothing, he'd lose a pound while he'd lose twelve.
They became engaged too fast, before getting to know one another, and those issues continue to surface. The show set-up unbalances in "Katoby's relationship from the start and it isn't all about weight or self-esteem. It actually goes much deeper.
Problems in Kate and Toby's marriage are accumulating
Season 4 of This Is Us revealed a slimmer, fitter Toby at the exact time Kate's recovering from childbirth and struggling with overeating and low self-esteem. She didn't take the news well.
To mirror that, Kate growing closer to the neighbor, Gregory (Timothy Omundson). They're moving in separate directions. As new parents to a visually-impaired son, Jack, they're both under a lot of stress.
Secrets within the marriage are slowly eating away at the couple. Kate's "avocado-gate" situation is one thing (she fed baby Jack avocados for the first time at Gregory's house, without Toby). But, Toby's secret CrossFit obsession is another.
Too many secrets will destroy any relationship. Kate and Toby aren't immune to those very real. Even if set the weight aside, their problems go even further.
Kate's teenage relationship with Marc affects her later in life
Another deep secret idling between Kate and Toby stems from Kate's past. Season 4 introduced teenage Kate's (Hannah Zeile) boyfriend Marc (Austin Abrams), about a year after Jack's death.
Not only did Marc claim Kate as his girlfriend without asking, but he also has, on more than one occasion, barged into the Pearson's lives in unsettling ways. Did we mention he calls Randall "Randy?"
This Is Us producers Elizabeth Berger and Isaac Aptaker previously spoke to Entertainment Weekly about Kate's relationship with Marc. They suggested fans keep "a healthy amount of concern."
Could Marc have more to do with Kate and Toby's marriage than previously thought?
In another interview with Us Weekly, Chrissy Metz said "something traumatic happened," adding "we're going to get to see that, how she's affected and how that is, of course, taken into her adulthood."
Metz also explained that "everything impacts everything," which would tie adult Kate's insecurities to whatever comes of her teenage relationship with Marc. How does Toby and their marriage connect with Marc?
Some have compared Toby to Marc saying he's just as overbearing and manipulative and it goes back to their first date in the pilot when Kate thanks him for a nice time.
"Wait, what, no no no… that's it? You're not gonna invite me in for a nightcap or a handy or something?" Toby replies. It says more about Kate overlooking those qualities in a man, because of her low self-esteem, more than it says about Toby.
The same goes for some of Toby's grand gestures with some calling them "self-serving" and "bulldozing," just as he did when Kate wanted to watch the Steelers game alone and Toby refused to let her have that.
With the new development on the Nov. 19 episode, which revealed Toby exchanging texts about his marriage with a woman who does CrossFit, fans conclude Toby ends up cheating on Kate to mark the beginning of the end.
Many fans don't even like Kate. However, now that Toby may or may not be hiding an affair, the tides have changed. That said, one fan noticed that Kate is definitely wearing a wedding ring at Kevin's birthday party in the flash-forward scene, which only lends itself to a dozen new theories.
Regardless, her long-standing issues with weight go back far, and it looks like Marc may be the thing that pushed her over the edge. Toby's weight loss and new confidence may be triggering, leading them to divorce court sooner than later.
Could the show be pulling another one over on us? We can probably count on it. This Is Us returns to NBC on January 14, 2020.