'This Is Us': You Will Be Shocked By How Long It Takes Mandy Moore to Become Older Rebecca
Although Mandy Moore is the youngest of the five main actors on This Is Us, she is the only one who has to become almost 70 regularly. The process for how she transforms from a 35-year-old to a 68-year-old woman is extensive. Let's take a look at how long it takes for Moore to become elderly Rebecca Pearson on This Is Us.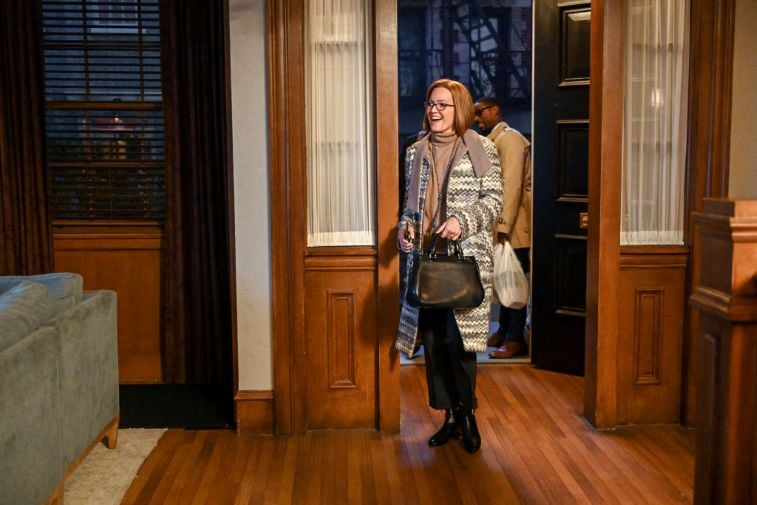 How does the transformation of Mandy Moore into older Rebecca work?
It is no easy feat to age a person 30 years for a TV show. Mandy Moore's makeup team must go through this process roughly 15 to 20 times each season. It comes as no surprise that the producers for This Is Us hired three-time Emmy nominee Zoë Hay, as the head of makeup, and five-time Emmy nominee Michael Reitz, as the department's head hairstylist to get the job done.
The first step in the process is to add sun damage, broken capillaries, enhanced veins, and freckles onto Moore's face. It is quite interesting to pinpoint the specifics of aging that must be taken into consideration for her transformation to be possible.
"And then from there, we start doing the stretch and stipple process, which we do all the way from the forehead down to her chest because we quite often have her in a V-neck, or open pieces, so we have to give texture and wrinkles to her chest also," Hay told Vulture. "And then when all of that is done, and her hands and her arms if we see them, then we go ahead and start applying the prosthetics."
Moore wears 12 prosthetic pieces, which go on like Band-Aids and melt into the skin.
"She has small prosthetics under her chin, creating a slight waddle under the neck area that changes the look of her profile," Hay continued. "She has very small jowl pieces, small pieces that go along smile line on the face. Then she has small pieces under her eyes for her eyebags, little tiny crow's feet that go onto the corner of her eyes, and a little frown line between her brows. The frown is the smallest. It's about the size of a penny."
How long does it take Moore to transform into 70-year-old Rebecca Pearson?
On an average day, the process to transform Moore takes three and a half hours; however, it used to take five hours. The star never complains about it. She often posts videos on her Instagram, chronicling how it all happens.
"I love that I'm given this opportunity to play this character from 25 to 68," Moore told Variety. "That's so unheard of. So I don't begrudge the process that comes along with it."
Moore always starts the timer on her phone, so she can make a record of how long it takes. They recently bumped the time down to three hours, but it depends on the day.
"Mandy has beautiful skin, and we like to keep it that way," commented Hay. "So we remove the pieces very, very gently with the mildest products that we can."
Taking Moore's grandmother look off takes from 45 minutes to an hour. They gingerly remove each piece to make sure that her real skin is well taken care of. The team also uses plenty of hot towels, massage oils, and gentle removers.
Do fans feel that Moore's grandmotherly makeup looks authentic?
Fans exhibit mostly positive reviews over Moore's older look but have more of a problem with her 40-something makeup. 
"I think Rebecca could pass as their mother," wrote one Redditor. "Mandy Moore has not only perfected the actions and the motions of an 'older' woman, but I also think Rebecca is supposed to just look really good for her age."
Many other fans agree that the elderly makeup look is believable on Moore. She is only 35 in real-life, so it is incredible that they can make her look so much older.
"I honestly thought it was a different actress at first," added another fan on Reddit.
A few viewers comment on whether her aging during the triplets teen years looks believable.
"[Moore's] in her early 30s if I'm remembering right, and doesn't look much older than she did as a teen pop star," wrote another Redditor. "She's probably going to look younger than her real age for quite a while. So, I find her 60-something makeup believable. I don't find her 40-something look in the 1998 scenes quite as believable. The clothes and the haircut both read too young for that age at that time."
Overall, most fans agree that the 60 to 70-year-old makeup is the best and very realistic. Since it takes over three hours to transform Moore to that age, we hope that it does resonate well with fans. To catch more episodes of older Rebecca on This Is Us, tune into NBC for the season 4 return on Jan. 14, 2020.