This Is What Blake Shelton Says About 'Supportive' Girlfriend Gwen Stefani
Blake Shelton and Gwen Stefani have been turning heads ever since they became Hollywood's IT couple. Funnily enough, they were already Hollywood's dream team before they even became official.
Since going public, the pair's relationship has done nothing but blossom. Their Instagram feeds are full of sweet posts dedicated to one another. Their interviews about each other will give you cavities. Even their duet performances are riveting thanks to their on-stage chemistry.
The two really are an iconic couple. To this day they have nothing but good things to say about each other, proof they're still going strong — with or without the honeymoon phase.
Blake Shelton & Gwen Stefani's relationship recap
Not surprisingly, Shelton and Stefani crossed paths on The Voice. Shelton was the long-standing judge and Stefani joined him, Adam Levine, and Pharrell Williams for her first shot at sitting in the big red chair. Their chemistry has always been undeniable, but it was mutual heartache that brought the two together.
At the time, the No Doubt frontwoman had already divorced the husband of her three sons, Gavin Rossdale. But, Shelton was in the midst of a separation from Miranda Lambert. Stefani was able to lend an understanding ear and the two quickly grew into best buds. In less than a year, they went from co-judge/besties to boyfriend and girlfriend and have been rocking the couple life ever since.
Will Blake and Gwen be getting married anytime soon?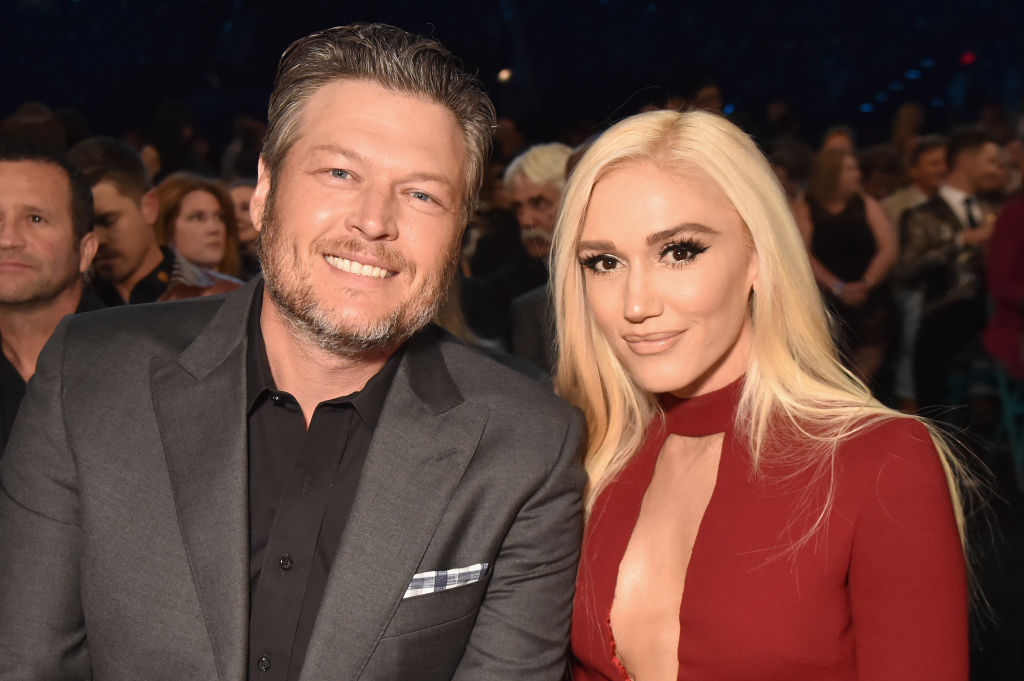 After news broke that Shelton and Stefani got together, fans went crazy. Have you ever seen a better looking Hollywood couple? It wasn't just their looks that got fans going. The adorable pair wasn't afraid to share their love across social media or dish out the PDA in person. They had fantastic banter on The Voice and have made fans swoon during their live performances. With so much chemistry, talks about engagements and a wedding have been circulating among the tabloids (and social media) from the very beginning.
Despite being four years into their picture-perfect relationship, Shelton and Stefani still play coy when it comes to their potential marriage. They've already done an excellent job at creating a blended family. The "Spiderwebs" singer also admitted to wanting to have a child with Shelton! Even so, the two seem to be taking it slow with no marriage plans on the horizon.
In a recent interview with ET's Nancy O'Dell, Shelton took it upon himself to dispel the rumors. He also let the world know they don't phase him one bit, not in a negative way at least. He even went as far as to call all of the engagement and wedding reports "complimentary."
"First of all, the rumors stuff, I'm not gonna sit here and say that it makes me mad. It's funny. I've learned over the years just to take that for what it is." – Blake Shelton / Entertainment Tonight
Oh, and the 42-year-old country star has no plans to let the tabloids be the ones to leak their wedding news either!
Shelton shared some sweet words about Gwen Stefani
During the same interview, Shelton let fans in on a little secret that keeps them going. The pair have no shortage of support in their relationship thanks to Stefani's cheerleader mentality. The country crooner really couldn't help but gush about his lady love. This is what he had to say:
"She's never not been supportive or a cheerleader, just the most encouraging person I've ever had in my life, on any level. It's unbelievable how supportive she is. I tell her this all the time, and she doesn't realize it, but Gwen's one of these people that I learn so much from, because no matter what the situation is, she has a way of looking at something from every angle possible, and understanding if there's turmoil or something going on, instead of just jumping to conclusions or reacting, it's, 'Well, here's why they may feel that way.'" – Blake Shelton / Entertainment Tonight
By the sounds of it, Shelton really hit the lottery when he caught Stefani's eye. She isn't just a looker; she's a one-of-a-kind performer with a big heart and a unique mind. One whose humbleness makes her all the more special. With such a catch it's really surprising the two haven't gotten married yet. But, based on their growing bond, it's only a matter of time before the wedding bells toll for "Shelfani."