This Is What Influences Jennifer Lopez and Alex Rodriguez's Vision of Marriage
Jennifer Lopez and Alex Rodriguez are the celebrity couple we didn't know we needed. Both stars are essentially New York royalty. The two have now found each other later in life, after building successful careers, and having children from previous marriages.
Considering both stars have been married before, it would be understandable if they didn't want to make this relationship official. That's not the case with these two. J.Lo recently told ES Magazine that marriage is still super important to her, despite having done it three times already. She already has an idea of the kind of wedding and marriage she wants. Her ideas about marriage have been influenced by her previous relationships, her background, and some unlikely friends.
Jennifer Lopez and Alex Rodriguez have both been married before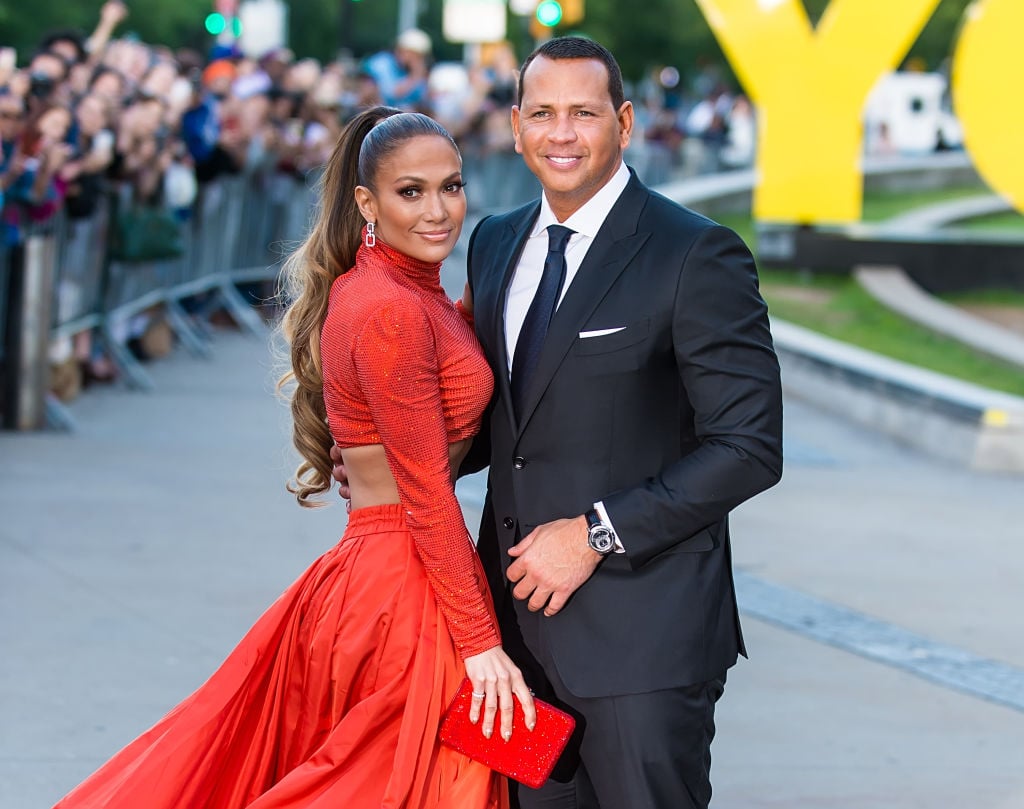 Lopez has been married three times, although she says two of them didn't count. Since her first two marriages lasted less than a year, she didn't get to really experience married life. Her third marriage to singer Marc Anthony went on for 10 years, but it may not have been the wedding of her dreams.
Lopez is looking to have a big church wedding for her fourth wedding. Although she was married three times, none of her previous weddings took place in a church. Hopefully J. Lo will get the fabulous church wedding and the marital bliss she deserves.
A. Rod has been married before too, and also has children from his previous relationship. He married his ex-wife, Cynthia Scurtis, in 2002, and they divorced six years later. The couple has two children together, much like Anthony and Lopez.
Jennifer Lopez comes from a traditional family
Even though she's made it big, at heart J. Lo is still a girl from a working-class Puerto Rican family from the Bronx. Much like her hit song says, she's really still "Jenny from the block" and she still holds on to the values she was raised with.
Marriage is important in her culture, and she holds those traditions dear. That's why she wouldn't be happy just dating, or even living in a long term relationship with Rodriguez. She wants a wedding to make it official.
Her New York Puerto Rican roots have always been important to Lopez. Now that she's made it, she wants to see more Latinas on screen. In a way it was another Latina who gave Lopez her big break, more than 20 years ago.
Lopez's first role was playing Selena Quintanilla in the biopic about the Tejana superstar. Unfortunately, Selena was killed just as her career was taking off. But that doesn't mean the Mexican American singer didn't get the chance to lift up other Latina performers. The fame she earned meant that Lopez got her big break.
Jennifer Lopez and Alex Rodriguez got marriage advice from a surprising source
Although this might be hard to believe, Lopez is actually good friends with Supreme Court Justice Ruth Bader Ginsburg. Aside from being a role model for young girls and an excellent jurist, Ginsburg is actually kind of a marriage expert. She was married to her husband for 50 years before he passed away.
Ginsburg had help when it comes to her marital bliss. She received some key advice from her mother in law right before her wedding, and she passed that bit of wisdom on to Lopez.
So what's the secret to five happy decades of marriage? "Sometimes it helps to be a little bit deaf."