This is What Princess Charlotte's Friends Call Her on the Playground
All eyes were on Princess Charlotte as she attended her first day of elementary school on Sept. 5. This year, the young royal is joining her big brother, Prince George, at Thomas's Battersea in London where she'll be making plenty of new friends.
Prince William and Kate Middleton's daughter does not go by Princess Charlotte in school though. Here's how she'll be addressed by her classmates and what her surprising nickname was when she attended Willcocks Nursery School. Plus, find out what name Prince George goes by in and out of the classroom.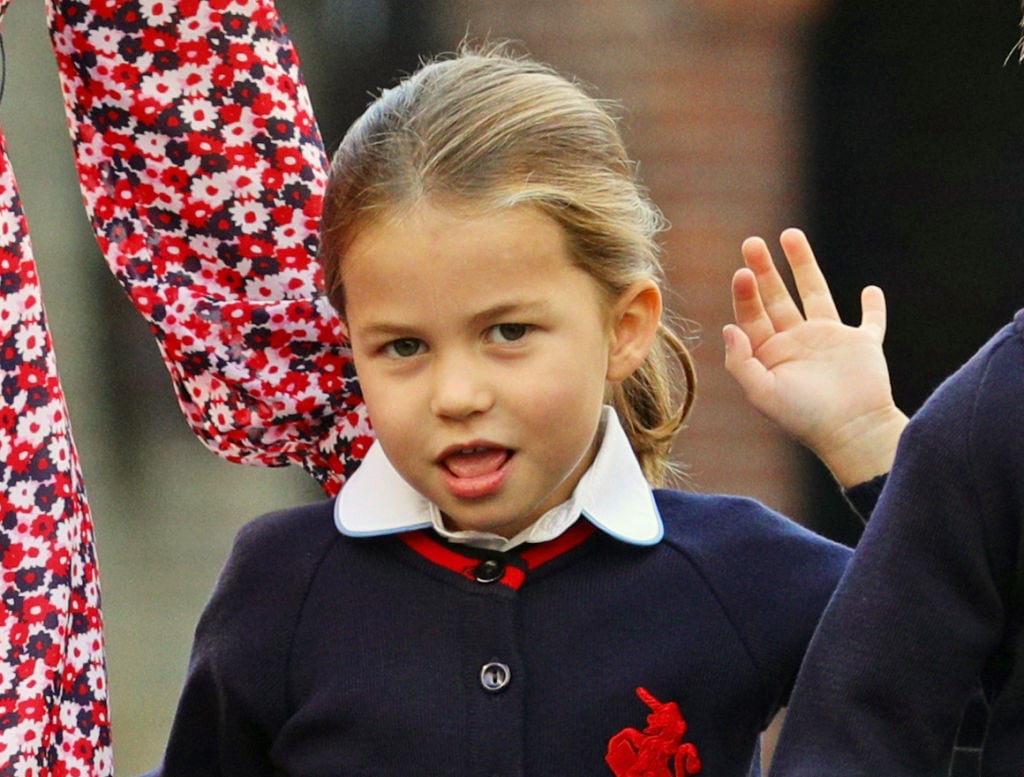 Princess Charlotte was called this nickname at her old school
Charlotte's days at the nursery school are behind her now but during her days there she was reportedly given an adorable nickname to match her personality.
According to royal commentator Kate Nicholl, Charlotte was known as "Warrior Princess" at her former school.
"Apparently she earned that nickname because obviously she is a princess, but she's quite a tomboy," Nicholl said. "She loves climbing trees and she's very much an adventurer, she was quite known for her feisty personality."
But Charlotte does not have a royal title at Thomas's Battersea.
What Charlotte's friends call her now
In her new school instead of being known by her official title, Her Royal Highness Princess Charlotte of Cambridge, she goes by Charlotte Cambridge.
"Charlotte will be known as Charlotte Cambridge, so that will be her name when she's called out on the register," Nicholl explained.
The 4-year-old's last name is actually Mountbatten-Windsor, which is a combination of Prince Philip's and Queen Elizabeth II's surnames. It's also a name many royal fans may recognize now after Prince Harry and Meghan Markle announced that their son, Archie, will use it.
Nicholl believes that even though Charlotte Cambridge will be the name said in roll call, the princess' closest friends might refer to her as "Lottie."
"That's a name that her parents call her," Nicholl revealed.
What Prince George's friends call him
Like his sister, Prince George also goes by the Cambridge last name in the classroom but he has another name his friends call him as well.
The future king pals around with Maud Windsor at school. She is the granddaughter of the Queen Elizabeth's cousin, Prince Michael of Kent, and was in Princess Eugenie's wedding with George, but she's not the only person he hangs out with on the playground.
"He's very popular and has lots of friends," a parent of another child enrolled at Thomas's Battersea told Vanity Fair. "George is really happy at school, [and] his nickname is 'P.G.'"
When it comes to their academics, the prince and princess' curriculum this year will include lessons in math, English, science, history, geography, and religious studies. They also have more specialized courses in French, computing, art/design, technology, music, drama, and ballet.
Prince William recently said that George "loves" his ballet classes, which he began taking in Year 1.
Read more: What Will Princess Charlotte's Title Be When Prince William Becomes King?
Check out Showbiz Cheat Sheet on Facebook!