This Is Why Everyone Thinks The Weeknd and Bella Hadid Are Getting Back Together
After splitting from Selena Gomez in October 2017, The Weeknd took a page out of her book and seems to be rekindling a romance with a former flame. The Weeknd, whose real name is Abel Tesfaye, reportedly broke things off with the "Hands to Myself" singer after 10 months of dating because of their hectic work schedules. Gomez was then spotted hanging out with her ex Justin Bieber just about every day. So what is The Weeknd to do? Well, he decided to hang out with his ex, Bella Hadid, of course.
Here's what we know about their rendezvous and why everyone thinks they are going to get back together.
The Weeknd reached out to Hadid first
According to E! News, an insider claimed that The Weeknd made the first move with his ex by calling the model to see if she wanted to get together.
"Abel reached out to Bella asking to hang out and catch up, and she decided to see him and see where things go," the source said.
Working out for Gomez and Bieber
The Weeknd may have gotten the initial idea to contact Hadid after seeing Gomez hanging out with her ex.
Gomez and the Biebs seem to be having a blast and are all smiles every time the paparazzi has caught them together. They recreated their first date, went to hockey games with each other, and even attended church together.
So, if it's working out that well for them, maybe it's not a bad approach for him to take with Hadid.
The Weeknd and Hadid hung out at her place
And hang out they did.
A few weeks after his Gomez breakup, cameras captured the "Starboy" artist leaving Hadid's New York City apartment. He reportedly spent "several hours there," leading to speculation that the two are going to get back together.
Hadid 'likes' a photo of Gomez
With Jelena likely back on and her own reunion with The Weekend, it appears that Hadid doesn't harbor any ill feelings toward Gomez anymore.
Some eagle-eyed social media users noticed that Hadid "liked" an Instagram post by IMGmodels of Gomez's red carpet look at the 2017 American Music Awards on Nov. 19. This comes less than a year after the model unfollowed the singer when she started dating The Weeknd.
The Weeknd 'still loves' Hadid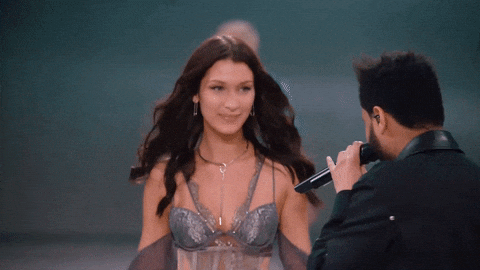 A major piece of information that has everyone believing they are definitely going to get back together is that a source revealed to E! News that The Weeknd still loves Hadid.
"He has expressed to her that he loves her still, and they will always have a real connection," the insider explained. "He also apologized for hurting her in the past."
She 'still loves' him
In turn, sources have said that the feelings are mutual as Hadid "still loves him" as well, but she doesn't want to get hurt again and is being cautious for now.
The insider said that Hadid "is stronger this time around. She would give Abel another try, maybe down the road, but is taking small steps before she jumps back into a relationship. She still loves him, but she is keeping her options open."
The Weeknd goes out with Katy Perry
While everyone was thinking it was only a matter of time before The Weeknd and Hadid announced that they're officially an item again, the "Can't Feel My Face" singer threw us all a curveball.
In November 2017, just days after he was seen leaving Hadid's residence, The Weeknd was having dinner with Katy Perry in Hollywood, and no one was really sure what to make of it. However, there could be a multitude of reasons why those two met up, and it should be noted that they arrived and left the Italian eatery separately.
So, yes, there is hope that Hadid and The Weeknd will get back together.
Follow Michelle Kapusta on Twitter @philamichelle.
Check out The Cheat Sheet on Facebook!