This Is Why Prince Charles Is Reportedly Furious at Prince William and Prince Harry
Prince Harry and Meghan Markle opened up like never before in a revealing new documentary, yet Prince Charles is reportedly furious over the growing rift between his sons. Inside sources claim that the Prince of Wales is seriously worried about Prince Harry following his bombshell interview and is unsure what he might do next. But he is particularly angry about the feud, especially after everything he's done for Prince Harry and Markle.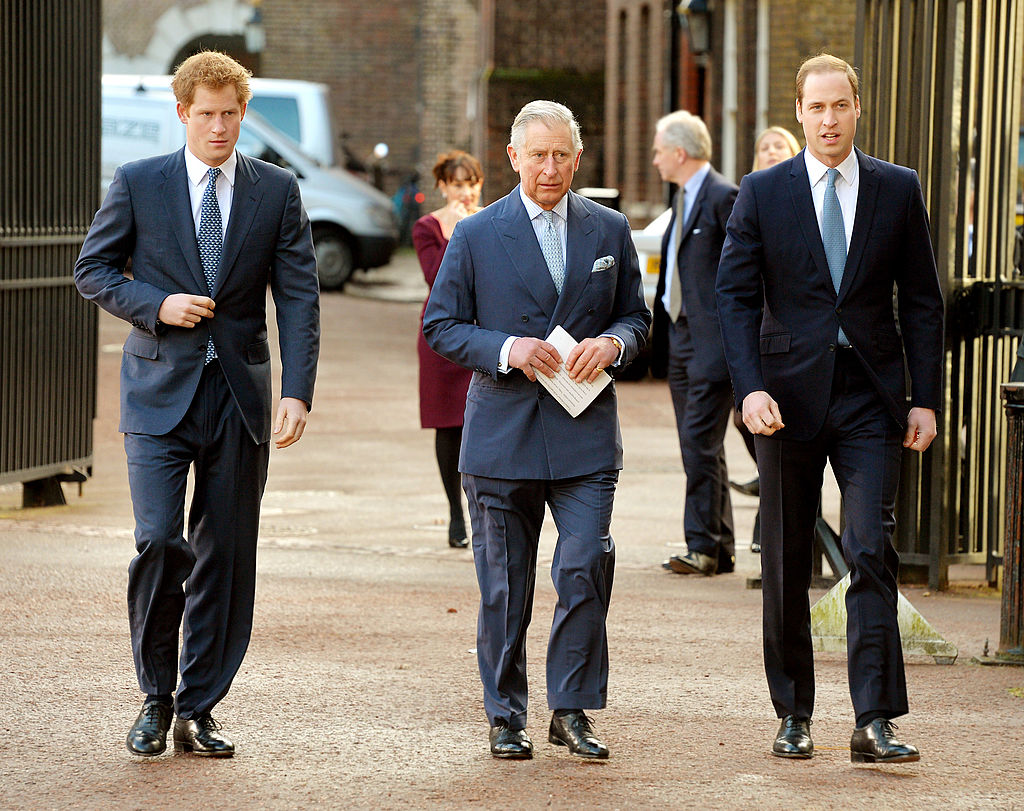 Prince Charles allegedly furious over Prince William and Prince Harry's feud
Prince Harry discussed a lot of things in the new documentary, titled Meghan and Harry: An African Journey. But he raised quite a few eyebrows when he seemingly confirmed his rumored feud with Prince William.
The Duke of Sussex didn't come out and say he is feuding with Prince William, but he did confess that they've experienced some ups and downs over the years — as most brothers do.
He also confirmed that they do not talk as much as they used to before assuring royal watchers that he still loves his brother dearly. As far as Charles is concerned, he is allegedly worried about Prince Harry in the same way he was anxious about Princess Diana.
According to Express, Prince Charles was also miffed when Markle recently canceled a meeting with him at the last minute. Prince Charles was disappointed by the snub, especially after all the support he has shown her over the years.
Charles and Markle reportedly hit it off from the start and he has been her biggest voice of support within the ranks of the royal family. As royal watchers will recall, the Prince of Wales even walked her down the aisle when her father, Thomas Markle, failed to show up at her wedding.
Despite his disappointment, the insider added that Prince Charles will publicly support Prince Harry and Markle when the time comes.
Why else is Charles angry?
Apart from confirming the feud, Prince Charles is allegedly unhappy with the reports that claim Prince Harry and Markle have modernized the royal family all by themselves. While royal experts took this as a criticism of Queen Elizabeth, Charles reportedly felt like it undermined all the work he has done in the past two decades.
It is also a slight towards Prince William and Kate Middleton, who have also done a lot of great things to bring the monarchy into the 21st century.
Royal staffers at Clarence House were reportedly disappointed when they read about the documentary and are not happy about how Charles' new project on ITV is being completely overshadowed by the drama.
Prince Charles worked on a two-part documentary for the network, titled Prince Charles: Inside the Duchy of Cornwall. The doc explored the ins and outs of Charles' work as the second in line to the throne.
Prince Charles opens up about passing his estate to Prince William
In the documentary, Charles discussed what it takes to run the Duchy of Cornwall, which he inherited at the young age of 21. Prince Charles has grown the estate into a billion-dollar empire and will one day pass it on to his oldest son, Prince William.
Speaking of passing it down, Charles revealed that the Duke of Cambridge is lucky to have spent all of these years preparing to take over the estate instead of being given that kind of responsibility at a much younger age.
"He goes and visits different parts of the Duchy of Cornwall, and so he is learning, I hope, as time goes by," Charles revealed.
Looking back, Prince Charles believes he underwent a "baptism of fire" when he was given the Duchy of Cornwall, mostly because he had to learn everything on the fly.
While Charles wishes he had been given more time to learn the ropes, he is grateful that Prince William will be ready to take over the family business when the time comes.
Prince Charles is currently second in line to the throne and will inherit the crown as soon as Queen Elizabeth passes on. When that happens, Prince William will be given the title as the Prince of Wales and will take over the Duchy of Cornwall.