This May Be Kate Middleton and Princess Diana's Best Twinning Style Moment Ever
Kate Middleton has proven to have a lot in common with the late Princess Diana. As humanitarian women who married into the royal family, they've both notably broken the rules where they've seen fit. They've both changed the game in what it really means to be a royal, so it's not surprising that they're often compared to each other.
Middleton has likely been inspired by Diana in many ways — and her fashion choices are no exception. Here are the many times Diana's iconic outfits have lived on through her daughter-in-law, leading up to their No. 1 best twinning style moment ever.
8. Standing out in purple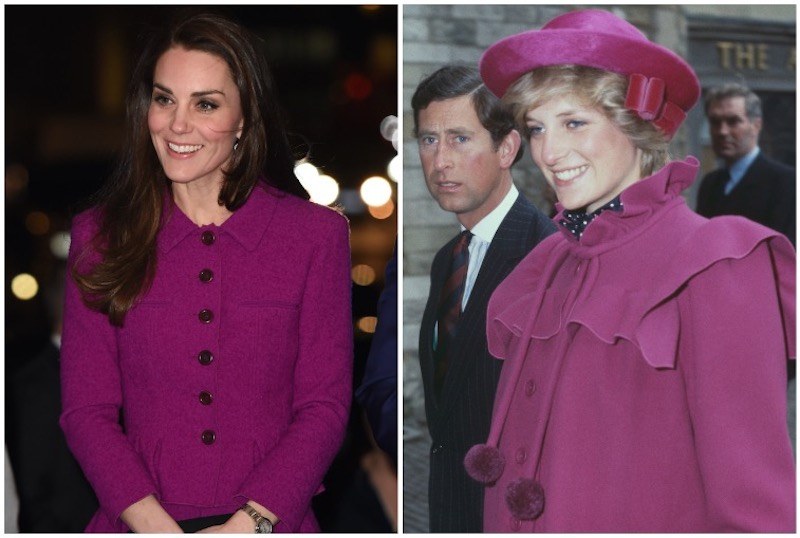 Not many people can pull off this daring shade of purple — but Diana and Middleton sure could. Diana is looking like the true fashionista she was, rocking this lively jacket with ruffles and pom poms (and, of course, perfectly matched her hat).
While Middleton didn't add a hat to her ensemble, we're still getting major Diana vibes in this gorgeous hue.
Next: They looked gorgeous in this classic style.
7. Classic white jacket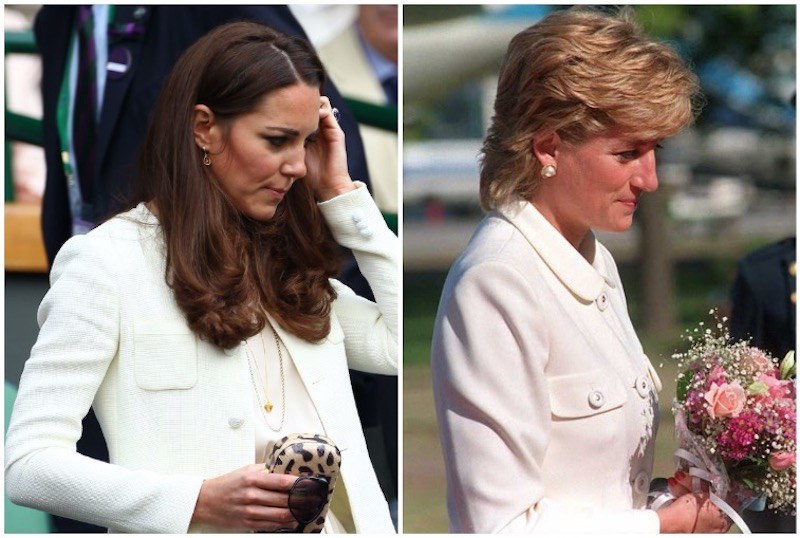 Both Diana and Middleton looked gorgeous in their classic white jackets. While the Princess of Wales wore this jacket on a visit to Argentina, the Duchess of Cambridge wore hers to Wimbledon in 2012.
She always manages to make Wimbledon her runway, and this time was surely no different.
Next: They both stood out in these outfits.
6. Going red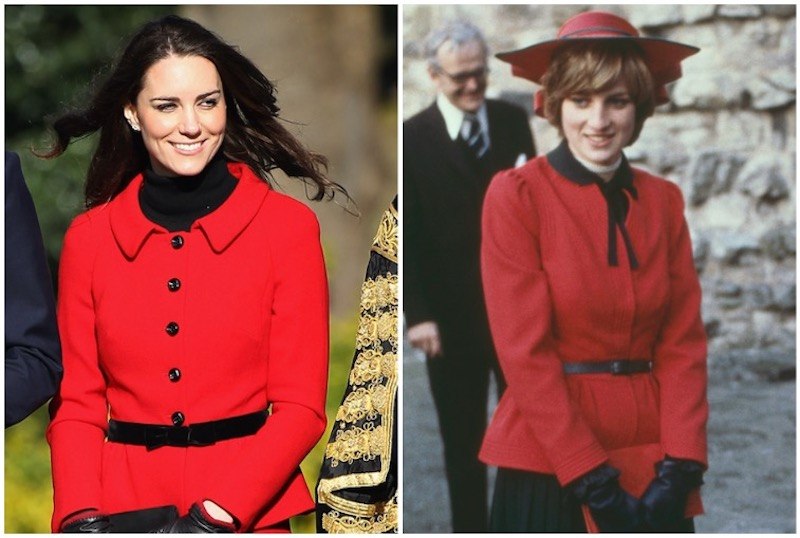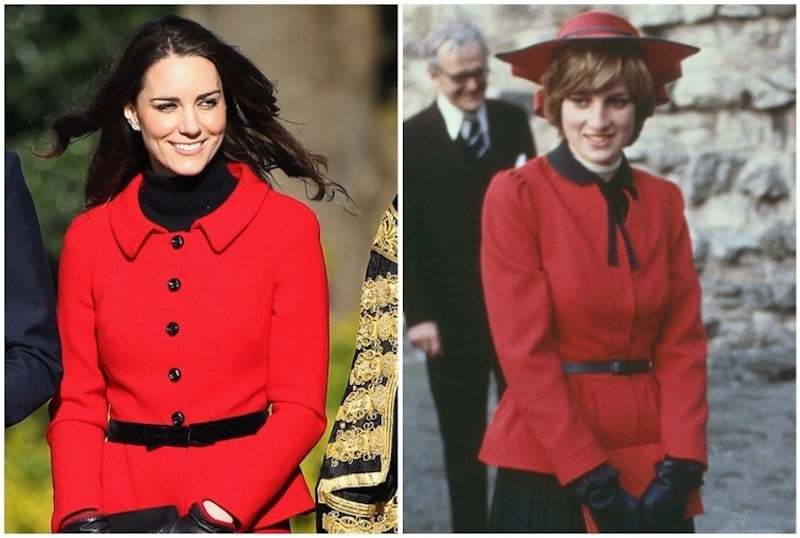 We love all the details of Diana's put-together ensemble she wore on a 1981 tour of Wales. From her neck tie to her belt cinching her at the waist, she knew how to make an outfit stand out. While she matched the red shade of her jacket to her shoes, hat, and clutch, she toned down the look with a black skirt and gloves.
Middleton's 2011 look is a bit more vivacious, with a bright red skirt to complement her jacket. However, like Diana, she balanced her outfit by adding touches of black.
Next: No color is too bold for the royal ladies.
5. Blue elegance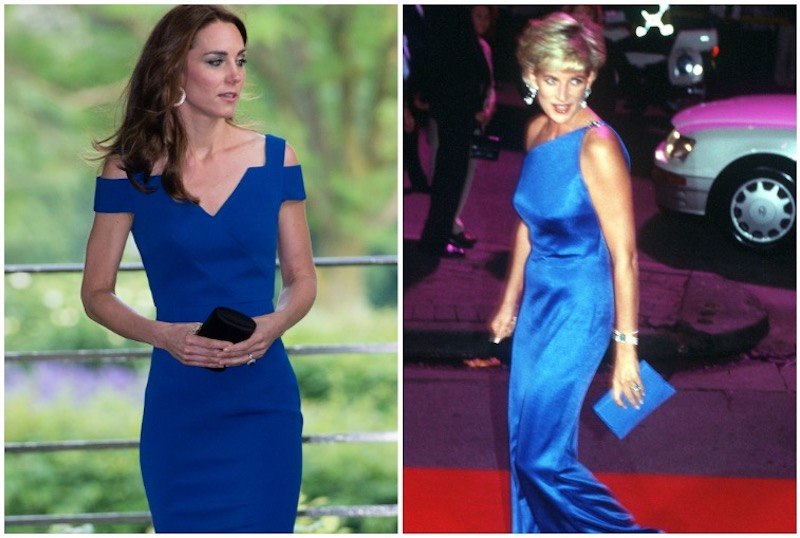 Middleton, like Diana, seems comfortable wearing literally any color. It's a good thing, too, considering royal women often wear bright colors intentionally to stand out in a crowd. Blue is one of the duchess' go-tos, but this cobalt shade is particularly daring.
Maybe she was inspired by Diana's iconic blue dress that she wore to the Victor Chang Cardiac Research Institute dinner ball in 1996. She looked elegant in her one-shoulder style, matching blue accessories, and glamorous jewelry details.
Next: They know how to add just the right amount of glam.
4. Black evening wear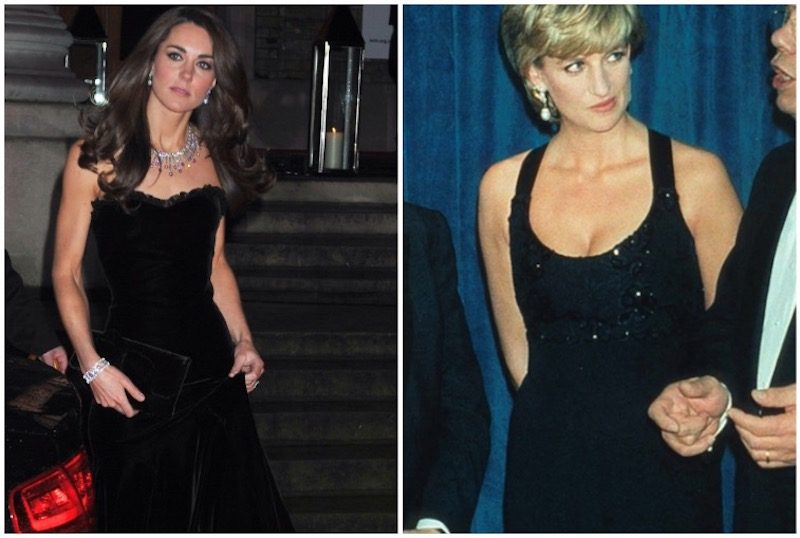 Both Diana and Middleton are the definition of "classy" in their gorgeous black evening gowns. Diana wore her look to a 1995 dinner in Manhattan, which honored her with the United Cerebral Palsy Humanitarian of the Year Award. Her dress features just the right amount of sparkle, and she doesn't overdo it in the jewelry department.
Middleton clearly took a page from Diana's book, as she added just the right amount of glam to her evening wear while attending the Sun Military Awards in 2011.
Next: They've both mastered this style.
3. Military style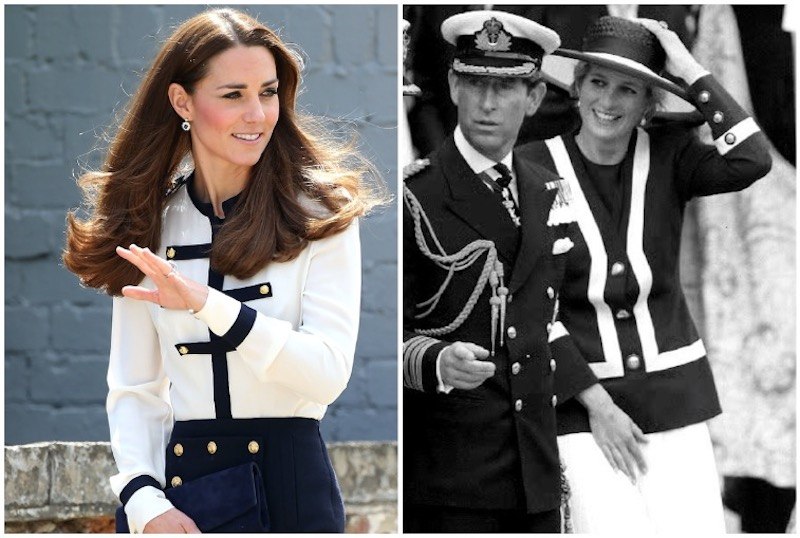 Diana's outfit was perfectly styled while attending a commemoration service for the Battle of the Atlantic. The buttons on her jacket resembled those on Prince Charles' suit, but still managed to look completely feminine.
Middleton has also mastered the feminine military style, as she wore this stylish ensemble on an official 2014 visit to Bletchley Park in England.
Next: This could almost be Diana's dress.
2. Posh in pink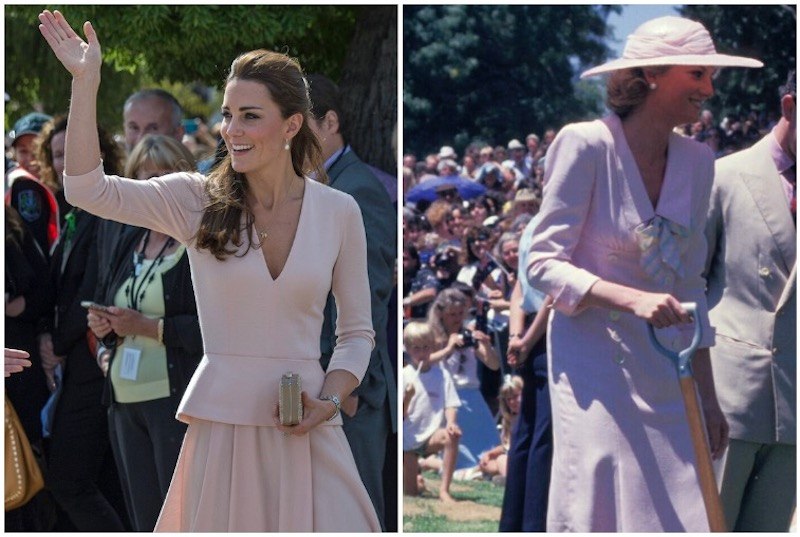 Middleton almost seems like she could be wearing Diana's pale pink dress, only tailored for a more modernized look. What makes this twinning moment even more significant is that both women wore these looks on royal tours of Australia.
Diana's look is from 1988, while Middleton wore her Alexander McQueen dress in 2014.
Next: This is their best twinning moment ever.
1. Bright red houndstooth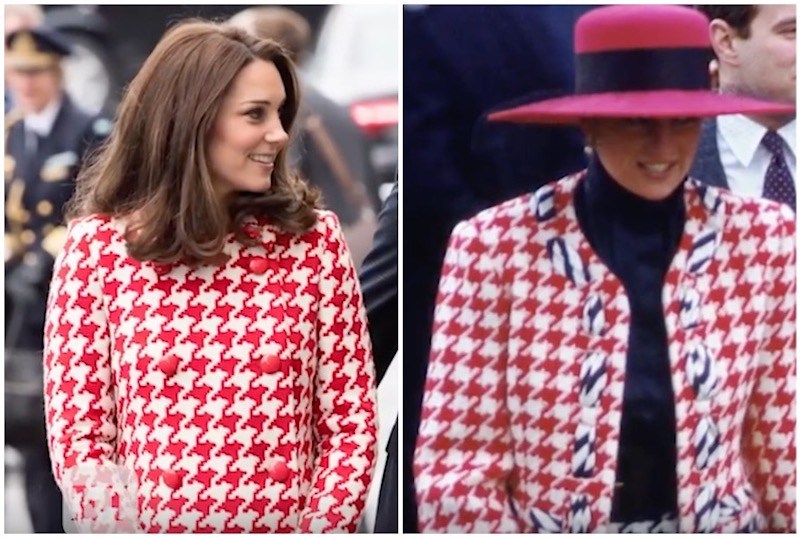 We're loving this bold red houndstooth print both Diana and Middleton rocked 27 years apart. Diana wore her Moschino suit on a royal visit to Canada in 1991, and we wouldn't be surprised if Middleton was inspired by her mother-in-law to try it out for herself.
The Duchess of Cambridge wore her houndstooth coat by Catherine Walker on a royal tour of Sweden in 2018.
Check out The Cheat Sheet on Facebook!