This 'NCIS' Star Was The Last to Know That Cote de Pablo's Ziva Was Returning for Season 17
NCIS fans were shocked when Cote de Pablo returned as Ziva David in the season 16 finale — and they weren't the only ones. In a new interview, NCIS star Diona Reasonover revealed that producers did not tell her about Ziva's return until after the season finale aired. Not only was the actress the last cast member to find out about the bombshell cameo, but fans on the East Coast knew about it before her as well.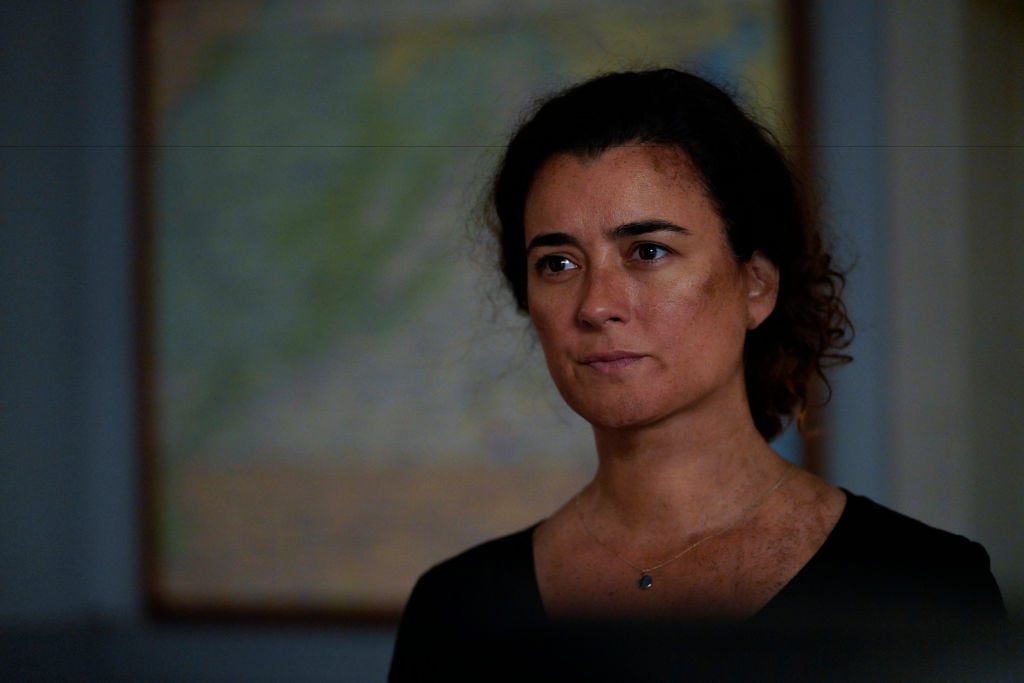 Reasonover opens up about Ziva's return to 'NCIS'
NCIS producers kept de Pablo's return last season tightly under wraps. The actress was brought to the studio late one night after everyone else had finished filming.
Only a skeleton crew and Mark Harmon (Gibbs) knew that she was doing a scene. The rest of the cast of NCIS found out about Ziva's return a few weeks ahead of the season 16 finale, everyone except Reasonover that is.
In a new interview with Digital Spy, Reasonover revealed that she was kept in the dark about de Pablo's involvement in season 16 until after the finale aired. So fans on the East Coast actually knew that Ziva was back before she did!
"I feel like everyone knew but me!" Reasonover shared. "Not only did I find out after probably all the cast and crew, but I found out after the East Coast too, because I had been watching on West Coast time."
Luckily, this season was a little different for Reasonover. The actress was there for de Pablo's first table read with Harmon and wasn't kept completely out of the loop.
Ziva's storyline was the focal point for the first two episodes of season 17, and the character is expected to make a few more appearances before the season is out.
In fact, NCIS producers have confirmed that Ziva will be back in action for two more episodes, though exact details have not been revealed.
What does Reasonover know about Ziva's storyline?
Although Reasonover was present for de Pablo's return this season on NCIS, she does not know what's ahead for the character. The actress admitted that producers pretty much don't tell her anything outside of her own character, which means she doesn't even know when Ziva will be back in action.
She did, however, compliment de Pablo for her acting skills in the reading room and said that she cannot wait to work with her again.
That said, there is no telling what will happen to Ziva moving forward and it's entirely possible that Reasonover and de Pablo will not cross paths again this season.
We hope that is not the case and that the characters share more scenes, but at this point, anything could happen.
Meanwhile, Reasonover also teased what's in store for her character this season on NCIS. The actress revealed that her character, Kasie, will get an episode all to herself this season, in which the series will dive into her past. We'll also get to meet a few of Kasie's friends, as her personal and professional lives collide in the future installment.
Reasonover joined NCIS in season 16 following Pauley Perrette's departure. Perrette played the part of Abby Sciuto since the beginning of the show and was a fan favorite before her exit. Reasonover had some big shoes to fill, but she's done an amazing job so far.
Does anyone know what's ahead for Ziva on 'NCIS'?
Given how the entire cast was left in the dark last season, some fans believe that producers are doing the same thing this season. We already know that Reasonover has no idea what's in the cards for Ziva, yet nobody else has said anything about it either.
If producers wanted to keep Ziva's storyline a secret, keeping the cast in the dark would be one way to do it. We do not know why producers are keeping such a tight lid on Ziva's arc this season, but it could have something to do with potential reunions. Ever since her resurrection last season, fans have been hoping to see Ziva reunite with her long-lost lover, Tony DiNozzo (Michael Weatherly).
Producers have not confirmed Weatherly's return to NCIS, but there is still plenty of time to get the characters together.
Fans can watch Reasonover in action when new episodes of NCIS air Tuesday nights on CBS.