This Needs to Happen in Order For 'Big Little Lies' To Have a Season 3
Big Little Lies wrapped up season two with series high ratings and a set of questions about what happened to the Monterey Five after they walked into the police station. According to Deadline, the episode drew a larger audience than season one's finale and was the series' best in terms of viewership.
If you've been keeping up, then you know there have been talks that Big Little Lies won't be returning for a third season. Between HBO boss Casey Ploys saying it's unrealistic and the fact that season two wasn't originally part of the plan, season three looks like a firm no. As much as we would love to see more of Renata's snaps, the Ed-Nathan dynamic, and some mining into Bonnie's character, fans shouldn't count on seeing these ladies again. Or should we?
Yes, the season finale left things open. Yes, fans want a third season. And yes, HBO said they never intended for season two to happen. But it did, so there is a glimmer hope if some of the things below fall into place.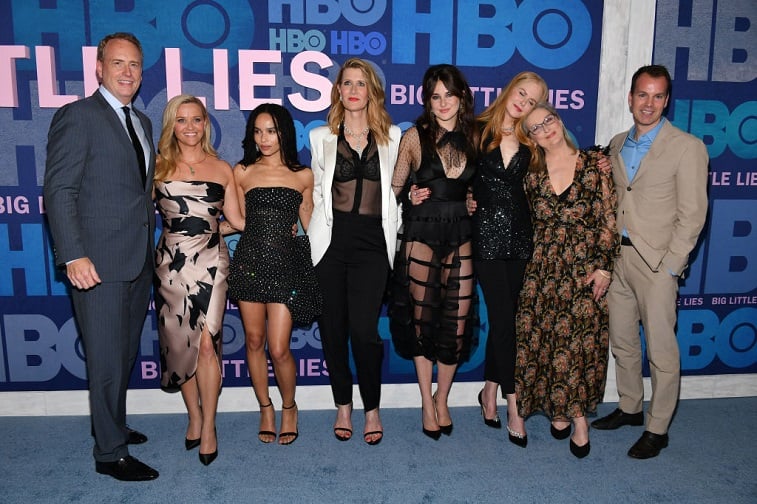 Nicole Kidman says she is down for a season three
The day before the finale aired, Kidman sat down with News Corp Australia for an interview, saying she'd be up for a new season:
"I think we would love to do a season three because there is certainly ideas. But we would not do it without all of the same people involved … even the kids."
Playing Celeste Wright marked the first time the actress was in a television series, and Kidman enjoyed becoming the character. Could we see more of Celeste? She also told The Daily Telegraph:
"To play that character through 14 episodes, and to be doing something for the first time in my career, this is a first for me … There's such complexity to what she's been through, how she's coping and then still trying to navigate the future for herself as a single mother with two kids. That to me was a really strong arc."
With her being game for a third go with the series, it would just take the other cast members to sign on, schedules permitting.
Stars and schedules would have to magically align
Showrunner David E. Kelley has echoed the sentiments of HBO's Bloys, stating that a season three "would be very unlikely." Harper's Bazaar reported that earlier this year, Kelley spoke during a Television Critics Association press tour saying, "I think that it's one and two, and we like where our closure is at the end of Season 2, so that will probably be it."
But the show's leads reminded him that he said that about season one and look how that turned out. One of the things that got Kelley on board for season two was Meryl Streep joining the cast. Her character added a fresh direction for the show. Kelley also told The Hollywood Reporter that Big Little Lies author Lianne Moriarty wrote a string of new stories for the ladies of Monterey in the form of a novella. Perhaps there's more material there?
It's possible, but as Bloys stated, these are some of Hollywood's busiest actresses and season three is just not realistic. Kidman also said that it would depend on whether or not they could get everyone together.
HBO would need to renew the show
At the time of this writing, HBO has not renewed Big Little Lies, while freshman breakout hit Euphoria has already been renewed for a season two. It's possible for the network to renew later, but hits are typically given green lights early, plus Kidman and Kelley are presently working on The Undoing, an upcoming show for HBO.
Big Little Lies seemingly wrapped up loose ends in the finale, but there is room for more storytelling. From here on out it depends on HBO, Moriarty, Kelley, Reese Witherspoon, Nicole Kidman, Zöe Kravitz, Laura Dern, and Shailene Woodley. That's a big little order.