This 'Today Show' Anchor Just Announced New Book
The Today Show anchors have a lot going on these days. With the news cycle at a peak with the 2020 presidential election in the spotlight, the hosts have plenty to cover as well as celebrating personal milestones. Jenna Bush Hager and Dylan Dreyer are both expecting with baby boys, while Hoda Kotb has been out on maternity with the adoption of her second daughter, Hope Katherine. Recently, one of the journalists announced a new book that will be hitting the stands in October.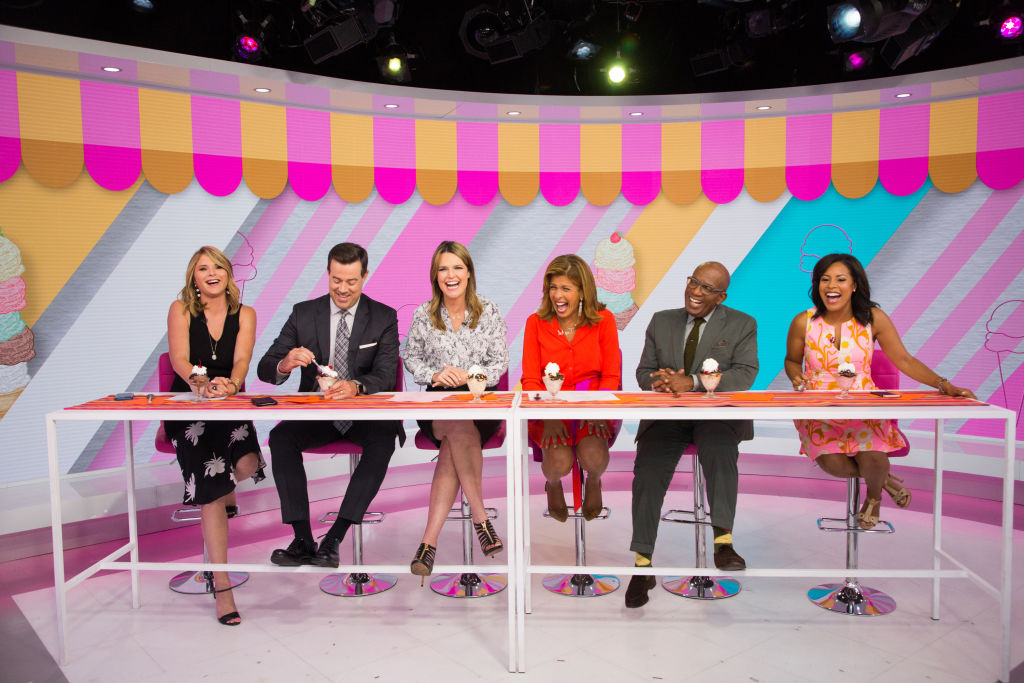 Message from maternity leave
Kotb, who has been on maternity leave since mid-April, had clearly been enjoying her time with her new daughter, as well as her 2-year-old Haley Joy and boyfriend Joel Schiffman. She recently posted a video saying while she's loving her time at home, she's looking forward to getting back to the news desk. "Hi guys, I just want to let you know that I am loving my maternity leave, but I am also waiting for the day that I come back to see you guys on TV," she said on Instagram. "I can't wait for that."
Kotb had another reason for posting the video, and that included an announcement of another project she's been working on.
The host of Today and Today with Hoda and Jenna is known for being a positive inspiration, often sharing quotes on social media and on her digital segment, "Quotes by … with Hoda," where she talks to celebrities about their favorite and most impactful quotes. Apparently, Kotb wants to take this concept a step further.
"You guys know I love to post quotes on Instagram," she said in her video. "What I love more is reading your responses to those quotes. I feel like the quotes move you, and a couple of the responses said, 'I really needed this today.' We thought, 'You know what, what a perfect title for a book.'"

"I Really Needed This Today: Words to Live By," by Kotb will be released on October 15. The book features 365 quotes and stories meant to inspire and encourage readers for each day of the year. "They're meant to inspire, make you feel good, you can have it by your bedside – it's a book I'm really, really excited about," she said in her announcement. "I feel like it's uplifting, and I hope it lifts you up… I hope you enjoy it."
Kotb is an established author
Already a New York Times best-selling author, Kotb also released a children's book earlier this year, according to Today.com. "You Are My Happy" came out in March, which was inspired by Kotb's nighttime bedtime routine with daughter Haley. "That time at night is so incredibly special to me. I feel like I just don't want to waste it." Hoda told Today.
The book depicts a mama bear with her cub cuddling together before bedtime and discussing everything in life that makes them happy, with illustrations by Suzie Mason. The artist also illustrated Kotb's first children's book, the New York Times best-seller "I've Loved You Since Forever."
Kotb has authored other books as well, including the popular 2010 "Hoda: How I Survived War Zones, Bad Hair, Cancer, and Kathie Lee," which was also a New York Times best-seller.
Apparently, Kotb likes to be kept busy whether on or off the set of Today. Her new book is sure to be another hit, with fans awaiting her return to the small screen. It sounds like Kotb is looking forward to being united with her audience as well, saying on her Instagram video, "I cannot wait to see you back on TV very soon."