Thom Yorke Just Revolutionized the Way We Download Music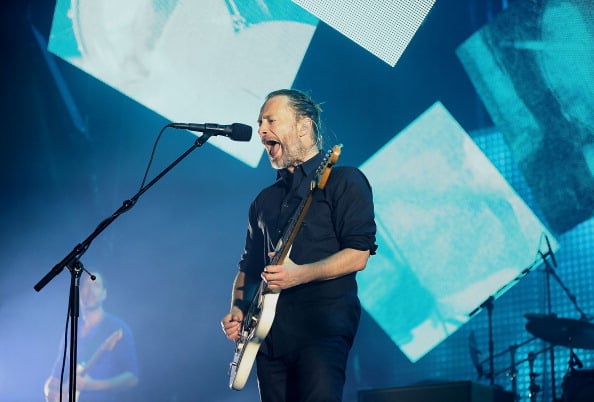 Thom Yorke is a name virtually every music fan not living under a rock knows. As the frontman of Radiohead, he's gained an international following of millions, famous for a sound influenced by everyone from Elvis Costello to Queen. Singles like "Creep" and "Fake Plastic Trees" have made Radiohead (and by extension, Yorke) iconic in the industry. But Yorke's latest move is less about the music he made and more about the way he got it to his fans.
Hosting his latest solo album, Tomorrow's Modern Boxes, on BitTorrent, Yorke threw it behind a $6 paywall, reaching a deal that netted him 90% of the profits, a marked improvement from the 30% cut that iTunes takes from every sale. Lo and behold, it ended up succeeding beyond the wildest dreams of anyone, netting upwards of $26 million, $24 million of which went right back into Yorke's pocket, according to the A.V. Club. In a 2014 report released by BitTorrent, it claims that Tomorrow's Modern Boxes was its most downloaded commodity all year, at 4.4 million.
Yorke himself has made his thoughts on the matter fairly clear in a post on BitTorrent's blog, where he goes into detail about his motivation for this one-of-a-kind endeavor:
It's an experiment to see if the mechanics of the system are something that the general public can get its head around. If it works well it could be an effective way of handing some control of internet commerce back to people who are creating the work. Bypassing the self-elected gatekeepers. If it works anyone can do this exactly as we have done.
Based on the numbers, it would appear as though Yorke has stumbled onto something that could very well change the way we download music forever. Ponder for a moment the sheer magnitude of the situation: For 42.7 million streams on Spotify, Time estimates Calvin Harris made right around $260,000. For 89% fewer downloads of Yorke's album to streams of Harris's track, Yorke made over $23 million more. The simple math here shows that artists stand to profit in massive ways without streaming and download services skimming off a healthy cut the top.
Yorke is not the only artist leveraging the power of BitTorrent to deliver music to fans. In August, Skrillex's OWSLA label released a 20-track bundle that also included music videos, album art, discount codes, and a free one-month subscription to the label's Drip.FM service. Mad Decent boss Diplo still has a free bundle available (with a $5 pay wall option) featuring 12 tracks and artwork. Even Asking Alexandria got in on the action, offering a download that includes behind-the-scenes footage, music videos, and live recordings from performances.
More and more artists seem to be jumping on board with BitTorrent, which in many ways has proved to be a win-win situation for both them and their fans. The people making the music get fairly compensated for their efforts, and the ones consuming it get to pay a reasonable price for that work. Established services like iTunes and Spotify may not be going anywhere anytime soon, but they'll certainly be given a run for their money by what's proven to be a more-than-successful experiment. The industry is changing, and soon the people who distribute that music will need to change, too.
More from Entertainment Cheat Sheet:
Want more great content like this? Sign up here to receive the best of Cheat Sheet delivered daily. No spam; just tailored content straight to your inbox.