Thomas Middleditch Says This Is the Key to a Successful Open Marriage
Thomas Middleditch has quite a lot on his plate right now, namely figuring out what he's going to do now that Silicon Valley is coming to a close. The HBO comedy has run for a solid six seasons, but it's coming up on its expiration date. Luckily, this celebrity kicked off his own investments thanks to the show and has even started on some passion projects. He's also landed quite a few roles to keep him busy.
But, his career isn't the only thing he has to worry about. The Zombieland actor also has a pretty unconventional home life. One that many people could only dream of having.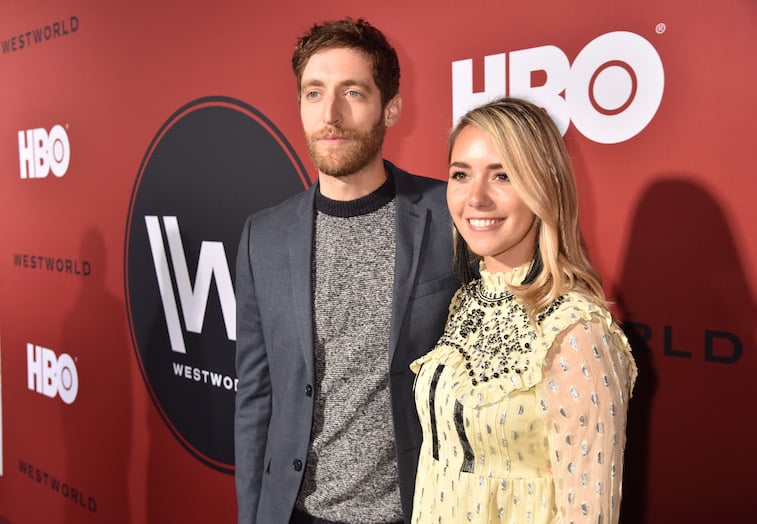 What is an open marriage?
Open marriage isn't so simple that it has just one definition. It takes many forms based on what works for the couple. For some couples, open just means engaging in one-night stands.
For others, open relationships can mean building an entirely new relationship outside of the marriage. Sometimes the couple doesn't meet their spouses "significant others," other times they become well acquainted. The sky's the limit. 
Who is Thomas Middleditch married to?
In the case of Middleditch, he and his costume designer wife Mollie Gates thank swinging for keeping their marriage together. While interviewing with Playboy, the 37-year-old actor was asked just how much he knew about the scene. He revealed that the pair decided to give the alternative lifestyle a try after their marriage back in 2015.
"Only after I got married was I like, 'Mollie, I'm sorry, but we have to get nontraditional here. To her credit, instead of saying, 'F— you, I'm out,' she was like, 'Let's figure this out.'" – Thomas Middleditch
He went on to say that swinging saved their marriage, but it has also been a root of tension for them. Despite that, the pair have managed to navigate the lifestyle beautifully thanks to a few key factors. Of course, strict rules and regulations are a part of the game, but it isn't the only thing keeping the couple above water.
Other celebrity couples with open marriages
The Silicon Valley actor and his surprisingly understanding wife aren't the only members of Hollywood who like to "indulge." Here are a few other celebrities who have opened their marriages with success.
Mo'Nique and Sidney Hicks – Mo'Nique is the one who opened up the marriage as she believes that monogamous relationships are all about ownership. Being African, she also feels that monogamy is a very Western idea, one she doesn't need to abide by.
T-Pain and Amber Najm – This pair has a much stricter setting on their "swinging." They only invite other women to join them in the bedroom. But when news of their "open marriage" first hit the streets, people thought they were entirely out there. They quickly clarified their boundaries to the public.
Will and Jada Pinkett-Smith – Everyone's favorite Hollywood couple might also be open. They've been together since 1997, so many have asked if they swing. They've never confirmed or denied a thing, but Pinkett-Smith has said that she is not her hubby's watcher. She also trusts him to make the right decisions.
Dolly Parton and Carl Dean – It's all about mentality with this country couple who have been married since 1966. There's a don't ask, don't tell attitude here. As far as Parton is concerned, if there is cheating, she doesn't know, and what she doesn't know doesn't hurt her. The same goes for him.
What is the key to a successful open marriage?
Middleditch and Gates have managed to create something unique. As Middleditch mentioned in his interview with Playboy, the couple is in constant communication. When things become overwhelming, they make sure to check in with one another.
That open line the allows them to speak freely is really the key to having a successful open marriage. Not just that, open communication is the key to any relationship!