Did T.I.'s Wife, Tiny, Just Weigh in on His Daughter's Virginity Tests?
It's been exactly a week since T.I. made asinine comments about his daughter and her virginity, and now his wife, Tiny, appears to be weighing in. In case you somehow missed it, on October 15, 2019, the "Whatever You Like" rapper went on the Ladies Like Us podcast. Whilst there, he talked about his role as a father and how he navigates parenthood. He then revealed how he invades his 18-year-old daughter's privacy and legal rights.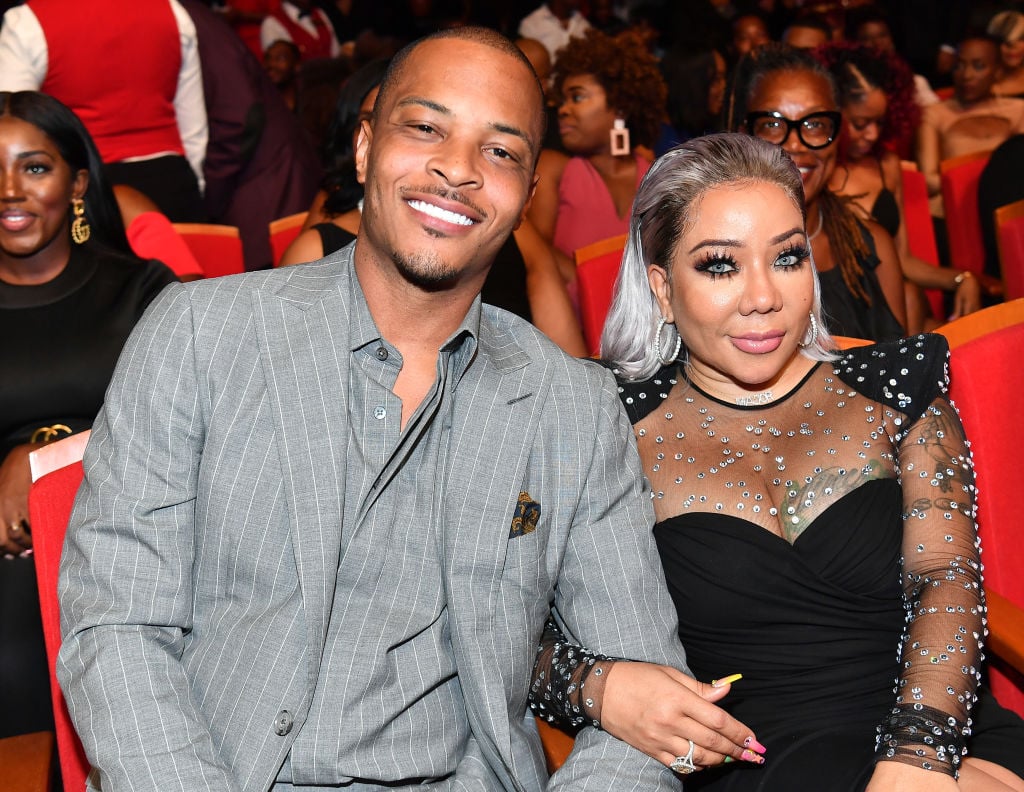 The rapper was a guest on the Ladies Like Us podcast
While on the podcast, T.I. bragged about how he conducts "virginity" tests for his daughter, Deyjah Harris. With flagrant disregard for her privacy, he launched into a troublesome monologue about how he accompanies to the doctor each and every year to find out about the state of her hymen. "Deyjah's 18, just graduated high school now and she's attending her first year of college, figuring it out for herself. And yes, not only have we had the conversation, we have yearly trips to the gynecologist to check her hymen," he bragged to the podcast co-hosts.
Following that, the rapper continued on to share how he coerced his daughter into letting him violate her HIPPA rights. "So we'll go and sit down and the doctor will come and talk and the doctor's maintaining a high level of professionalism. He's like, 'You know sir, I have to, in order to share information'—I'm like, 'Deyjah they want you to sign this so we can share information. Is there anything you wouldn't want me to know? See doc? No problem,'" T.I. shared.
Hymen and virginity tests
Of course, an intact hymen does not in any way confirm a person's virginity. There are plenty of sexually active women whose hymen are still intact because it is an extraordinarily stretchy and flexible piece of mucosal tissue. Furthermore, a hymen can get torn during all sorts of other activities i.e. using tampons, riding a bike, horseback riding, etc. But, T.I. was sure to address those activities as well, citing that his daughter didn't engage in activities that would allow for a torn hymen.
"And so then they come and say, 'Well I just want you to know that there are other ways besides sex that the hymen can be broken like bike riding, athletics, horseback riding and just other forms of athletic physical activity.' So I say, 'Look doc, she don't ride no horses, she don't ride no bike, she don't play no sports. Just check the hymen please and give me back my results expeditiously,'" T.I said about his daughter.
T.I.'s daughter, Deyjah Harris, unfollows her dad on Instagram
The backlash from T.I.'s statements was immense. Not only were other celebrities offended, politicians even citied that this invasion of privacy was a violation of Deyjah Harris' human rights. Since the story broke, Deyjah Harris has unfollowed both her father and her stepmother, Tiny Harris, on Instagram. Furthermore, the hosts of Ladies Like Us have issued a public apology. "We support and love women and feel that their bodies are theirs to do as they wish. There was absolutely no ill intent toward any party involved & feel deeply awful about the entire incident," they wrote in a statement.
T.I.'s wife, Tiny Harris, responds to the backlash
T.I. himself has yet to publicly apologize for his heinous statements and actions, but now his wife, Tiny Harris, is responding to the backlash. On November 12, 2019, Tiny Harris took to her Instagram page to share a photo of herself and her husband with her 6.2 million Instagram followers. "Mi amor por siempre," she captioned the photo. Shortly after posting, a concerned fan inquired about how her stepdaughter was doing amidst the hymen controversy. "Is Deyjah okay? We care…," the person asked. Tiny responded with four eye-rolling emojis.
While we hoped for a better response from T.I.'s wife, fans probably should be directing their ire and concern to T.I. After all, he's the one who made this very private and personal issue a matter of public knowledge.