Tia Mowry and Her Husband Cory Hardrict Have the Sweetest Love Story
Not all child stars go on to have successful careers as adults. But thankfully, Tia Mowry of Sister, Sister fame is an exception to this rule. The 41-year-old mother of two is living her best life now both personally and professionally. And a huge part of that success she attributes to her husband and the father of her two children.
Tia Mowry-Hardrict and husband Cory Hardrict have one of those love stories that sounds like a Hollywood movie. But in their case, every word is true. Read on to find out how this sweet couple met and why they work so well together.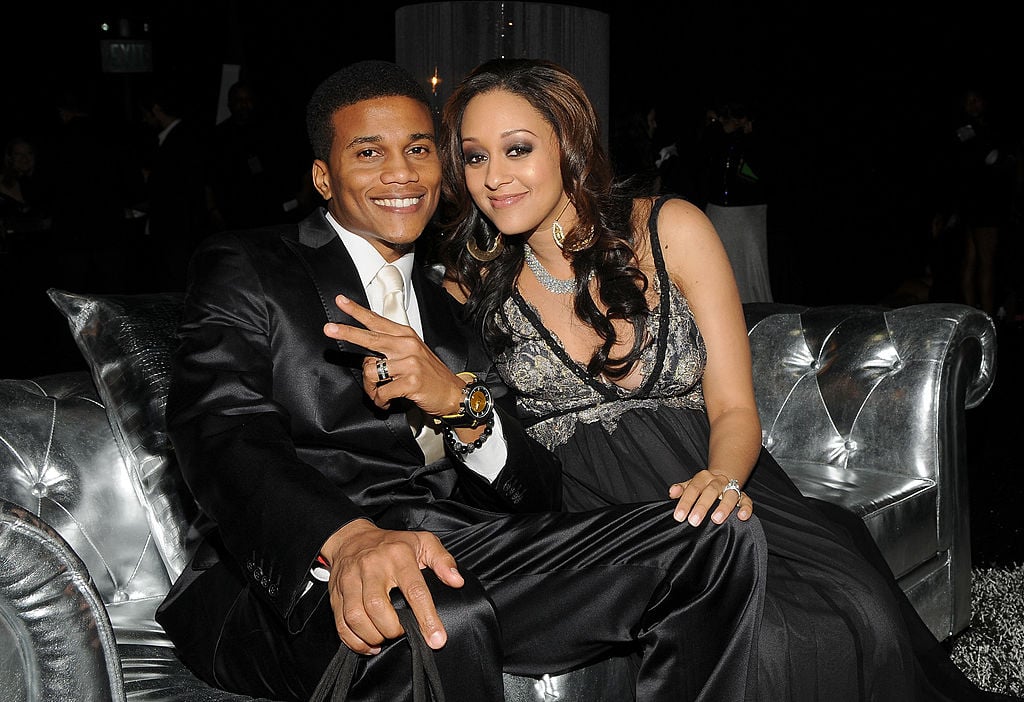 Tia and Cory didn't rush into their relationship
Even though they were attracted to each other from the start, Tia Mowry and Cory Hardrict took things slow in the beginning and enjoyed an extended courtship instead of getting too serious. "We courted each other for about a year," Tia explained in an OK! interview. "We didn't go on dates with just him and I, there were other people around. We waited a year to kiss."
This slow burn gave the couple a chance to establish a deep friendship as a basis of their relationship, which ended up making them stronger in the long run.
Tia saw her future husband for who he really was
Some women are swayed by fat stacks and flashy cars. But Tia Mowry was attracted to Cory Hardrict's personality, not his status in life. When the two met, Hardrict was working odd jobs and living in a studio apartment with "no furniture."
"I was waiting on a bus stop—after I shot my first film. Her sister and her drove by, they saw me waiting and asked to give me a ride," Hardrict explained in an interview. "I was embarrassed. I was downtown. They gave me a ride and we were friends ever since. They took me to Inglewood, so that's how that relationship started."
The couple supports each other
Tia and Cory both profess to have a deep faith in God and a lot of faith in each other. "Cory is a man of faith and a man of God," Tia explained after the couple celebrated 18 years together.
"He'll put something on the board and he'll say, 'Tia, I know that that's going to come to pass', and I'm like, this dude is crazy. Then it comes to pass and not only that—he taught me how to believe in myself more than I believe in myself. He is, like, my biggest supporter and biggest fan."
They share parenting duties equally
In Tia and Cory's world, there's no such thing as gender roles — instead, they both pitch in to do what's needed for their two kids.
"We don't put gender roles on our marriage and our relationship. If I'm working a lot and Cory's home, he will put Cree to bed, and if dishes need to be washed, he will wash them," Tia explained in 2015. "So it's not like, 'Oh, I'm going to wait until my wife gets home and she's going to be doing all that.'"
Cory has such an appreciation for his wife
It's easy to love Tia Mowry, but her husband Cory might love her most of all. "I knew Tia was the one for me when she was in my corner when I moved to LA… I was dirt poor, I didn't have anything and she appreciated everything for what it was and she loved me for me," he said.
"And I knew once I could get in a financially better situation, I'm going to buy her a ring and that's going to be my wife."
So sweet!