TIFF Review: 'Just Mercy' Is a Moving Film About Compassion
Just Mercy tells the true story of Bryan Stevenson (Michael B. Jordan) starting a center called the Equal Justice Initiative to give legal help to people who are on death row. The lawyer from Delaware goes to Alabama with this goal and hires Eva Ansley (Brie Larson) to help him. Destin Daniel Cretton and Andrew Lanham wrote the script and it's based on Stevenson's novel about his journey.
There are several imprisoned people followed in the movie, but the biggest case follows Walter "Johnny D." McMillian (Jamie Foxx.) He was arrested in 1987 and accused of killing a white woman named Karen Kelly. He was immediately sent to death row before the trial, then he was later convicted.
The movie follows the format of unraveling a mystery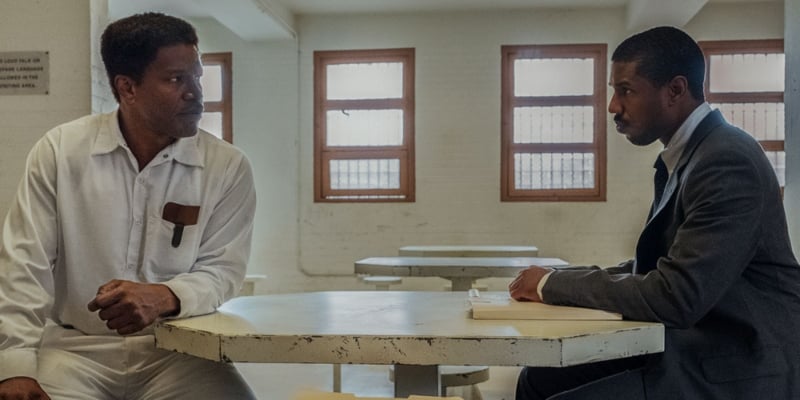 The movie follows the format of unraveling a mystery with this case. The pressure is on because the local citizens are passionate about the case and the local law enforcement don't like an outsider digging into the past. It's hard not to think about In the Heat of the Night when we see how people react to Bryan at first.
These events aren't always overwhelming. There are a few jokes and light moments due to the thinking of these locals. However, the movie never lets you forget what is at stake.
Jordan has an interesting task in this performance because Bryan has to put on a tough exterior by being challenged by the agents of a racist system. There is a stunning shot that focuses on his face as his tries to keep his composure that really moves you.
Many might go to the theater to see Foxx or Larson, they will leave thinking about Rob Morgan
Although many might go to the theater to see Foxx or Larson, they will leave thinking about Rob Morgan. The actor plays Herbert Richardson, who is also on death row. The most poignant scenes hinge on him and the use of sound in them is incredible.
Time moves pretty smoothly throughout the film. We see changes in the Equal Justice Initiative's office and growth in the staff instead of using cards to tell the audience the year. However, there is one misstep with this.
Eva played by Larson is a southern woman who isn't afraid to curse and tell off those who try to dissuade them. She is the only other person working at the center for some time helping Bryan by pulling information for him and trying to find them a permanent office.
This eventually changes with a Black woman who starts working in the office. She is the only one working with Bryan and Eva for some time yet audiences might not even get her name (it's listed as Brenda played by Andrene Ward-Hammond on IMDB). She answers phone calls and at one point is the only person who can help Bryan get what he needs for a case. It's strange that she is more in the background than Larson's character especially given the subject matter.
Other than that, Just Mercy goes to great lengths to show the worth of human life even when it's undervalued by a classist and racist system. It tells a very important story that many people should know and ends with a very strong message about compassion.
Just Mercy is currently scheduled to be released in December.