Tim McGraw Says A Comment from His Daughter Led to His 40-Pound Weight Loss
Tim McGraw is a beast in the gym. The country musician who has been married to fellow performing artist, Faith Hill, for 23 years  — they celebrated their wedding anniversary on Oct. 6 — revealed during a recent interview with Men's Health what jumpstarted his fitness transformation. A comment from his daughter. Keep reading to get all the details on his 40-pound weight loss. 
Tim McGraw doesn't 'really get tired of training'
A role in 2008's Four Christmases starring Vince Vaughn and Reese Witherspoon is where McGraw's journey began. The three-time Grammy winner realized he had put exercise and eating healthy to the wayside after his daughter, Grace, now 22, who told the "Humble and King" singer he looked "big on the screen."
"I got out of it for a while," McGraw told the publication. "I was in the prime of my career, and I wasn't capitalizing on it." He went on to say he stopped drinking alcohol, quit eating burgers and "truck-stop foods" and started going for morning walks slowly working his way up to running for 20 minutes. Today, the 52-year-old spends 90 minutes in the gym completing a workout he designed himself. Learn about the most extreme celebrity weight loss success stories and how they did it.
"I don't really get tired of training," he said before adding, "There's such a feeling of accomplishment that comes from the feeling of being my age and still being at the top of my game."

How he keeps workouts from getting boring
To keep things fun and interesting during workouts, McGraw uses a variety of equipment such as kettlebells, TRX straps, and battle ropes. Plus, he has his own names for moves. For instance, he calls Sumo squats "Beyoncés." Get details on Beyoncé's surprisingly easy weight loss secrets.
McGraw wrote a book about his personal experience with fitness, Grit & Grace: Train the Mind, Train the Body, Own Your Life, out Nov. 5, 2019. The hashtag, #Gritandgrace, is often seen in the "Don't Take the Girl" singer's Instagram posts that have to do with healthy eating or exercise. 
How working out helped McGraw's music
After he started jogging for 20 minutes, McGraw moved on to lifting weights and it was then he noticed how physical changes helped him as a performer. "I use my whole body to sing—my legs, my butt," he said. "And having more control over those things makes my voice stronger."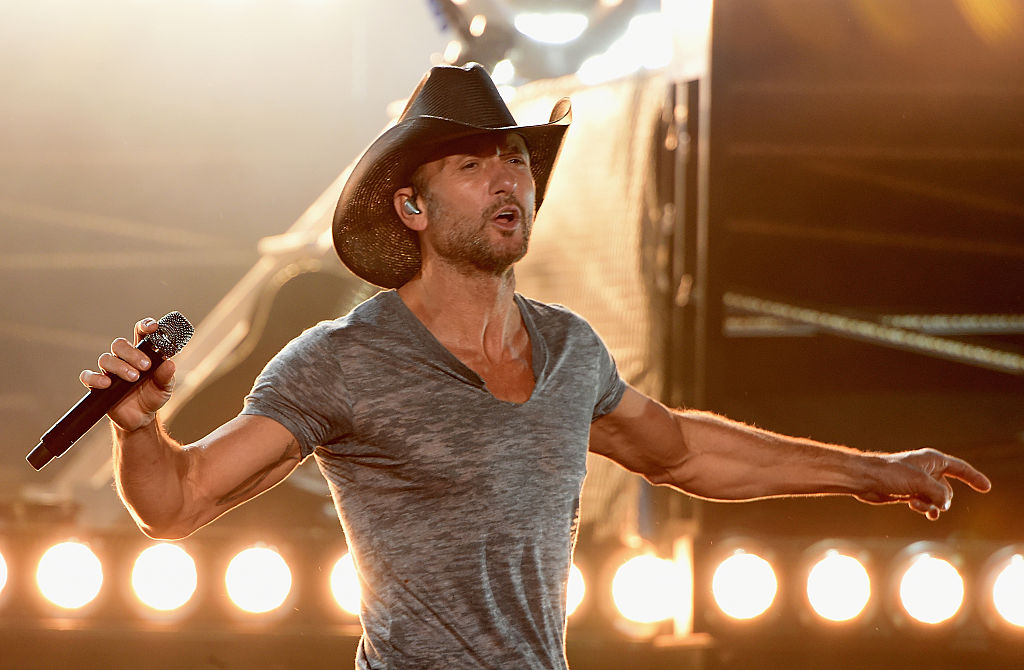 Not only did losing weight help him as a singer, but it's also become a space for him to unplug from the outside world. 
"This workout is my meditation," he said."It frees things up in your head so you can get the trash out for a little while."
In an Instagram post of McGraw standing in a kitchen surrounded by fresh food, he talked about how "change can be unsettling" but that the changes he's made to his life with fitness made him "a better person to be around." 
"Focusing on my physical health hasn't just made my body healthier, it's made me healthier at every level," he wrote in the caption. "Moving daily and exercising regularly was a pebble that set off a ripple effect, improving the way I eat, sleep, relate to others, and show up both personally and professionally. It made me a better person to be around."
McGraw will go on a five-city tour in November to promote his new book.