A Timeline of Miley Cyrus and Liam Hemsworth's Disastrous Marriage Since Tying the Knot Exactly a Year Ago
It's hard to believe that one year ago today, Miley Cyrus and Liam Hemsworth got married. Now, the former couple is in the midst of a divorce that has been pending to months. Since they won't be celebrating their first anniversary together, let's take a look back at what went wrong over the course of a year.
Cyrus and Hemsworth first got together in 2009
Cyrus and Hemsworth's relationship dates back to their now-infamous meeting on the set of their film The Last Song (2010) Hemsworth, then an up-and-coming actor, starred as the love interest for Cyrus' character as she worked to transition out of Disney childhood stardom to more adult roles.
But that doesn't mean that the two celebrities have been together for a decade. They broke up at least once in there, possibly more than that. Cyrus and Hemsworth got engaged a few years into their relationship, and then, after getting back together, were thought to be engaged once again.
They tied the knot on Dec. 23, 2018
After all of that back and forth, many thought that Cyrus and Hemsworth might never tie the knot. However, it was a disaster that brought them closer than ever. In Nov. 2018, their Malibu home was destroyed in the Woosley Fire that swept the area.
It then wasn't a coincidence when, the next month, Cyrus and Hemsworth officially tied the knot. Dec. 23, 2018, is thought to be the day they had their ceremony, which was a very small one in Tennessee. Most of the photos from the day have been deleted, but this one from a few days later remains on Hemsworth's account.
Early 2019 brought many events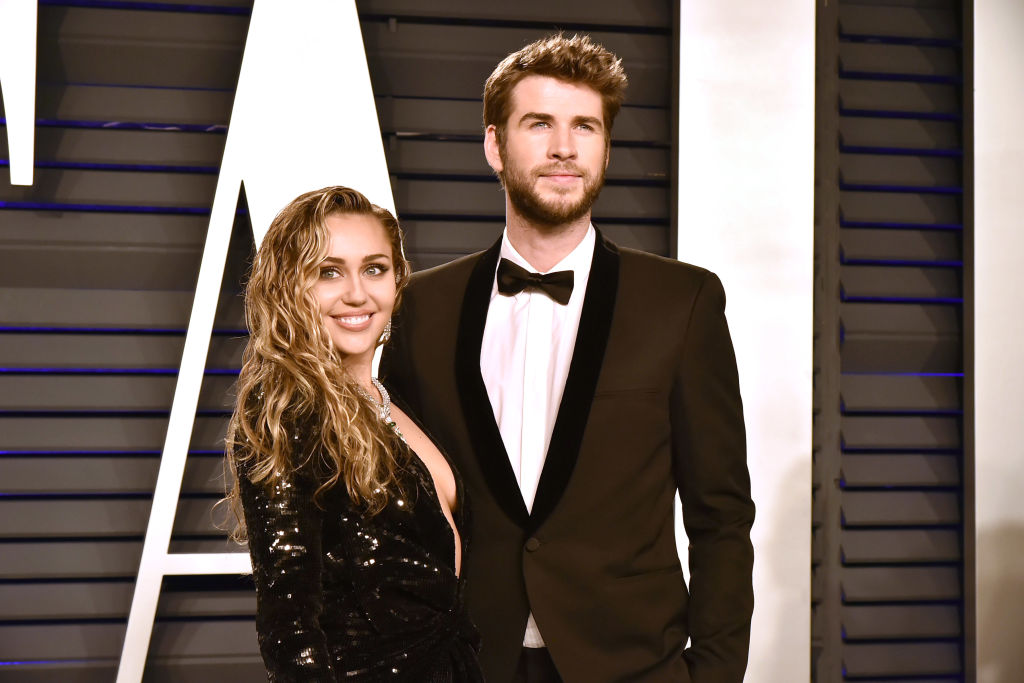 Cyrus and Hemsworth spent the first half of 2019 together. They attended numerous events in that time, including the Australian-American unity event G'Day USA Gala in January, the Vanity Fair Oscar Party in February, the Avengers: Endgame premiere in April, and the Met Gala in June.
There didn't appear to be anything strange going on at the time. Both routinely shared photos of one another, while working on their own projects simultaneously. Cyrus even attended the premiere of Hemsworth's film Isn't It Romantic in February when he was unable due to his health.
Their last days together
But the rumor mill really started to churn as the warmer months hit. Cyrus' new music for She Is Coming and her Black Mirror episode took over her social media feed, and fans began to notice her Bangerz-era image was back in full effect.
In their final couple of months together, Hemsworth posted quite a few photos with Cyrus which are still up today. Their last public event together was in June 2019, when they attended the Saint Laurent Men's Spring-Summer 2020 runway show. By August, they had split.
Where are they today?
These days, the two stars have gone in very different directions. Hemsworth, who was never particularly big on social media, has been keeping his head down, posting images of the ocean in his native Australia, pictures from the set of his new Quibi project, and photos with his dog, Dora. He is rumored to be dating actress Maddison Brown.
As for Cyrus, well, her life has been a whirlwind. She briefly dated Kaitlynn Carter, but the relationship ended almost as quickly as it began. She then started seeing singer Cody Simpson, and the two have been very close for a couple of months now. It looks like she'll be spending her first anniversary with a different famous Australian.