Chrissy Teigen Can't Stop Trolling John Legend on Twitter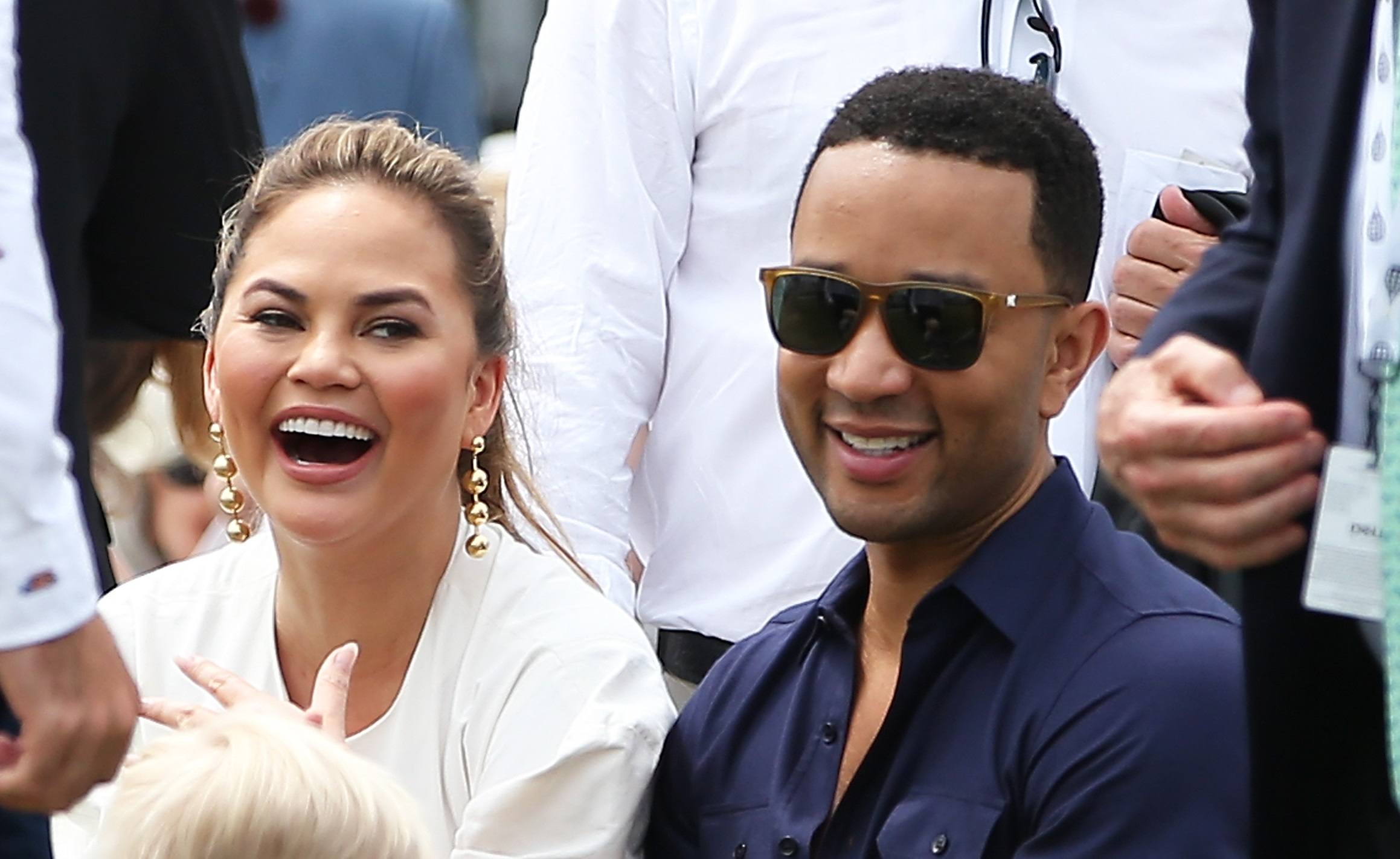 Chrissy Teigen is the reigning queen of Twitter, and we don't see her tenure ending anytime soon. From her hilariously relatable tweets to getting blocked by Donald Trump after tweeting "lol no one likes you," there truly is no holding her back.
One person who is guaranteed to get stuck in the crossfire from time to time is none other than her husband, John Legend. With each tweet, Teigen gives us more reasons to deem them our favorite celebrity couple. Here are 15 times she called out her husband, and trust us — it's hilarious.
1. Her backup plan
https://twitter.com/chrissyteigen/status/505774795037106177
We'll start off our roundup with this lovingly dark tweet about her backup plan in case she ever gets murdered. Is there anything more romantic than ensuring your husband gets locked up, just to make sure he doesn't ever get the chance to marry again? That's true love if we've ever seen it.
2. The reason they'll never get divorced
https://twitter.com/chrissyteigen/status/812061345067634688
Although some may think of even joking about divorce as crossing the line, Teigen's humor knows no boundaries. Back in 2013, she posted an Instagram photo of one of her husband's old albums. So old, that the album has his given name on it (aka John Stephens). Teigen captioned the photo, "Simultaneously unpacking and filing for divorce."
She never did file for divorce, and now we know why. In Dec. 2016, when a fan tweeted, "If @chrissyteigen and John Legend ever get a divorce, I will absolutely never believe in love again. #goals." Teigen responded by quote tweeting, "Too lazy. Hate paperwork." Honestly, she makes a valid point.
3. Keeping his ego in check
https://twitter.com/chrissyteigen/status/770866560944582656
Teigen will not stand for Legend giving himself a pat on the back for his talent, even if he was making a joke. Legend's sense of humor definitely complements Teigen's, as he calls out those who claim to love the National Anthem and deems himself "one of the best" at singing it (albeit true). With his gifted voice, we're sure Teigen makes a point to keep him humbled on a daily basis.
4. Requesting the recognition she deserves
https://twitter.com/chrissyteigen/status/541073041091219456
Teigen once again spills some truth while taking some well-deserved credit for her role in Legend's hit song, "All of Me." Think about it: How many first dances at weddings would have been completely different if not for Teigen's existence?
Some did not pick up on Teigen's joking tone of the tweet and called her out for assuming she would deserve any recognition. When one commenter advised, "let him have his moment, it congrats 2 him, not U," Teigen replied, "no it is to me." She's obviously mastered the art of trolling on Twitter, as she decided to continue playing along, which made her original tweet even better.
5. Their competition of talent
https://twitter.com/chrissyteigen/status/820836774507220992
We wouldn't be surprised if Teigen beat Legend at his own game, in light of how savvy she is in pretty much all aspects of life. Her hubby wouldn't be surprised either, as he was clearly trying to sabotage her newfound piano skills. A little bit of healthy competition can't hurt, right? Especially considering she's already confirmed they're never getting a divorce.
6. "John's horrific dancing"
Why are you shaking your head, @chrissyteigen? pic.twitter.com/rWH5bPUNaO

— CJ Fogler #BlackLivesMatter (@cjzero) January 9, 2017
Poor Legend, dancing so innocently at the 2017 Golden Globes without a care in the world. Teigen's trolling can't be stopped, as she can be seen shaking her head and mouthing, "no." When a user on Twitter questioned the reasoning for Teigen's look of disapproval, she responded, "John's horrific dancing." It's OK, Legend. You can't be good at everything.
7. Laughing at her husband's new name
https://twitter.com/chrissyteigen/status/818270677098631168
The next time you're upset about that Starbucks barista spelling your name wrong, just think about this sad experience Legend had to endure. Not only did his name get misspelled at the Golden Globes as "John Ledgend," but his wife surely couldn't let him live it down by tweeting a photo of it with the caption "Bahahaha loser."
8. The newest member of One Direction
https://twitter.com/chrissyteigen/status/580884891996323840
Following Zayn's departure from One Direction, Teigen took it upon herself to make Legend the newest member of the boy band. In Teigen's search for a "put other people's heads onto a different person app," she opened the floodgates to a slew of photoshopped images of Legend's head on Zayn's body, which we're sure Legend was extremely grateful for.
9. Why Teigen can't sleep alone
https://twitter.com/chrissyteigen/status/846205645015572480
Just when you think Teigen will actually say something sweet about her husband, she makes sure to turn it into a troll tweet. We do give her credit because her reasoning for not being able to sleep in her bed without Legend makes sense. Who else is going to get out of bed for you in the middle of the night to get you a glass of water?
10. 'The Thunder Games'
https://twitter.com/chrissyteigen/status/548051067913523200
Legend may have actually become a father in 2016, but he definitely earned "dad" status two years prior. When Teigen tweeted that Legend referred to The Hunger Games as "The Thunder Games," we definitely didn't blame her for calling him out. We're sure their 1-year-old daughter, Luna, will appreciate those dad jokes in about 15 years.
11. Her disappointment in his loyalty
https://twitter.com/chrissyteigen/status/425677915448418304
Maybe having a second phone would seem suspicious, but Legend proved his loyalty to Teigen when she borrowed the phone and she shared with Twitter that "not one mistress has written." Instead of offering praise, Teigen took it as an opportunity to make fun of him by tweeting, "haha what a looooooooser."
Gigi Hadid weighed in on the situation by replying to the tweet, "hahahahaha I actually love you." We can't help but admit that we kind of love when Teigen calls him a loser, too — which is pretty frequently.
12. Legend is the lucky one
https://twitter.com/chrissyteigen/status/221351495663226880
Teigen knows Legend is the lucky one in the relationship, and she'll make sure everyone realizes it. When she posts a photo of her making stir fry and Legend "just sitting," you should probably think twice before you call her the lucky one. Don't be surprised when she calls you out on Twitter (while simultaneously calling out her husband) because it will happen.
13. Her opinion on vocal warmups
https://twitter.com/chrissyteigen/status/876949684614549504
We can actually feel Teigen rolling her eyes as she typed "soooooo lucky." At least she acknowledges Legend's beautiful voice in this tweet before blasting his vocal warmups by saying they "make [her] want to stab [her] brain." Many rushed to respond to Teigen's tweet in support, as living with a musician is surely no joke. Even Lena Dunham consoled Teigen, writing, "Jack [Antonoff] playing guitar at home is emotional abuse 2 me."
14. Her Instagram standards
https://twitter.com/chrissyteigen/status/322917695416836096
Teigen once again took Legend down, along with any Instagram user who liked his "terrible" photo. She clearly wasn't impressed by it, and certainly not enough for it to make it to the popular page. The truth is, fans will probably like a photo of Legend's without even looking at it, so we don't see Teigen winning this fight.
15. Relationship goals
https://twitter.com/chrissyteigen/status/831340147434098688
When Teigen drunkenly came home from the 2017 Grammys, she posted a Snapchat video of Legend sweetly helping her take off her necklaces. In the Snapchat, after he removes the tangled jewelry, Teigen asks, "Are you mad at me?" Legend responds, "Why would I be mad at you? You're perfect."
While the moment was adorable, Teigen acknowledged that the act of him taking off her jewelry wasn't anything special. Marie Claire published an article, titled, "Taking Off a Tipsy Chrissy Teigen's Jewelry Is the Most Goal-Worthy Thing Ever." The magazine praises Legend for removing Teigen's necklace as "relationship goals," but Teigen called them out, noting that if you have a boyfriend who wouldn't do that for you, he's definitely not worth your time.
Check out The Cheat Sheet on Facebook!