25 Times 'The Simpsons' Predicted the Future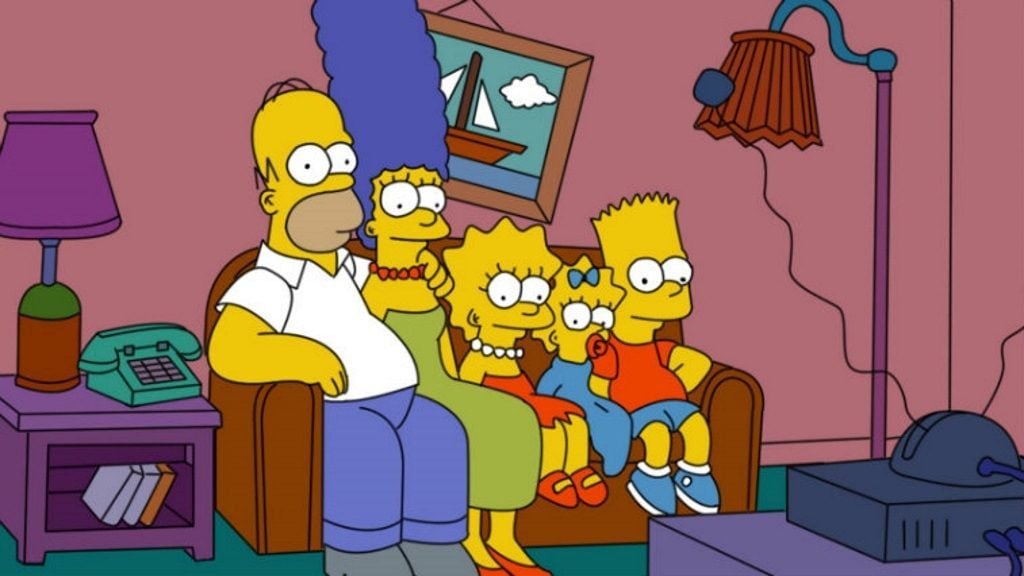 The Simpsons has been on air since 1989 and over the years we have gotten some great episodes. Many of them comment on current events and where the world is heading. Over the years, the show has actually made some bold predictions that ended up coming true.
Some of these predictions come from episodes that take place in the future, when the show's writers had to predict what the future would be like in terms of technology and politics. But other times, the predictions are weirdly coincidental and sometimes spot on! So what did the show get right? Here are 25 times The Simpsons predicted the future.
1. Roy's tiger attack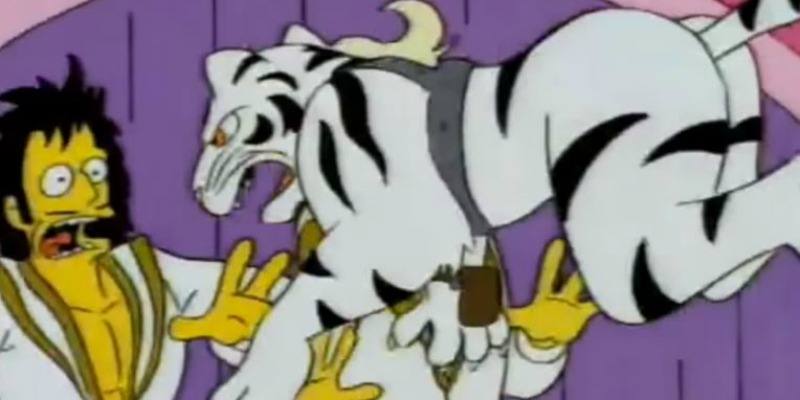 In the 1993 episode, "Or, How I Learned to Stop Worrying and Love Legalized Gambling," gambling is legalized in Springfield. The town essentially becomes Las Vegas and two entertainers have an act with white tigers. One of them gets attacked by the tiger during their act.
Sadly, this episode parallels what happened to Roy of Siegfriend and Roy in 2003. The tiger lunged at Roy's neck during the show and dragged him off stage. He was in critical condition after the attack, but survived. However, he never regained full use of his left side, according to ET. Years later, the entertainer doesn't blame the tiger, and thinks it was actually trying to help him.
"I got a stroke and I fell down, and I see these blue eyes staring looking at me," Roy explained, "I was like, 'What now? What happened?'" He then continued, "He picked me up by the neck and got me to the side so he'd know I'd be safe — like a mother with a cub. He took care of me."

2. Mutated tomatoes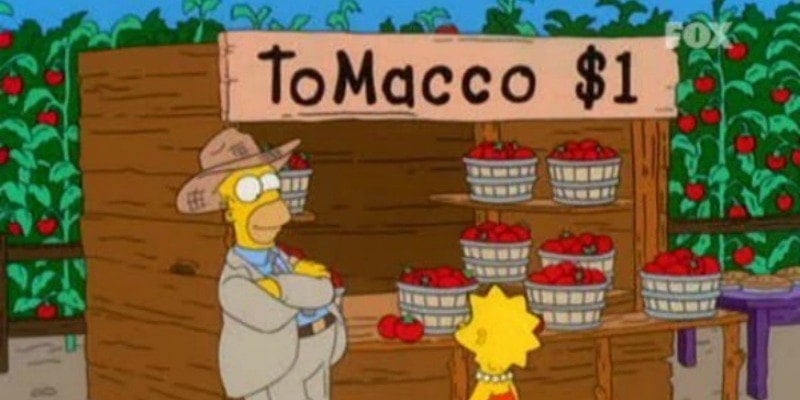 In the episode, "E-I-E-I-D'oh!" Homer, along with the rest of the family flee to the country where they become farmers. Homer uses plutonium to make his crops grow bigger and faster. This mutated his crops and he grows a cross between tomatoes and tobacco, which he called "ToMacco." This episode aired in 1999.
In 2013 there were mutated vegetables found in Japan near a nuclear power plant. Some of the crops were tomatoes that had growth on them, while other crops were abnormally large. In addition to the mutated vegetables in Japan, there was also an operation analyst named Rob Baur who was inspired by the episode to graft together a tobacco root and a tomato stem to make a real "tomacco."

3. Rigged voting machines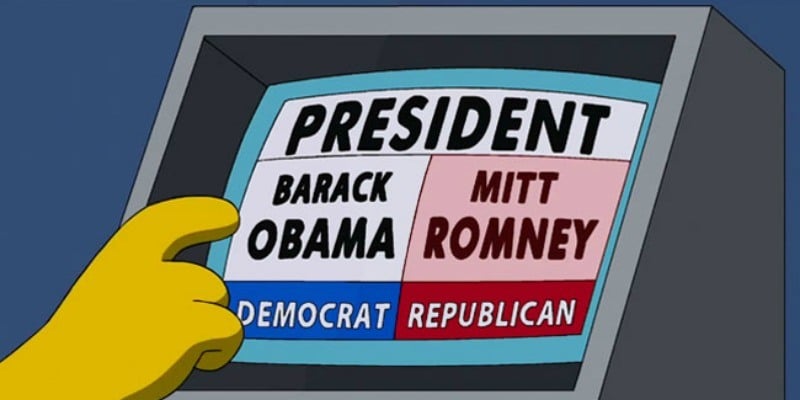 This is a prediction anyone could have made. In the opening scene of "Treehouse of Horror XIX" we see Homer trying to vote for Barack Obama in the 2008 presidential election, but the machine chooses John McCain. When he tries to report the issue, the machine sucks him in and kills him.
In 2012, there were real faulty machines that changed votes to Mitt Romney instead of Obama in Pennsylvania, according to Tech Crunch.
4. A lemon tree is stolen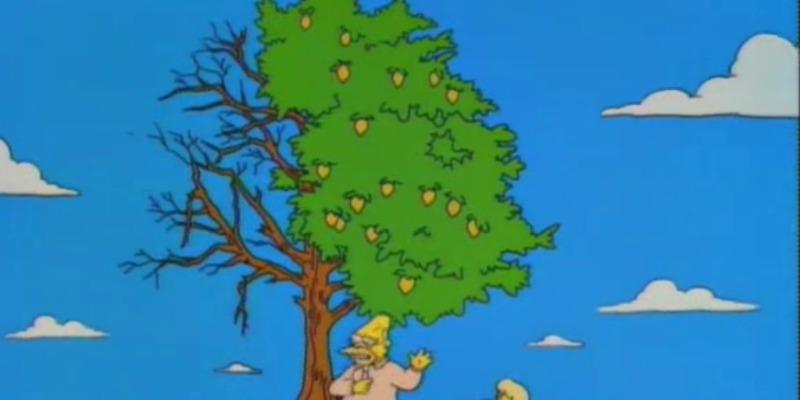 In "Lemon of Troy" the town's lemon tree is stolen by citizens in Shelbyville. The episode aired in 1995.
However, a similar occurrence happened after the episode aired. In 2011, a married couple's potted lemon tree was stolen in the middle of the night from their front porch. They posted fliers trying to get someone to return it.
5. Smartwatches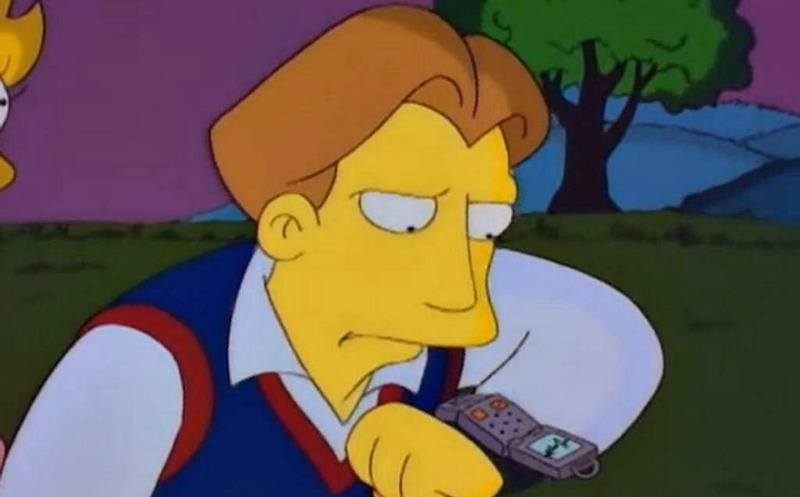 In the 1995 episode, "Lisa's Wedding," part of the story takes place in 2010 where Lisa is 23 years old. This episode allowed the show to make predictions about what the future would look like. We see one character talking into his watch, which is now possible thanks to smartwatches.

6. Robotic librarians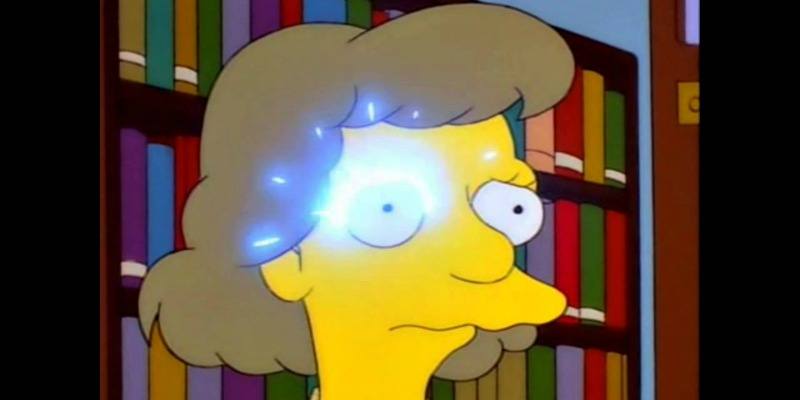 Another prediction in "Lisa's Wedding" is that there will be robotic librarians in 2010. Of course, The Simpsons' robot was in a humanoid form, but the Joe and Rika Mansueto Library in Chicago, is managed by a robotic system. Requested books get pulled up by an automated retrieval system that keeps track of books by their barcodes.
7. Phones with video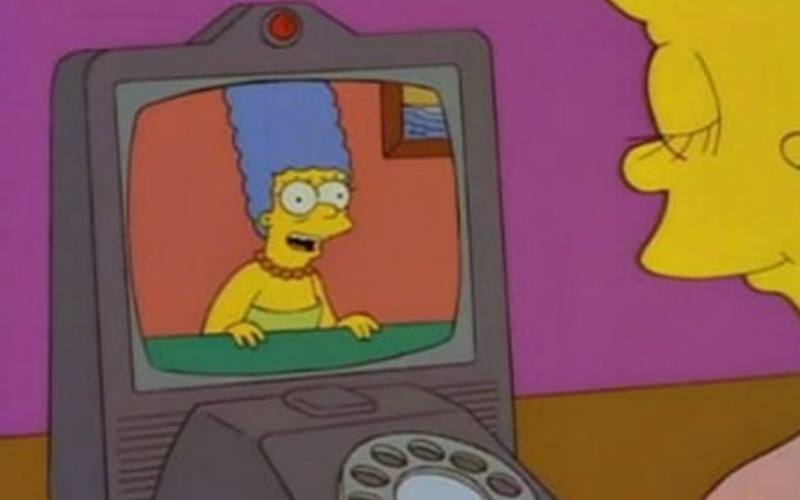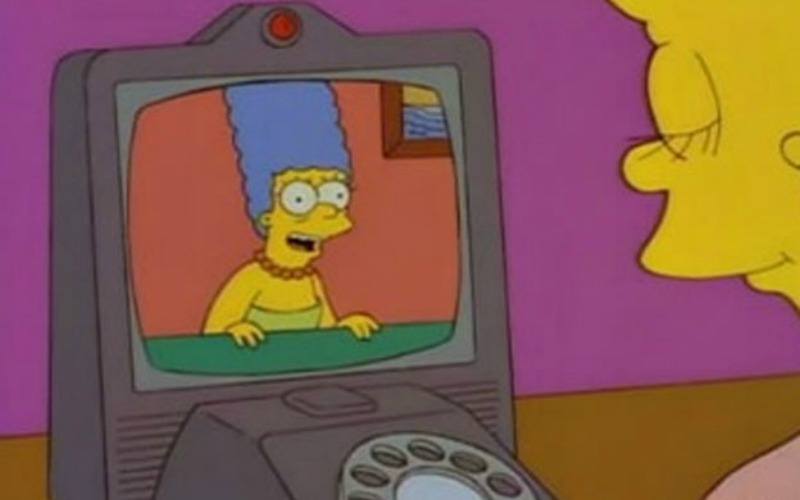 In "Lisa's Wedding" we also see Lisa chatting with her mother on a rotary videophone. This version is actually pretty similar to the earlier versions of videophones, which had keypads. Now, with things like FaceTime, we are able to see and talk to each other through our cell phones.

8. Horse meat is used as a 'secret ingredient'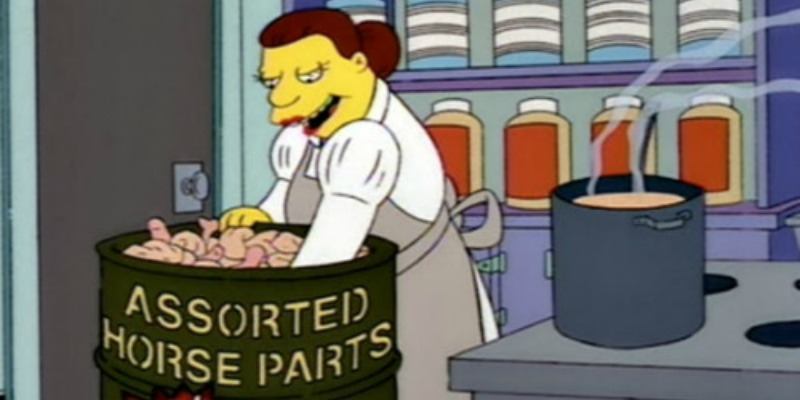 In "Sweet Seymour Skinner's Baadasssss Song" we catch a cook including horse meat as a secret ingredient in her food. What should have remained a dark joke in the 1994 episode, sadly became a reality.
Four beef products from a company called Bird's Eye tested positive for horse DNA in 2013, according to BBC. This company sold meat to companies like Taco Bell.

9. Hamburger earmuffs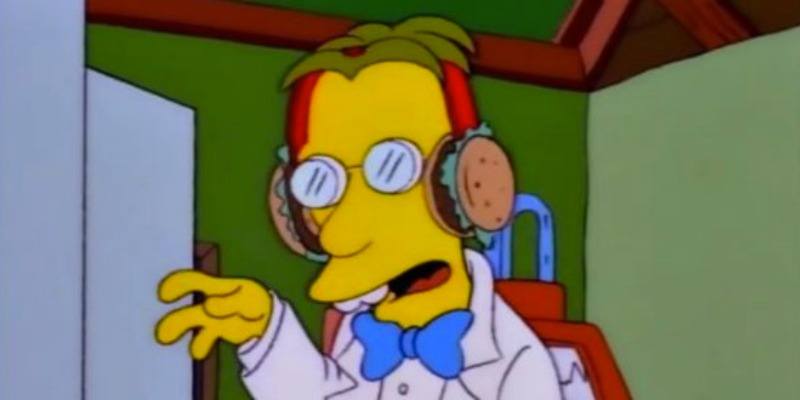 We see Professor Fink wearing some pretty stylish earmuffs in the 1998 episode, "The Wizard of Evergreen Terrace." Eventually, fuzzy hamburger earmuffs became available to buy.
A pair used to be on Amazon so someone out there is lucky enough to have Fink's style.

10. The Beatles respond to fan mail years later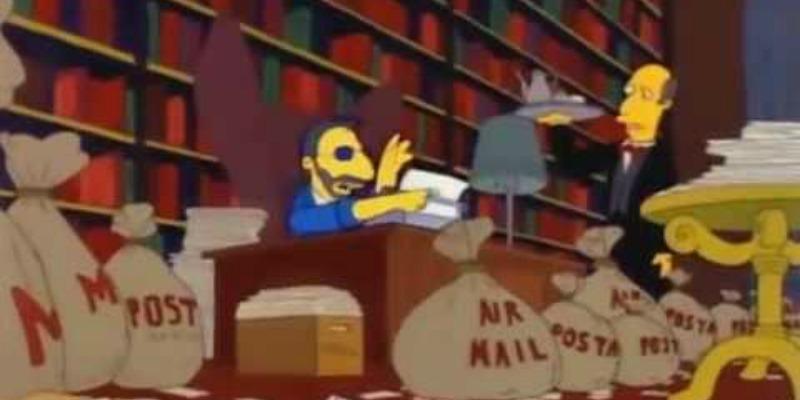 In the 1991 episode, "Brush with Greatness" Marge paints a portrait of Ringo Starr and sends it to him. We see years later that he responds because he's determined to write back every single fan. In real life this actually happened, but with Sir Paul McCartney.
Two women recorded a message on a reel-to-reel tape in 1963 and sent it to him. In 2013, they finally got a response and the legend wrote them a letter. "Hi Linda and Barbara, thanks very much for you lovely tape. It finally got through, better late than never," he wrote. "Great to hear that you found each other after all these years. Keep enjoying the music, love Paul."
11. Yard work simulation games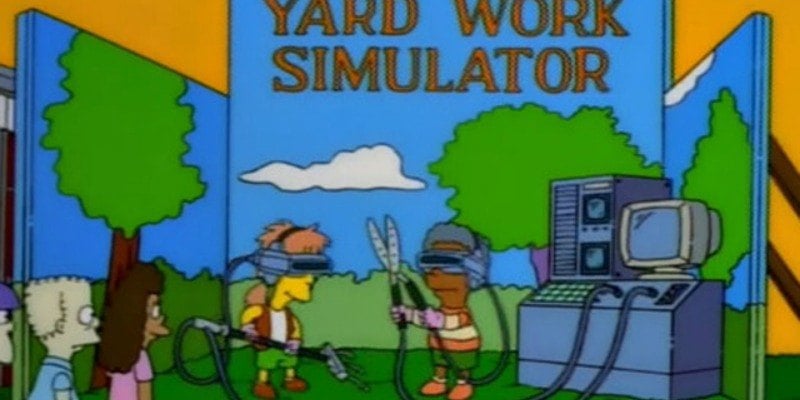 In 1998's "Bart Carny" we see many characters play carnival games. One of these is a simulator game for doing yard work, which requires the players to wear a headset. In real life, we have FarmVille, which was released in 2009. The Facebook game doesn't require a headset, but it simulates the act of taking care of land for fun.
12. Baby translators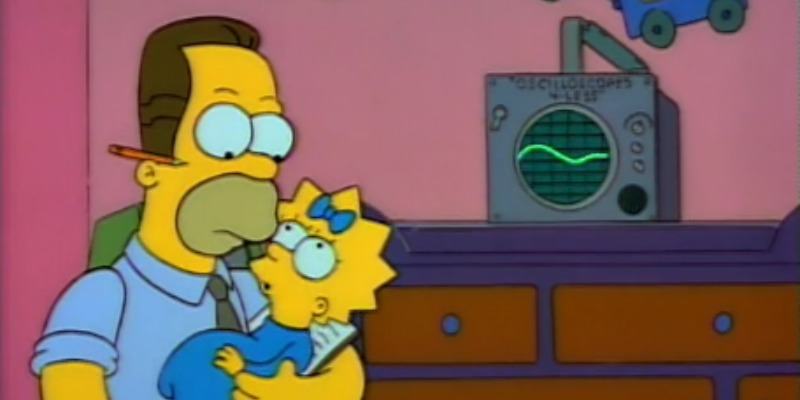 In "Brother, Can You Spare Two Dimes?" we see Herb come up with the idea of making a baby translator after seeing a mother struggling with her baby. He then goes on to create one in the 1992 episode.
In 2013, the app, Cry Translator was released. The app tells you what your baby wants based on their cry.
13. That the Rolling Stones would still be touring in 2010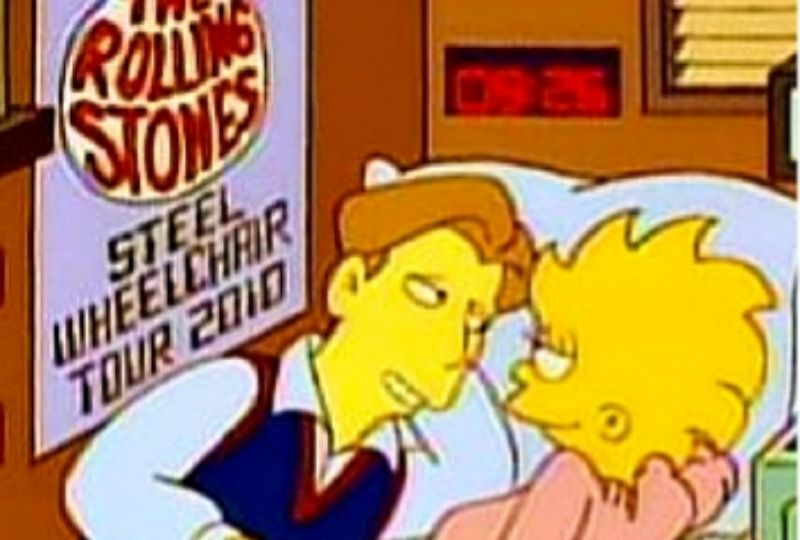 The Beatles weren't the only musicians to get predictions from The Simpsons. Once again, in "Lisa's Wedding" her dorm room has a Rolling Stones poster with "steel wheelchair tour 2010" on it.
In real life, the band toured in 2012, so it was pretty close!
14. The first generation iPod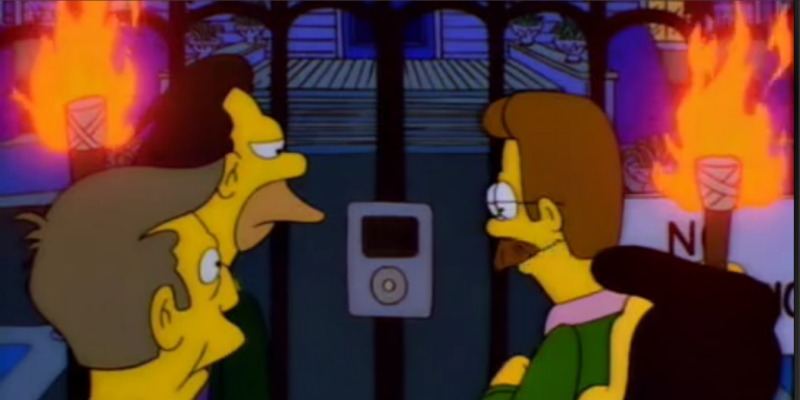 In the 1996 "Bart After Dark" episode, there is a gated burlesque house in Springfeld. When the angry mob approaches the house, they have to hit the intercom. The interesting thing is that the intercom looks exactly like the first generation iPod, which was released in 2001. So even though the function is different it's a very close prediction.
15. Stealing cooking grease to sell for profit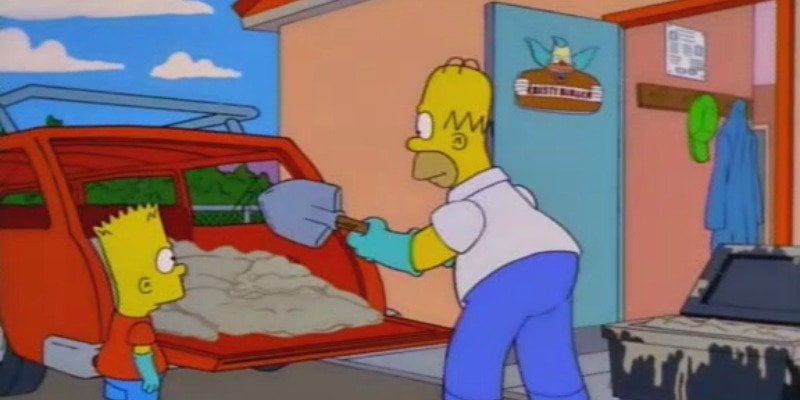 In the 1998 "Lard of the Dance" episode, Homer and Bart decided to recycle grease for money. First, they cook bacon to gather grease, but then they begin to steal it from Krusty Burger.
By 2013, the crime of stealing grease form New York restaurants increased, according to New York Post. The thieves were reportedly organized and businesses started to hire private investigators to find the culprits.
16. Guitar Hero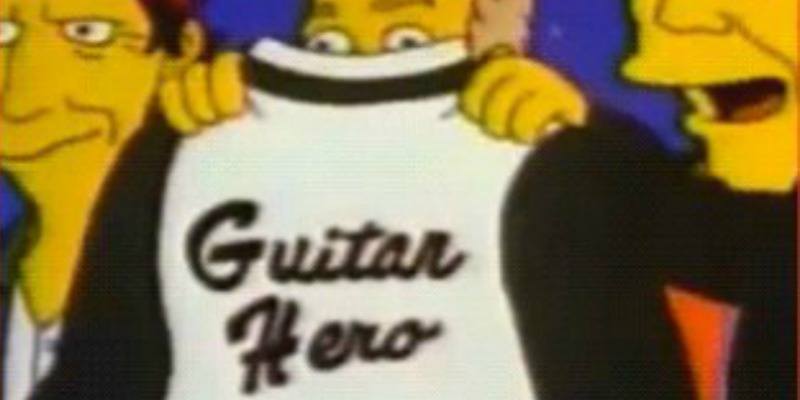 In "How I Spent My Strummer Vacation" Homer goes to a rock 'n' roll fantasy camp that is hosted by the Rolling Stones. By the end of the episode, the band gives Homer a jacket that said "Guitar Hero." This is pretty weird since the 2002 episode seems to be referring to the popular video game, which wasn't released until 2005.
17. Finding a three-eye fish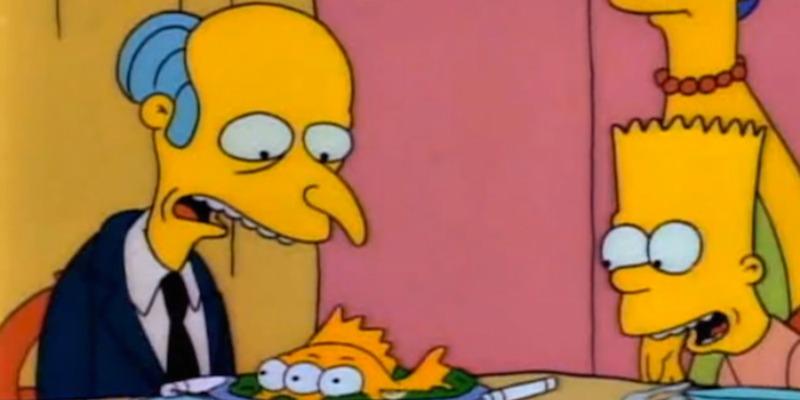 Once again, the cartoon touched on pollution. This time in 1990's "Two Cars In Every Garage and Three Eyes on Every Fish" we see Bart catching a three-eyed fish in a polluted local river.
In 2011, this actually happened in Argentina where fishermen reeled in a mutated three-eyed fish.
18. Greece's tanked economy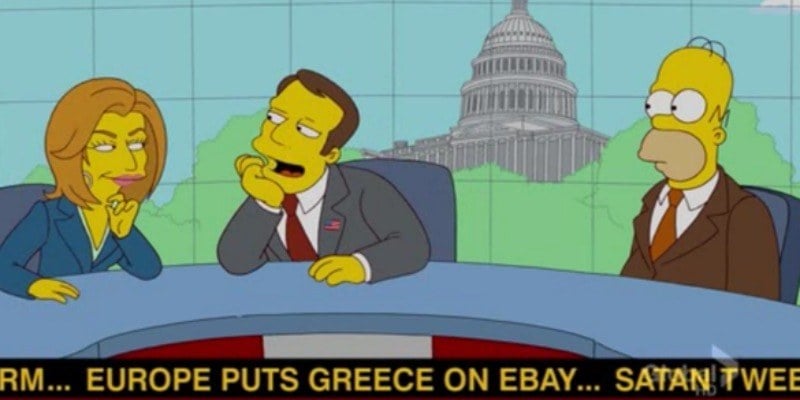 In 2013, the episode, "Politically Inept, With Homer Simpson" there is a small scene where Homer is on a news show. In the scene, the ticker reads, "Europe puts Greece on Ebay." Of course, this didn't exactly happen, but later on, Greece did have a fraught relationship with Europe. This conflict really started making headlines in 2015 and still continues today.
19. Autocorrect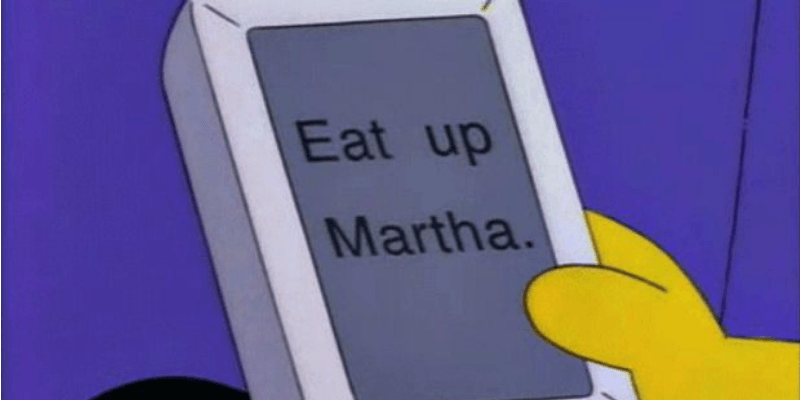 Characters on The Simpsons were annoyed by autocorrect long before anyone else. In "Lisa On Ice" Dolph uses a Apple Newton, a personal digital assistant, to write down "Beat up Martin" only for it to be changed to "Eat up Martha." This joke in the 1994 episode actually somewhat inspired the real autocorrect that was later available on Apple devices.
According to A.V. Club, employees at Apple would actually say "Eat up Martha" to each other as a joke before the tool was released.
20. President Trump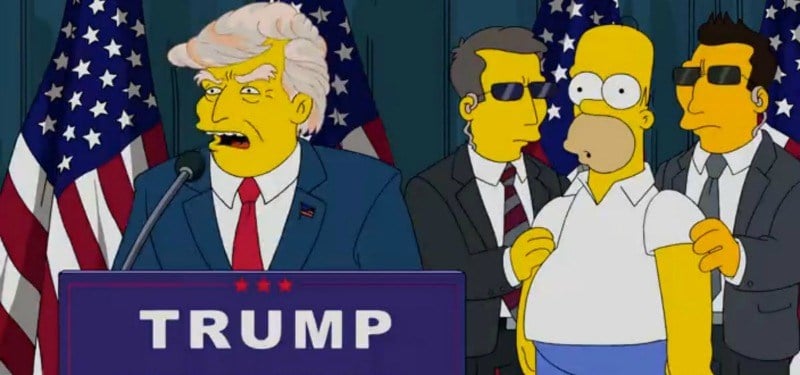 The most famous prediction from the show was that Donald Trump would become president one day. This happened in the episode "Bart To The Future," which aired in 2000. However, the story takes place in 2030. In the episode, Lisa actually becomes president, but she does have the line, "As you know, we've inherited quite a budget crunch from President Trump."
So what exactly led to this crazy, accurate prediction? The writer, Dan Greaney told Washington Post, "He seems like a 'Simpsons'-esque figure — he fits right in there, in an over-the-top way." He continued, "But now that he's running for president, I see that in a much darker way. He seemed kind of lovable in the old days, in a blowhard way."
21. The Higgs boson particle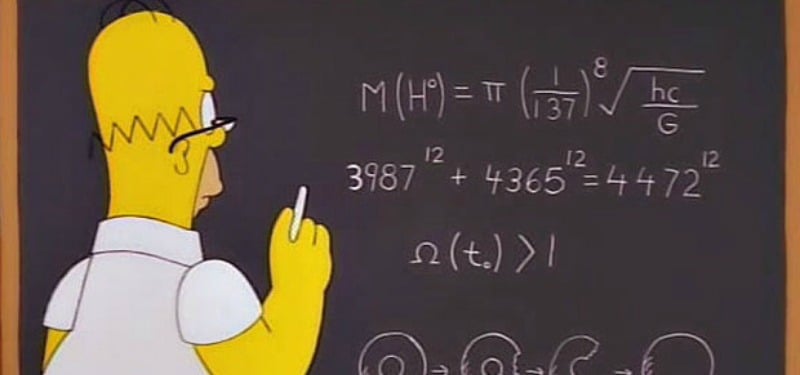 In "The Wizard of Evergreen Terrace" Homer tries to become an inventor. The 1998 episode showed Homer writing a formula on a blackboard. It turns out the formula he was writing is very similar to the mass of a particle that hadn't been discovered until 14 years later.
"That equation predicts the mass of the Higgs boson," said Simon Singh according to The Independent "If you work it out, you get the mass of a Higgs boson that's only a bit larger than the nano-mass of a Higgs boson actually is. It's kind of amazing as Homer makes this prediction 14 years before it was discovered."
22. The FIFA scandal and Germany's win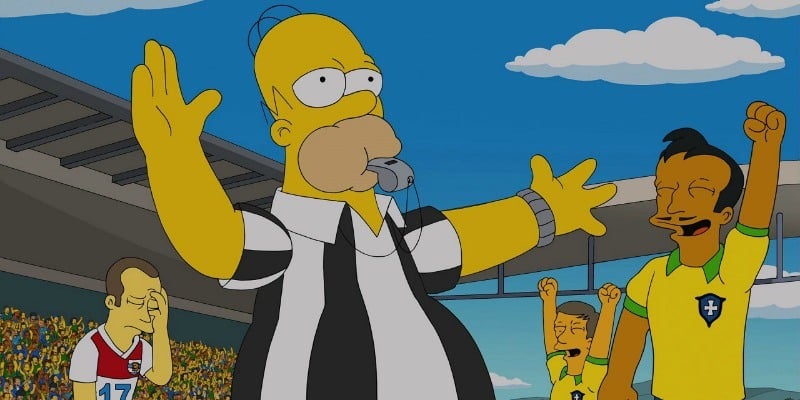 In "You Don't Have to Live Like a Referee" Homer is asked to be a referee by the world football federation. He ends up getting arrested and Germany wins the tournament in the 2014 episode.
In 2015 two FIFA presidents were accused of widespread corruption and banned from football-related activities for eight years, according to BBC. There were also 14 FIFA officials who were indicted for corruption. In addition, Germany won the World Cup.
23. Bengt R. Holmstrom getting the Nobel Peace Prize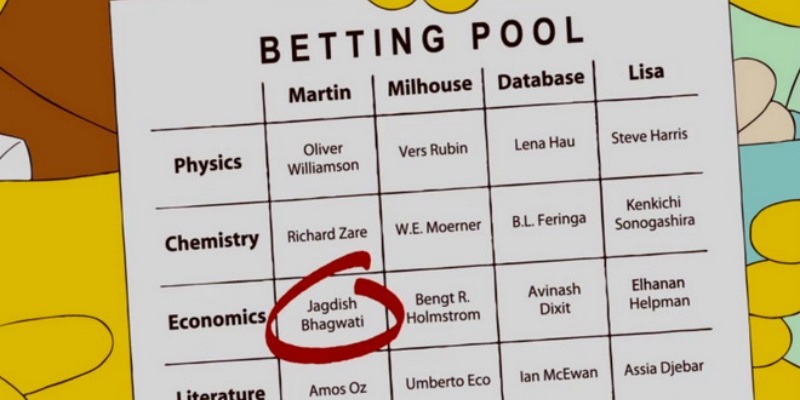 In 2010's "Elementary School Musical" Krusty wins a Nobel Peace Prize. In the episode, the characters made a betting pool over who would win the award. Bengt R. Holmstrom was predicted by Millhouse, who really did win the prize for Economics in 2016 with Oliver Hart.
24. Edward Snowden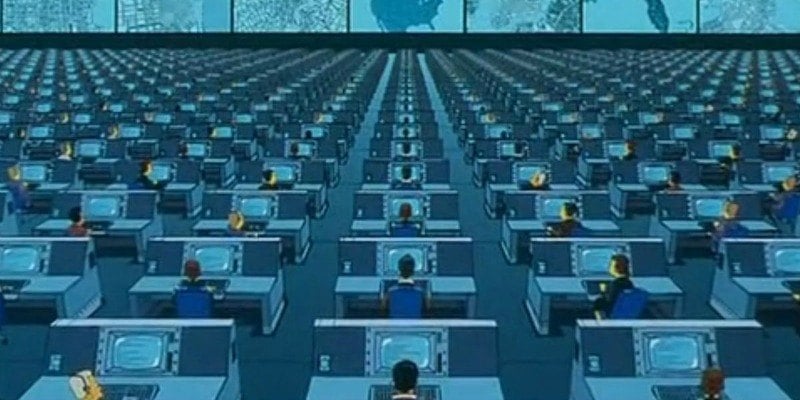 In The Simpsons Movie, Lisa and Marge are in the NSA building where they see thousands of workers listening in on private conversations of citizens. They end up running away and setting off an alarm in the building, essentially blowing the NSA's cover.
Of course, this didn't exactly play out the same way as the 2007 movie, but Edward Snowden did blow the whistle on what the NSA was doing six years later.
25. The censorship of Michelangelo's David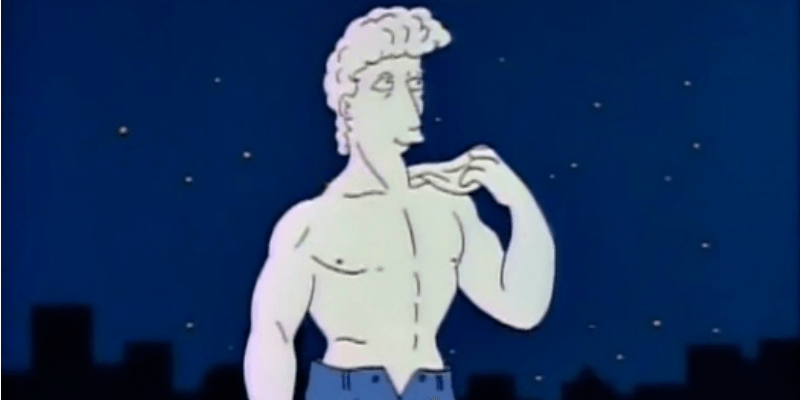 In 1990's "Itchy and Scratchy and Marge" a copy of Michelangelo's David is brought to Springfield. Some of the citizens protested the statute and wanted it to be covered up. This actually happened in 2016 when a copy of the statue was brought to Saint Petersburg, Russia and campaigners wanted to put clothes on the statue.
Follow Nicole Weaver on Twitter @nikkibernice
Check out Entertainment Cheat Sheet on Facebook!