Tired 'Nurse Jackie' Will Finally Take Her Last Ambien After Season 7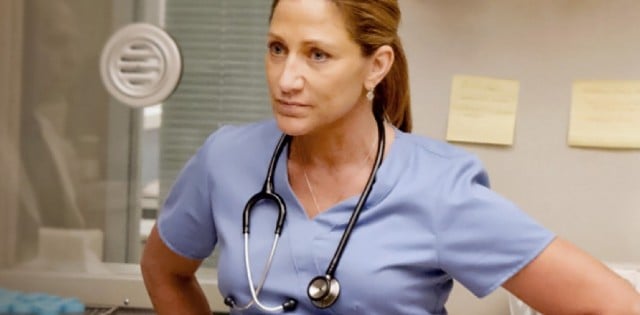 Showtime has announced that its dramedy about the pill-popping R.N. Nurse Jackie will be wrapping up after its seventh season, ending the series that helped star Edie Falco distance herself from her iconic role on The Sopranos. Falco's Emmy win for her portrayal of the prescription drug-addicted nurse in addition to her multiple wins for playing Carmela Soprano make her the only actress to win best actress Emmys for both comedy and drama, though she famously declared "I'm not funny!" in her acceptance speech for the comedy trophy.
"#NurseJackie is working one last shift! Join us in celebrating and bidding farewell to the 7th & FINAL season in 2015," Showtime tweeted on Wednesday.
"Edie is one of our finest actresses," Showtime Networks President David Nevins said in a statement seen by Deadline. "She creates indelible characters, and Nurse Jackie Peyton is no exception. I know this final season will bring her story to a close that will satisfy the ever-growing number of loyal viewers who have been entranced and, at times, appalled by Jackie through the years."
When the series premiered in 2009, it received positive reviews for its dark comedy and Falco's performance as the unethical title character in particular. Later seasons, though, have not received the same level of attention and some critics have said that Showtime should have ended the series when original showrunners Liz Brixius and Linda Wallem left after the show's fourth season. Instead, the network pressed on with the series, which has seen diminishing reviews and attention from that point.
"Watching Jackie go back on the drugs, lying to her support group as well as her current better-than-she-deserves cop boyfriend Frank (Adam Ferrara), you can't help but get a dispiriting feeling of been-there, snorted-that," said TV Guide of the show's sixth season, noting as other critics have that Showtime has a tendency to keep shows past their expiration date.
The show's first season netted a metascore of 76 on the review aggregator Metacritic, with critics loving the show's dark humor and great ensemble cast that supports Falco's standout role. The first four seasons kept getting better until Brixius and Wallem left the show with a finale that saw Jackie finally entering rehab for her addiction, which critics have said would've made "kinda a perfect ending" for the series. But as Showtime characteristically does, it kept plodding forward with the show and former Dexter writer — another show that many think should have ended sooner than it did — Clyde Phillips was given the reigns.
Season five saw its critical reception drop with a much lower 66 metascore. "Falco — as always — remains one of TV's bright shining lights, but her Nurse Jackie suddenly feels like a work-in-progress," said Newsday of the Phillips-helmed version of the show.
There aren't exactly high hopes for season seven, but a guest spot from Monk's Tony Shalhoub as a potential friend to Jackie could be a bright spot to look forward to. Falco doesn't have any projects lined up for after Jackie at the moment, but television networks will certainly be eager to get another show in the works with the legendary small screen actress soon.
More From Entertainment Cheat Sheet:
Follow Jacqueline on Twitter @Jacqui_WSCS
Want more great content like this? Sign up here to receive the best of Cheat Sheet delivered daily. No spam; just tailored content straight to your inbox.