'Today': Dark Secrets from Hoda Kotb's Life That Led to Her Successful TV Career
Hoda Kotb may be Savannah Guthrie's lovable new co-host on NBC's Today, but her path wasn't easy getting there. She faced some difficult times in her path to success, but now, they seem to have only made her stronger.
From constant rejection (page 3) to an embarrassingly rocky start to her first anchoring job (page 6), these dark secrets from Kotb's past prove just how much she deserves the success she's found with Today.
1. She felt like an outcast in school because of her skin color
Kotb was born in Oklahoma and grew up in Morgantown, West Virginia and Alexandria, Virginia, but both of her parents came to the U.S. from Egypt. She recalled to the Wall Street Journal in 2016, "In seventh and eighth grades, I looked really strange."
"I wasn't black or white to the kids in school, yet I seemed to be both and neither, which made assimilation on the school bus and in the cafeteria particularly difficult. I never talked to my parents about any of this."
Next: She admitted this made her feel 'like a loser.'
2. She felt 'like a loser' without a job after college
After graduating from Virginia Tech in 1986 with a degree in broadcast journalism, Kotb didn't realize how hard it would be to find a job. She admitted in a 2016 interview with Savannah Guthrie, "When I graduated from college, I assumed I would get a job in journalism."
She added, "I'll never forget, I was home and all my friends had jobs except me, and I felt sort of like a loser. They were all saying, 'You don't have any work yet? You don't have a job?'"
Next: You won't believe how many times she was rejected.
3. She was rejected 27 times in 10 days
Kotb hit the road in search of a job, but she never anticipated what would follow. What was supposed to be a one-hour drive to Richmond, Virginia for a job interview turned into a 10-day drive filled with rejection.
She told Guthrie, "I was in that car driving around for 10 days. I got rejected everywhere, anywhere you can think of in the Southeast," racking up 27 rejections. "Finally my mom needed the car and I had to go home."
Kotb ended up getting lost on her way home, and she came across a sign for a radio station in Greenville, Mississippi — so she decided to give it one last try. Luckily, the station manager saw her potential, and hired her on the spot.
Next: This didn't have to do with her rejection.
4. She never felt the rejection had to do with race
Kotb did address that although she faced difficulties due to her race in school, she never felt that it affected her chances at getting a job. "When I was rejected so many times, it wasn't because of my background. It was because I wasn't good. I knew that."
She added, "It never dawned on me maybe they don't want me because of 'X.' It's not a racial thing for me. I didn't see the world that way. So when things didn't go my way, I just assumed I'm going to get mine somewhere else."
Next: She had a rough start financially.
5. She couldn't pay her bills with her first job
Kotb may have finally landed a job in her dream career, but she didn't have the smoothest start financially. Starting out with making $12,000 a year, Kotb recalled, "I couldn't pay my bills. I had to juggle which bills I paid. But I was in love."
Next: This embarrassing moment didn't stop her from chasing her dreams.
6. Her first anchoring experience was rocky
Her first time anchoring wasn't exactly smooth, either. She sat down on The Tonight Show Starring Jimmy Fallon, where she gave even more detail into the struggles of her early career. She got her big break at her job in Mississippi when the show's regular anchor, Ann Martin, was out sick.
Kotb spilled, "I still remember the prompter: 'Good evening. I'm Hoda Kotb, Ann Martin is off.' I remember being so nervous, and the guy cued me … I looked at the prompter and said: 'Good evening. I'm Ann Martin.'"
Next: She still had a long way to go before Today.
7. She worked a number of jobs before landing Today
Kotb still had a long way to go before landing her spot on Today. She jumped from small stations in Illinois and Florida after her job in Mississippi, and in 1992, she got hired on with a CBS affiliate in New Orleans.
According to The Washington Post, "There her work as a reporter and anchor caught the eye of NBC executives in New York City, who hired her in 1998 as a globe-trotting correspondent for Dateline."
In 2007, Kotb joined the Today family by hosting the show's fourth hour. She was joined by Kathie Lee Gifford in 2008, and they became instant favorites of the show.
Next: She became the obvious choice amidst this scandal.
8. She took over Matt Lauer's position after he was fired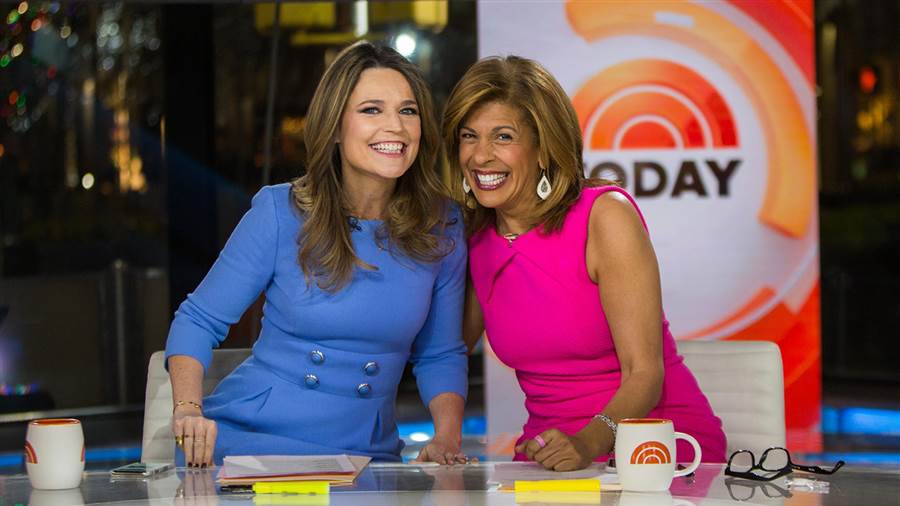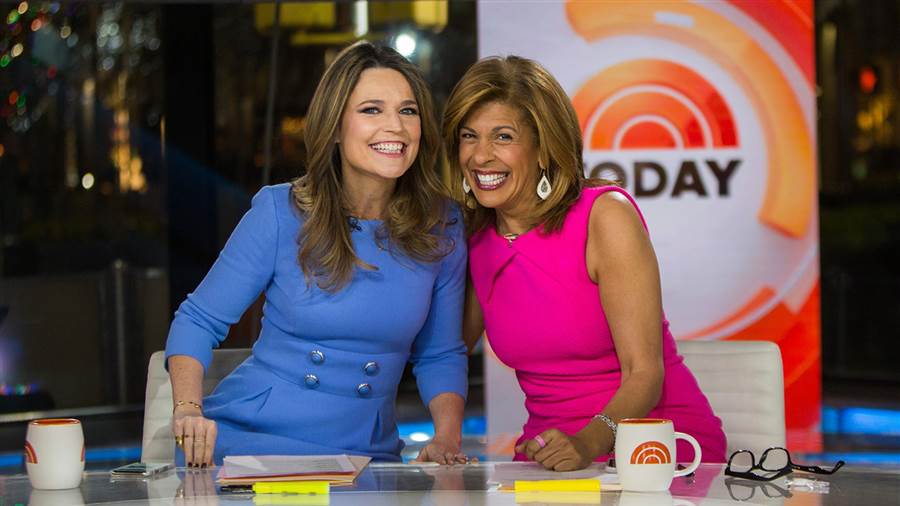 Matt Lauer was fired from his longtime co-anchoring position with Guthrie on Today in November 2017, after he was accused of sexual misconduct in the workplace. His position wasn't vacant for long, as Kotb immediately stood out as the obvious choice.
As soon as Kotb was announced as Lauer's replacement, fans couldn't stop gushing over her instant connection with Guthrie. While she'll continue co-hosting with Gifford during the fourth hour, as well, Kotb seems to have finally found the ultimate success in her career.
NBC News Group chairman Andy Lack noted of the decision, "We're very fortunate to have someone like Hoda who brings immense talent and tremendous positive energy, and then on top of that happens to have wonderful chemistry with Savannah."
He added, "It makes this a decision that everyone can embrace and feel terrific about."
Check out The Cheat Sheet on Facebook!