'Today Show' Baby Boom Continues With An Announcement From This Co-Host
The set of the Today Show has become a busy stop for the stork. With Hoda Kotb, Jenna Bush Hager, and Dylan Dreyer all making baby announcements this year, viewers are getting a birds-eye view to the panel's growing families. Now yet another co-host just shared that a new family member is on the way, expected to arrive in the spring.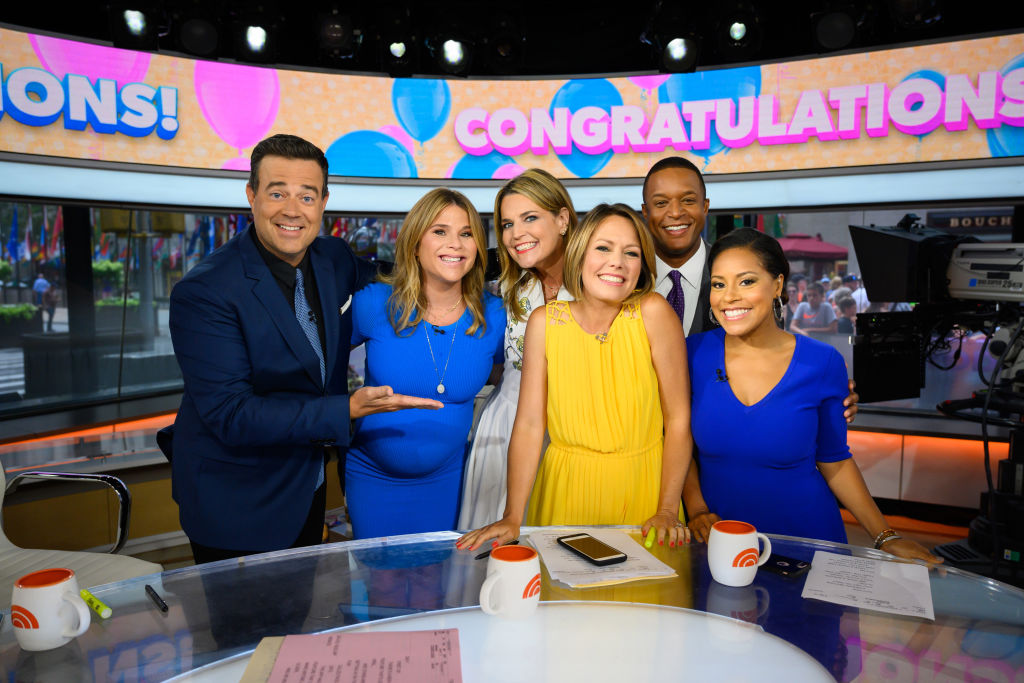 Maternity leave
The recent baby boom at the NBC morning news show has meant some juggling of the anchors. Kotb left for her maternity leave in April after adopting her second daughter, Hope Katherine, with boyfriend Joel Schiffman. Kotb recently returned earlier this month, taking almost five months off to enjoy the special time with her family. "I know it's sort of weird that I'm taking this much time, but I just feel like sometimes in life you don't know how much of your kids' lives you're gonna be able to see," she said on the previous video call. "But I would say to myself, 'I'm not gonna miss right now. This is a moment in time that I'm trying to freeze — I'm trying to remember everything," according to Today.com.
Hager gave birth to a baby boy, Henry (nicknamed 'Hal'), in August and is currently on maternity leave, though she did make time to announce her September book selection via video for her book club Read With Jenna in early September. She has not yet announced a return date.
Dreyer revealed her good news in July, telling her co-hosts and viewers that she's expecting a baby boy in January. Dreyer had shared in April that she and her husband were struggling with secondary infertility in the hopes of helping other women going through the same issue. The meteorologist has not yet declared when she will begin her maternity leave.
Talk about 'Pop Start' …
Today Show co-host Carson Daly heads a segment on the show called "Pop Start," giving a rundown of the latest celebrity news. This morning, he added some news of his own at the end of the segment, reporting, "Siri Daly, my incredible wife… she's gearing up for a big spring because that's when she's going to give birth to our fourth and newest member of the Daly family! That's right, she's pregnant!" he gushed, blowing a kiss to his wife watching at home and adding, "I love you!"
Daly apparently kept the happy news under wraps from even his co-anchors since the reaction at the desk from fellow anchors Kotb, Dreyer, and Craig Melvin was one of pure surprise… and joy for their colleague and friend.
"We couldn't be happier to share the news that our family is growing by one this spring," Daly and his wife told Today.com. "We are continually amazed by God's blessings in our lives. Our entire family is grateful and so excited!"
The Dalys' new addition will join their three children: Jackson, 10, Etta, 7, and London, 5.
Joy after heartbreak
Daly has openly spoken of the grief he's experienced at the loss of his mother, Pattie, to a heart attack in 2017, followed shortly after by the death of his stepfather, Richard, to bone cancer only five weeks later.
Daly, who is also the host of The Voice, has shared how his wife and children helped him heal from losing both his parents. He is truly a family man and does not hold back on expressing his devotion to his children. "I'm very sentimental with my kids. When I'm driving to JFK (airport) and I'm going to be gone for five days, it really does suck," he said on Today in June during a segment on modern fatherhood. "I realized that in the hotel rooms, there's postcards. So I thought, wherever I go, whatever hotel I'm in, I'm going to write my kids postcards, and I'm going to buy them a stamp and I'm going to put in in slug mail, and now they collect them."
Congratulations to the Dalys on their upcoming addition to the family!