'Today Show' Correspondent Willie Geist Met His Wife in a Not-So-Typical Place
Willie Geist of the Today Show and Sunday Today is known for his affable personality and friendly boy-next-door demeanor. Often speaking of his wife Christina and two children, Lucie, 12, and George, 10, Geist clearly enjoys his role as a family man.
The journalist and his wife have been together for decades, setting their sights on each other quite early in life.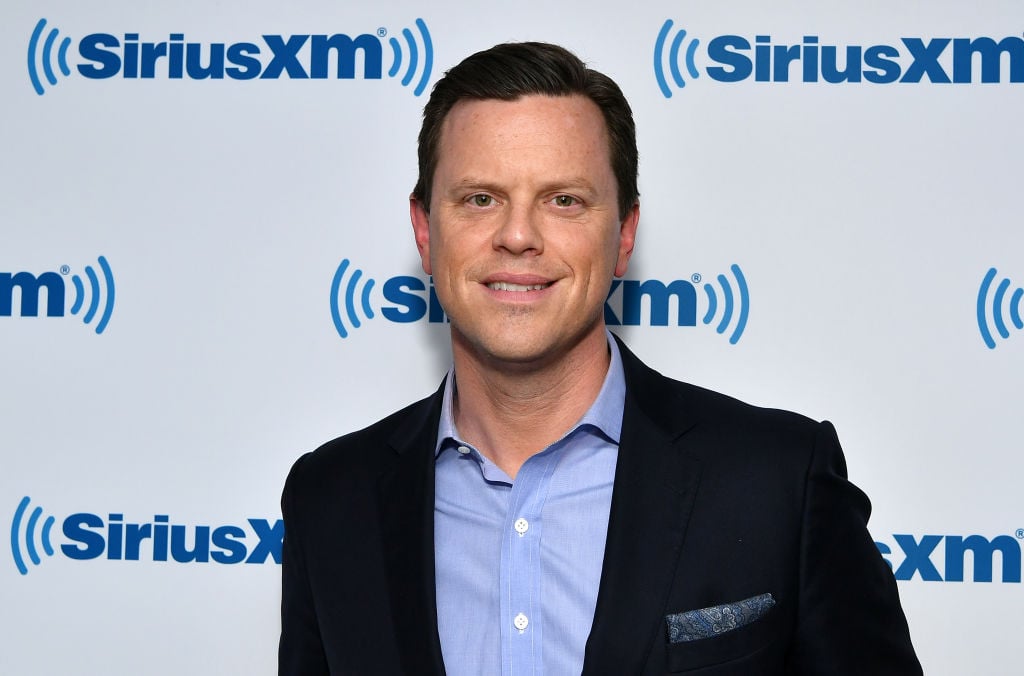 Started in sports
Geist began his career covering sports at CNN Sports Illustrated. He was named co-host on MSNBC's Morning Joe with Joe Scarborough and Mika Brzezinski in September 2007. He began subbing for Matt Lauer on the Today Show in 2010, soon becoming a fixture at NBC. He was named co-host of Today in 2012, then was made permanent host of Sunday Today in 2016.
Geist stays busy on his weekend show, interviewing top names such as Bill Murray, Jerry Seinfeld, and Tiffany Haddish. The TV host determines to make his guests feel at home. "A TV interview is inherently an unnatural thing. You never sit down or wait for all the lights and a countdown and the camera to be set and everyone to be quiet and say, 'Go,' when you start talking to a person," Geist shared, according to Variety. "So how do you get around that? There is no way you would bring a pile of notes if you met somebody in a bar."
School boy crush
When Geist started sixth grade at Ridgewood, New Jersey, little did he know he was about to meet his future wife. As a new student, the Today co-host was a bit of a wallflower at first. "We both went to George Washington Middle School in Ridgewood, New Jersey. On the first day, Christina had a bunch of friends from elementary school, whereas I was the new kid from the other side of town, standing alone and scanning the room," he told Glamour in August.
Despite his shyness, Geist had his eye on Christina right from the start. "I know it sounds like revisionist history, but this is true. I really remember thinking in my little 11-year-old brain, Oh, she seems cute and cool. And it turns out I was right—because that was 33 years ago, and we're married with kids," he gushed.
The feeling was mutual, where Christina instantly took notice of the new kid in school. "It's crazy, but I feel like Willie always stood out. He's a presence in any room he walks in, both because he tends to be taller than 95% of the people, but also because he's just the type of person that the attention naturally shifts toward him," she said.
Breaking up and getting back together
The two went on to become a couple after middle school for a short time. "We dated briefly during freshman year of high school… she was the one who broke up with me… We got back together junior year, then went to Vanderbilt together," Geist explained. "But after college I got a job in Atlanta and she went to Boston. We felt like, 'If we're going to break up and see what the world's like outside of this, it seems like this is the time to do it.' So we did for a couple of years and I remember hearing things through the grapevine that she was dating someone else. And I had to be okay with that, because that was the point of the whole thing."
Christina, who is a bestselling children's book author, recalled that period of time in their relationship as her needing to establish her own identity outside of being paired with Geist. "When we ended things after college, it was the right thing to do. I hadn't been in a group since I was 16 years old where I wasn't 'Willie's girlfriend.' I would meet people who didn't know him, and that was important to establish my own identity," she revealed.
Soon, the couple both realized they were meant to be together. "After a certain period of time I thought, I know in my heart that this is the person I want to be with," Geist said. "If we just went through this exercise of breaking up for the sake of breaking up, and I'm going to lose her over that, that doesn't make any sense. I found myself trying to reel her back in and make sure she didn't slip away."
It didn't take much convincing for Christina to be won over. "In my heart he would've absolutely been the one that got away. I'm grateful that neither one of us was too proud at age 25 when we were figuring out how to get back together and make it work out," she shared. "You have to really look yourself in the mirror at certain moments in your life and say, 'What's most important here?' For me, that was being together."
Now 33 years and two children later, the two are still clearly in love and enjoying married life together!