'Today Show's' Hoda Kotb Shares Her Boss's Response When She Revealed Her Breast Cancer Diagnosis
Hoda Kotb of the Today Show has had a lot to celebrate over the past few years. With adopting daughter Haley Joy in February 2017, daughter Hope Catherine in 2019, celebrating her sixth anniversary with longtime boyfriend Joel Schiffman in June, and coming up on two years as the one of the NBC morning show's lead co-hosts, Kotb has many positives in her life.
Life hasn't always been such smooth sailing for Kotb. In 2007, she was diagnosed with breast cancer. With October being Breast Cancer Awareness Month, the talk show host shared on how the illness impacted her life.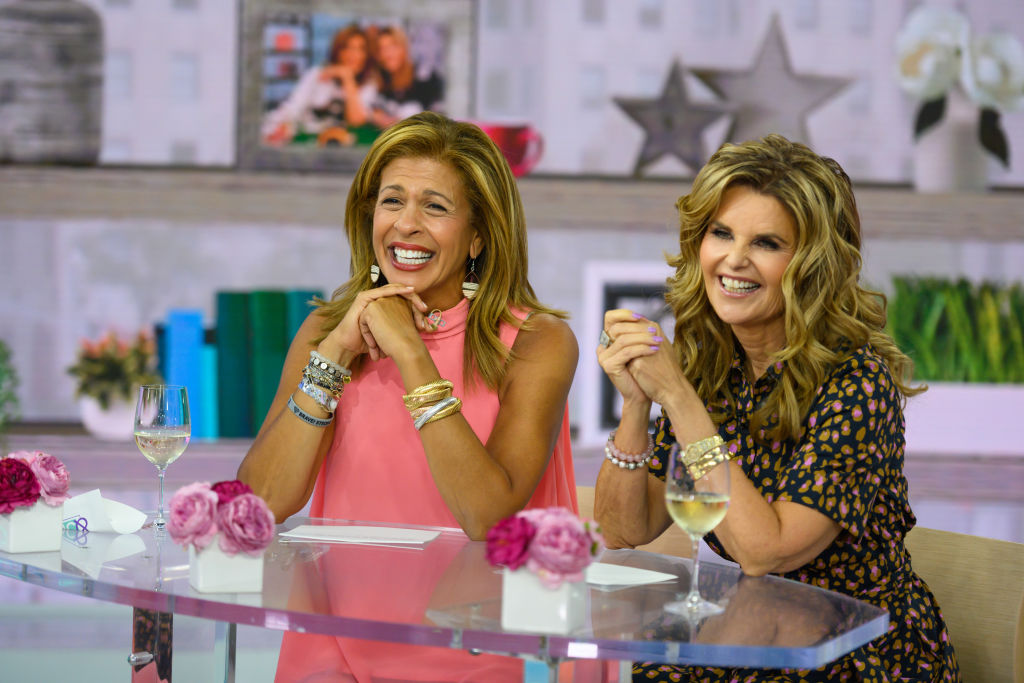 Recording her journey
When Kotb received her diagnosis in 2007, she decided to track her journey in a video log. In an interview with Ann Curry later that year, she revealed one of the most difficult parts going into surgery was knowing she would look and feel different.
"Knowing that you're not going to be the same as you were. Knowing that when you look in the mirror, you're never going to be whole," she told Curry at the time, according to Today.com.
Yet Kotb also found that fighting the disease gave her determination and strength. "What I get from this whole horrible ordeal is, I get, you can't scare me," she said.
Breaking the news
Kotb spoke with guest co-host Maria Shriver, who is filling in for Jenna Bush Hager on maternity leave, on what the month of October can mean for women battling breast cancer. "It's the beginning of the month and I know that a lot of breast cancer survivors see October coming and I remember feeling a little bit like 'uh oh now this is going to be the focus of the whole month,'" Kotb said, according to Prevention.
The talk show host recalled a conversation she had with her boss at the time of her own diagnosis. "I was reminded this morning of what my boss said to me over here when I first told him about my diagnosis," Kotb shared. "I was terrified and I hadn't said it out loud to anyone at work and I went up to [senior executive producer] David Corvo and I said 'I just want you to know something I said I have breast cancer' and I burst into tears."
Kotb remembered her boss's response as giving her the encouragement she needed. "It kind of gave me hope and I remember going from scared to 'Oh, okay!'"
Hitting book shelves at a perfect time
Already a best-selling author, Kotb is launching another book which seems to be perfectly timed with Breast Cancer Awareness Month. Filled with words of hope and encouragement, "I Really Needed This Today: Words To Live By"  shares 365 sayings and quotes selected by Kotb, along with stories about the people and experiences that have pushed her to challenge herself, explore and grow in her life.
Kotb shared that she got idea for the title of the book from the comments she receives when she posts inspirational quotes on Instagram.
"It's filled with all kinds of quotes that so many of us need," Shriver said of Kotb's book. "I go to quotes to encourage myself and to lift myself up. Instagram and social media have been a good place to do that. It puts things in perspective."
"That's what some of these quotes do, put words to feeling," Kotb said.
Kotb's book "I Really Needed This Today" goes on sale on October 15.