'Today Show's' Jenna Bush Hager Received Some Surprise Celeb Phone Calls on Her First Day Back at Work
NBC's Today With Hoda and Jenna finally has both hosts back at the news desk. Hoda Kotb returned from maternity leave in September, and Jenna Bush Hager had her first day back on the show on Monday following the birth of her son Henry 'Hal' in August.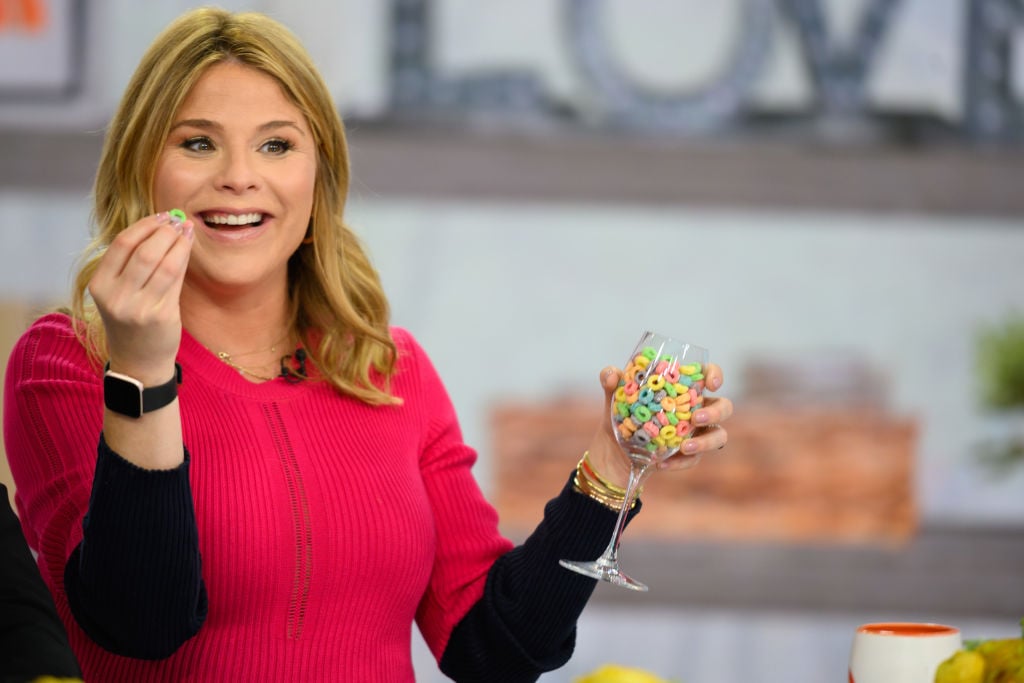 Time to wake up!
While Hager has made some appearances on the show via video to announce her book club picks for Read With Jenna and took part in the Today Show's annual Halloween celebration, she has still technically been on leave since August. Now that she's returned to her regular work schedule, she and Kotb are finally able to truly launch their show after being together for only a week following Kathie Lee Gifford's departure.
"We haven't been on the show together but five days!" Hager said as she and Kotb embraced. "It feels like it's time!"
Apparently, Kotb was Hager's alarm clock for her first day back on the job. "I called Jenna at 4:45 this morning, just to say, 'It's time! Wake up!'" Kotb said, according to People. "She was my alarm, and I have to say, what a positive way to wake up — being surrounded [by] y'all!" Hager said to her co-hosts and the viewing audience.
Leaving baby for the day
The Today co-host confessed that while she was thrilled to be back at work, saying goodbye to her newborn for the day was a bit of a challenge."It feels so good," Hager said about being back at work, according to USA Today. "Last night I held him a little tighter. I cried on his little head, I'll admit it. I can't believe he's here and I get to be his mom."
Hager also has two daughters, Mila, 6, and Poppy, 3, with husband Henry. She went on to share that this may be her last baby, so she's truly savoring her time with little Hal. "As long as Hal is close to somebody that is holding him tight and loves him – and fed and sleeping – he's happy. " she said.
At times the Today star was overcome with emotion by the warm welcome she received from her colleagues. "I evidently am very emotional, but that's no surprise," she said, according to Today.com. "I hope you all have these places in your life where you want to go back to because I wanted to come back."
Surprises by phone
Hager also received some welcome-back phone calls, one being from her mom, Laura Bush. "Dad and I are glad you're back on the full hour so we can keep an eye on you," Bush joked. "But I'm especially happy for the reason she was gone," she said referring to baby Hal, the first grandson for her and former President George W. Bush.
Country superstar Trisha Yearwood also rang in to give her warm wishes to Hager. "I love you both, and I just want to say congratulations on you guys being back together again," she told Hager and Kotb. "We all missed you as a team."
The mom of three also received a call from her predecessor, Kathie Lee Gifford. "Welcome back, sweet girl," she said, while joking she was getting a mammogram while on the phone. Gifford revealed that she will be on their show November 12 to share some news of her own.
Hager posted her excitement about her return early Monday morning before heading to the set, while also acknowledging the special meaning of Veterans Day. "Good morning! Feeling full of gratitude for so much today: our beautiful country that is free thanks to all of those who serve, my children who woke up at 5am, finding me in the shower saying 'Mama, we need to give you a hug on your first day at work' (not sure how their dad felt about the early wakeup!)," she wrote on Instagram. "And feeling so thankful that I love what I do—this place and the people who I adore—make leaving a darling little man and his sisters so much easier."
See Jenna Bush Hager back in action on Today With Hoda and Jenna on NBC!