'Today Show's' Savannah Guthrie Reveals the Reason She Hasn't Been At Work Since Monday
Savannah Guthrie is a steady presence on NBC's Today Show. Co-anchoring each morning with pal Hoda Kotb, viewers have come to expect to see Guthrie at the news desk each morning.
Though many fans suspect her absence for most of this week is probably due to Thanksgiving prep, the Today co-host just shared the real reason she's been away from her daily post.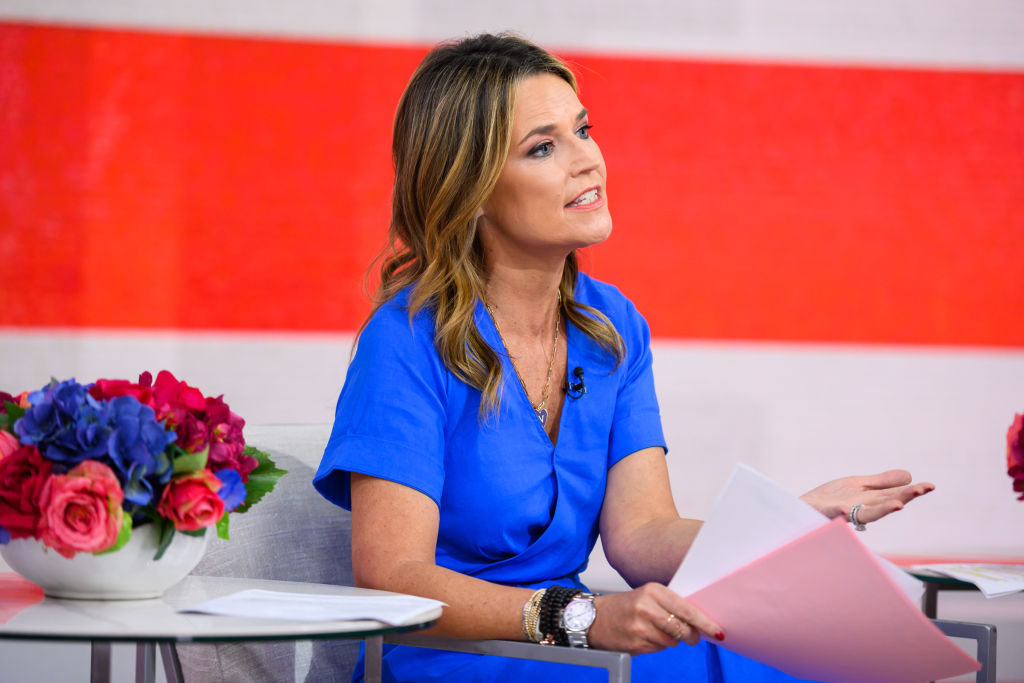 A previous extended absence
Back in September, Guthrie was missing for a substantial block of time due to a case of pneumonia. "It's just a lot of misery," she told her co-hosts during a live call into the show at the time, according to USA Today. "This fever is the thing. It's not a cold, it's like I just couldn't get the fever to break and so I've just been on round-the-clock medicine to keep the fever down. And I started getting this real bad cough, but honestly, I was shocked that it was pneumonia because I feel like I breathe pretty well, like, I'm not wheezing or anything." 
The illness lasted longer than Guthrie expected. "Every day I would tell our bosses, or I'd tell you, Hoda, and Craig (Melvin), you guys would text me, I'd be like, 'I'll probably be in tomorrow,' and then I'd have another night of, like, sweating and freezing and aching," she reported.
Guthrie revealed that she probably caught the sickness from her daughter Vale, who had come down with pneumonia two weeks earlier. The Today co-host missed a total of seven work days – more than the dedicated journalist would have preferred.
Train wreck
This time around, Guthrie is away from the morning news show due to an eye injury. She shared that her almost 3-year-old son Charley had been sitting on her lap last week, when he hit her in the right eye with the big toy train he was playing with, causing a tear in her retina and loss of vision.
"Charley threw a toy train right at my eye and it tore my retina," she said during a phone call with her co-hosts, according to Today.com. "It happened last week actually, and then I lost my vision in my right eye about 24 hours later, and then it turned out to be kind of serious. They were afraid my retina was detached, so they told me to just take it easy."
Required to undergo multiple laser treatments for her injury, Guthrie hopes to avoid surgery. "They're essentially trying to weld back this tear in the retina very carefully, and really trying hard to avoid the retina detaching and avoid having to do a major surgery," she said.
The prognosis
The morning news program had NBC News medical contributor Dr. Natalie Azar explain the possible outcomes for Guthrie. "Right now her vision loss is really apparently just from this vitreous hemorrhage, not hopefully from any detachment … so hopefully that blood will resorb and she will regain full vision," Azar said.
Viewers most likely didn't notice that while Guthrie was on-air on Monday, she had almost no vision in her right eye and needed an emergency procedure performed after the show. "At first they didn't think it had worked, and it looked like I was gonna have to have this surgery, but now it's looking more hopeful, and I'm actually still hoping I can do the (Macy's Thanksgiving) parade tomorrow," Guthrie revealed.
In the meantime, Guthrie has to avoid any jostling type of movement. "I'm not supposed to jump up and down or anything because it's kind of like literally hanging by a thread," she said. "But I'm very positive because I think it's gonna be OK."
As for the tiny culprit, Guthrie isn't holding the incident over little Charley's head. "He's 2, so he doesn't really know what he did, and of course I wouldn't want to make him feel bad about it," Guthrie shared. "I was FaceTiming with my mom to tell her, and he came running in and said, 'I did it! I did it!' He was very proud of himself."
Fans are surely wishing Guthrie a speedy recovery!