'Today with Hoda and Jenna:' The Co-Hosts Weigh Themselves on Live TV Before Giving Intermittent Fasting a Try
Hoda Kotb and Jenna Bush Hager of Today with Hoda and Jenna are known for their transparency. Whether it's about parenting, relationships, or daily scheduling, the co-hosts are very open when it comes to their personal lives.
So it was probably not a huge surprise to viewers when the two decided to take a brave step on the scales during their live morning news broadcast earlier this week and reveal their weight tally. This action was sort of a kickoff to the pair embarking on intermittent fasting, the latest popular diet trend touted by a host of celebs.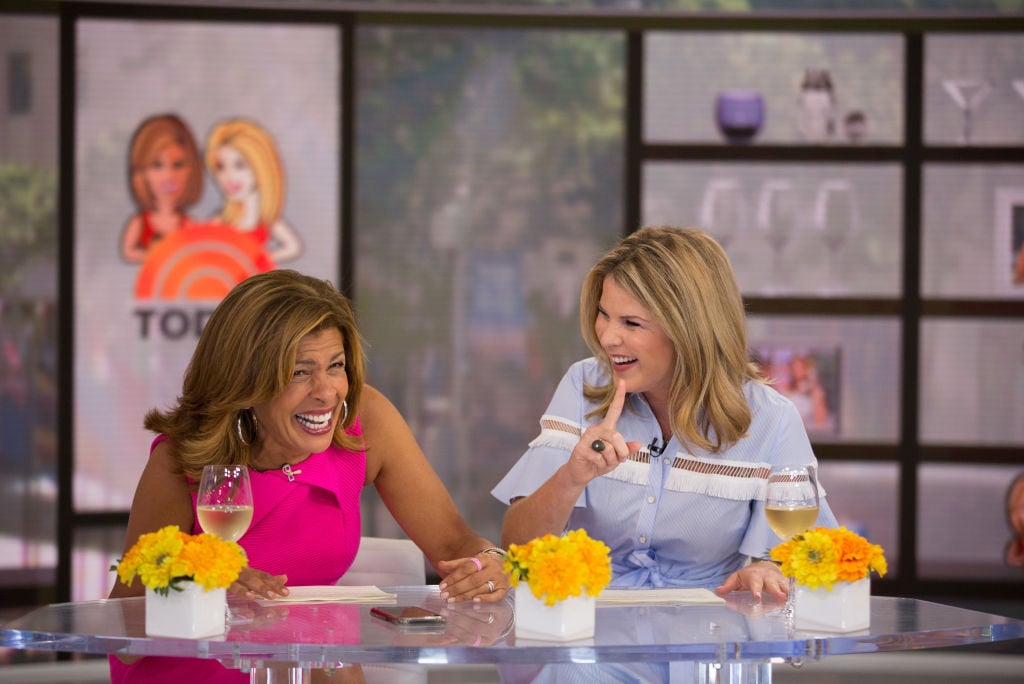 Solidarity on the scale
Both co-hosts are busy moms. Kotb has two young daughters at home whom she recently adopted – Haley Joy in February 2017, and Hope Catherine in 2019 – and Hager just had her third child, Henry 'Hal,' in August. The two have been contemplating the practice of intermittent fasting more as a way to stay healthy rather than lose weight.
The pair approached the scale with trepidation, though Hager remained positive. "Okay, I haven't done this in a long time," Hager said according to People, as crunch time approached. "It'll be fine."
Edging over the the scales, the women held hands as they came to the moment of truth. Telling each other not to look down, Hager joked, "It's like jumping off a cliff."
Drumroll, please …
After taking the leap, Kotb and Hager were a bit stunned at the results, even switching scales to confirm the outcome. Kotb's  scale read 158 pounds, and Hager's total was 171 pounds.
"This is why I don't really weigh myself," Hager said, "Y'all know what is plugged into my Fitbit for real? 130 pounds. I weigh 40 more pounds than I tell everybody I do! I think I weigh twice as much as my sister. Like, two Barbaras could fit in me."
Kotb reminded her co-host of the possible reason for the change. "You just had a baby," she told Hager.
Public weighing with a purpose
The NBC anchors had a reason for their big reveal. Kotb and Hager decided to experiment with intermittent fasting, which is going without food or extremely restricting calories for a period of time. The practice has recently been embraced by several top celebrities including Jennifer Aniston, Chris Pratt, Halle Berry, and Grey's Anatomy alum Kate Walsh.
"I saw results and I really felt like it was great." Walsh told Us Weekly last year. "I was doing one day a week of fasting, from 6 p.m. to 6 p.m. or 7 p.m. to 7 p.m. "I did find that you definitely lose a lot of water weight."
After the weigh-in, Kotb and Hager spoke with Dr. Natalie Azar on the proper way to fast, where the physician described the many health benefits of the practice. "I think more in its infancy is the stuff about longevity and Alzheimer's, and, you know, maybe it has a role in treating or managing chronic disease and cancer," Azar explained, according to Today.com. "There's no large trials of any of those things, but mechanistically it's a very interesting, hot topic right now."
Azar reminded the co-hosts that the purpose of intermittent fasting was an approach to eating that focused on timing. "There is no rule because there are so many different ways to approach this," Azar said. "Conceptually, it's not a diet. It's a way of eating. It's when you're eating as opposed to what you're eating."
The physician suggested thinking of the plan as having 12 hours in which you can eat and 12 hours of fasting, which can equal 12 hours of storing food and 12 hours of burning calories. For those who want to try the practice specifically for weight loss, Azar recommended going 16 hours between eating and fasting.
Kotb and Hager will be keeping viewers apprised of their latest journey!
Read more: Hoda Kotb Reveals She Didn't Find True Happiness Until This Age