'Today's' Hoda Kotb and Jenna Bush Hager Reveal What They Learned from Weighing Themselves on TV
The Today Show has plenty of news amongst its own co-hosts. Between Jenna Bush Hager returning from maternity leave, Al Roker on Broadway, Dylan Dryer and Carson Daly expecting additions to their families, and Hoda Kotb just announcing her engagement to longtime boyfriend Joel Schiffman, the morning news program is making its own daily headlines.
Last week, Kotb and Hager of Today with Hoda and Jenna were recently a topic of conversation when they took a step of courage onto scales during their live broadcast to publicly find out how much they weigh. The co-hosts recently shared what they learned from the act of transparency.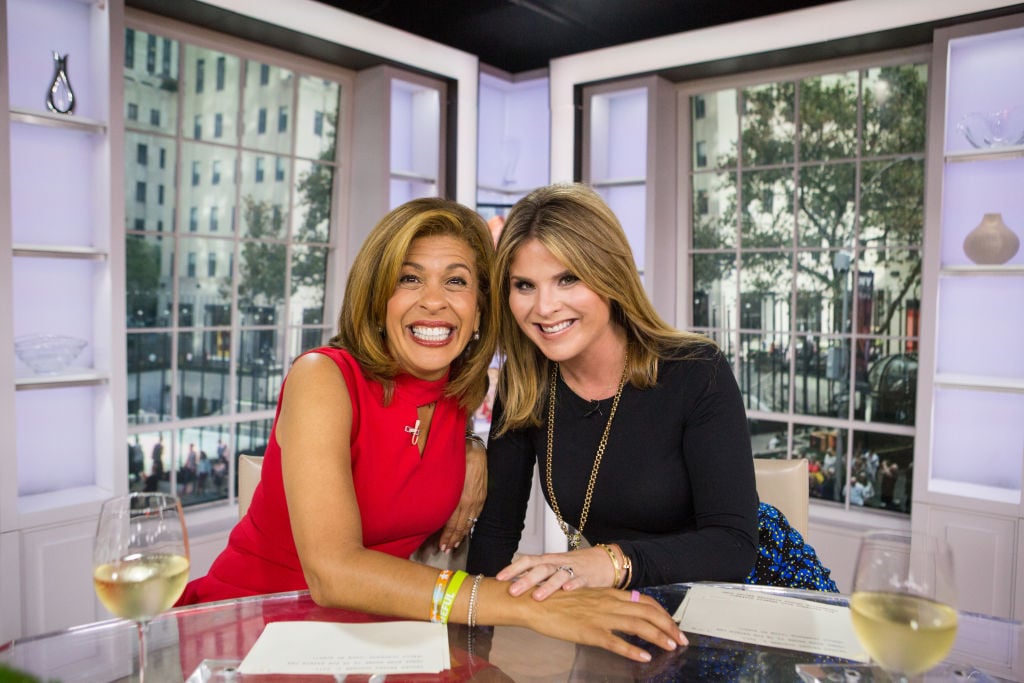 Taking the leap
Kotb and Hager wanted to get an accurate weigh-in when they decided to try out intermittent fasting, which is going without food or extremely restricting calories for a period of time. The latest popular diet trend is practiced by some of today's top celebs.
The co-hosts were nervous as they approached the dreaded scales, but Hager was determined to power through. "Okay, I haven't done this in a long time," Hager said according to People, as the moment of truth arrived. "It'll be fine… It's like jumping off a cliff."
Taking a brave step forward, Kotb and Hager were surprised at the numbers, even switching scales to confirm the outcome. Kotb's scale read 158 pounds, and Hager's total was 171 pounds. "This is why I don't really weigh myself," Hager said, "Y'all know what is plugged into my Fitbit for real? 130 pounds. I weigh 40 more pounds than I tell everybody I do! I think I weigh twice as much as my sister."
"You just had a baby," Kotb reminded Hager.
Childhood memories
The weigh-in caused Hager to reflect some childhood struggles. "I, for a second, was transported to when I was like a chubby little girl and found a scale in my mom's room and weighed myself. And, I, for a moment, was stuck there," she revealed, according to Today.com. "That feeling of being reduced to a number is something I didn't really like."
The mom of three, who admitted she hadn't weighed herself since college, commented that her parents were even surprised at Hager's willingness to share her scale reading on live television. "My mom and dad were like, 'Jenna, why'd you do that?'" the co-host said. "And I was like, 'Why are you saying that?' and I think 'cause they saw that little 10-year-old girl who, you know, felt sad sometimes."
Kotb, who has two young daughters, had memories of her own from her youth after stepping on the scale. "I remembered wondering like, 'I wonder why guys aren't asking me out,'" she said. "Like, I knew I was bigger than the other kids. I was the bottom of the pyramid girl. I was the get in the back girl."
Despite recalling some unpleasant feelings, the altar-bound Kotb has gained wisdom from those experiences. "I do think when you have to go through things like that as a younger kid, what's weird is your childhood may have been tough in places, but it makes your adulthood so much easier," she said.
Lessons learned
The telling segment prompted the two Today stars to truly consider how they were perceived in light of a number.
"Look, we feel grateful. Don't get us wrong. We're healthy, my God no one knows better how much that matters," Kotb, a breast cancer survivor, commented. "There's something about standing on the scale and watching the number, like, not stop. I was like, 'Wait, I don't remember this number.'"
Hager agreed, hoping their transparency was helpful to other women and young girls. "It's not about the way we look. It really was about the way we feel," she said. "Being in front of other girls and women, I don't want anybody to feel less than or not enough. I hope it just means that people don't feel as alone," she said.
Kotb also saw their weigh-in as a teachable moment for their own daughters. "It taught us a little lesson," Kotb said. "I do think we're doing this because we want to feel better. We want to feel better for our girls. We want to feel happier."
"We want to teach our girls that they're so much more than the way we look," Hager added.
No wonder these two ladies are fan faves!
Read More: 'Today Show's' Jenna Bush Hager Received Some Surprise Celeb Phone Calls on Her First Day Back at Work