Today's Popular TV Shows: There's a Comic Book for That
You might be surprised to find that a lot of today's most recent and popular television shows have graphic novel companions, or in some cases, were actually based off of comic books. For those of us that have trouble waiting for the next episode, or have that one show you wait for all year, there's a couple solutions. The most obvious involves self improvement and fresh air, maybe a learn a new language or go for a jog.
The less obvious, but more entertaining and less preachy, involves finding a reading supplement. AMC especially seems to like these sorts of companions, but really they're all over. Of course, a lot of TV shows and movies stem from books or have books based off them — but a graphic novel lets you take a nervous step back from committing to the many thousands of pages of George R.R. Martin's books while still getting a nice visually-accompanied story. Don't get me wrong — absolutely read his books. But here are some graphic novel options for Game of Thrones and more.
1. The Walking Dead
Before anyone gets defensive — yes, The Walking Dead graphic novel came first, a black and white, humorously gruesome ongoing series. But as with many things, sometimes people don't notice written items until they've wandered across the TV screen — it's just how things work. What this means is that like any television series based ona book, you can read ahead or, retrospectively, see what could have been or what will happen in the next season.
This is especially useful for those who have interest in the writers intentions, who want to know what happens to Rick, or who dies next. There are shows like Dexter, which are based off of books that keep to drastically different timelines and storylines. The Walking Dead comic book was written by Robert Kirkman, who has also been involved in the creation of the television series — meaning the two works are more likely to be interchangeable and follow similar plots.
2. Bates Motel
Anyone that has watched the first season of Bates Motel may recall that young Norman found a rather graphic illustrated journal that turned into an important plot device in the first season. The same manga-style Chinese journal is now available free via iTunes for users of apple iBooks or iOS devices. Overall, reviews of Jac's Sketchbook are highly positive, especially from fans of the show who like the supplemental material for the storyline.
Stylistically, the book retains very much the same illustration design as shown in Bates Motel episodes, including a few of the pages seen in the episode. One of the major complaints reviewers had was with the language — Chinese characters are used throughout the graphic novel — however, it would appear that there's a translation function in the comic book to aid readers.
3. Breaking Bad
Considering the Breaking Bad franchise's incredible success, it's unsurprising that the makers would follow through on any possible revenue source — and AMC doesn't disappoint fans of the written story. The website has available an interactive graphic novel in which the reader plays the character of DEA agent Hank in an investigation.
The drawing style matches what you'd expect while still allowing you to choose his questioning methods, sort of like a point and click game, or a choose your own adventure novel. While not the most conventional comic book, it is at least something to tide raving fans of the recently ended show over, until AMC's follow up spinoff Better Call Saul begins to air.
4. Game of Thrones
As previously mentioned, Game of Thrones does indeed have a comic book version of the series — though much like the book, it's a work in progress. Volumes one, two, and three are already out thanks to the combined efforts of George R.R. Martin and Tommy Patterson, and fans of the books and TV shows will be comforted to know that the content is pleasingly similar to the official storyline.
The illustration style is classic fantasy, nothing overly stylized; just what you'd expect, though still well done. If you've already read the released books and watched the seasons to date, you may be overly familiar with the story and aching for something new. In that case, Martin has both The Sworn Sword and The Hedge Knight released in graphic novel form, two stories set in the century leading up to the events of Game of Thrones.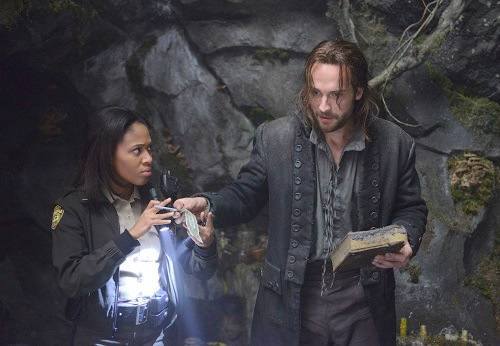 5. Sleepy Hollow
Now here's where things get a little confusing. See, Sleepy Hollow was obviously a book — written by Washington Irving long before it made it to TV. It went through multiple movie versions — one starring Johnny Depp — before it made it's way to becoming a modern day adaption as a Fox series, starring Tom Mison, Nicole Beharie, and Katia Winter. It was, unsurprisingly, turned into a number of different comic book forms long before the show began being produced in 2013.
Most of the options out there involve simplified illustrated versions of Irving's original work, deviating little, or in unoriginal ways from the book itself. However, one version, The Vengeance of Sleepy Hollow: Origins, written and illustrated by Bobby Akers and published in 2013, is more in keeping with the television show's unique take on the story in that it takes an alternative look at Sleepy Hollow's background. While perhaps somewhat flash, the illustration is also more modern compared to some of the classic, but older, illustrated versions.
6. Supernatural
DC Comics has three separate graphic novels surrounding the Supernatural storyline, and they're arguably written and illustrated well enough to be worth reading regardless of whether or not you've seen the CW series.
On the other hand, if you enjoyed the show and want a glimpse into John Winchester's hunting background, the Supernatural: Origins series is worth a look, co-written by Peter Johnston — co-executive producer of the show, and illustrated by Matthew Smith, who worked on Hellboy, Sandman Mystery Theatre, and Generation X.
If you've more an interest in Sam and Dean's childhoods, Supernatural: Rising Son is a second graphic novel series that fits the bill, going into the life of the boys growing up on the road. The series is once again co-written by Peter Johnston and illustrated by Diego Olmos. Finally, if you want to know about the years just preceding Sam's departure for college, there's a third series, Supernatural Volumes once again illustrated by Diego Olmos, but this time written by Andrew Dabb and Daniel Loflin, with the notable lack of Peter Johnston.

7. Mad Men 
Odd as it may seem, Mad Men, the television show about an ad agency, its employees, their wives, and the tumultuous period in history surrounding them, has an illustrated guide to go along with the show. The book itself isn't story-driven — more a collection of recipes, hair style tips, and humorously dated era-appropriate items.
However, if you like the time period and find that sort of sexist but visually interesting get-up entertaining, it may be worth taking a look at the book. There's even a cutout doll of Joan — red hair, cigarette, and gartered undergarments included.
This is just a sample of the more recent and popular television-related comic books. If a favorite series got cancelled or you miss an old show that's no longer around, dig about a little bit. You'll be surprised how many series have books or graphic novels waiting for you. This includes Dresden, Firefly, Buffy the Vampire Slayer, and possibly even Pushing Daisies.
More From Wall St. Cheat Sheet: