Tom Brady Says Wife Gisele Bündchen Makes Him Do The Most Bizarre Pre-Game Rituals
Tom Brady and Gisele Bündchen are the power couple we hate to love. Though many people around the country would root for almost any team besides the New England Patriots, Brady and Bündchen manage to live an intriguing life that we all want to know more about. And Brady admitted earlier this year that Bündchen is the one behind his most bizarre pre-game rituals — and his success.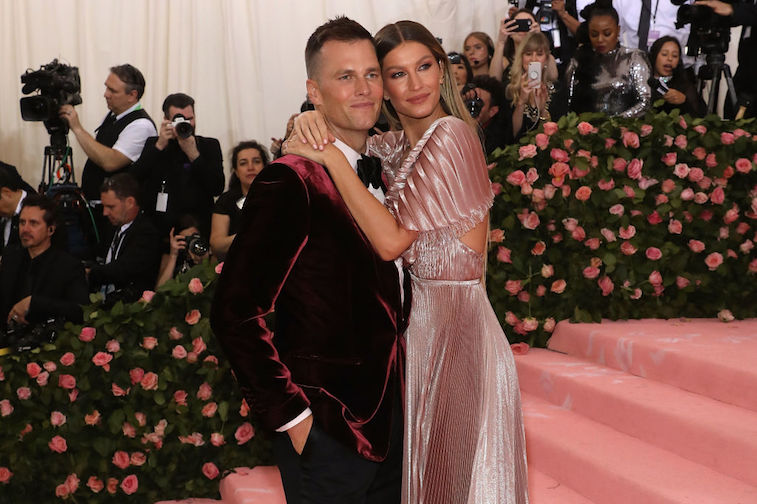 Bündchen has been Brady's rock through a lot of his NFL career
Brady and Bündchen's relationship started out unconventionally: They were only together for a short time when Brady learned his ex, Bridget Moynahan, was expecting a child — and he was the father. Bündchen and Brady were in a very new relationship, and though she debated leaving him, she ultimately decided to stick it out. Since then, the two have become an absolute power couple whom people love to hear about. They're insanely healthy, so in love, and have been there for each other through the ups and downs. Primarily, Bündchen has been Brady's rock for the better part of his NFL career. And he credits his success to her crazy rituals.
Brady once said that Bündchen makes him an 'altar' before each game
Brady has three children, and though it's not uncommon for people to have photos of their kids at work, things are a bit different with Brady. Earlier this year, he told CBS that Bündchen creates an "altar" for him before every game. It's apparently filled with photos of his kids and helps him focus beforehand. "… She always makes a little altar for me at the game, because she just wills it so much. So she put together a little altar for me that I could bring with pictures of my kids," he said.
Bündchen has Brady use healing stones and repeat mantras, too
Though the altar with his kids is different, there are some even more bizarre rituals. Bündchen also has stones for Brady to use prior to games. The stones vary in their meanings; some are for healing, some are for protecting, but all serve some purpose before he plays. "… She has me wear a necklace and take these drops she makes and say all these mantras," Brady said. He didn't go into detail about what the drops consist of or what the mantras are, but he does say they help him win. He noted that he thought it was kind of crazy at first, but since the better part of his career happened after he married her, he has stopped questioning all of her pre-game requirements. "I stopped questioning her a long time ago. I just shut up and listen."
Brady also claims his wife is psychic
In addition to the altar and the stones, Brady said that Bündchen always knows whether or not he is going to win. He revealed that she predicted 2014 would be his best year yet and that he wouldn't come home with a ring in 2015. "… She said, 'I just want to let you know, this is not going to be your year,'" Brady revealed. Turns out, she was right, and the Patriots didn't win. But she supposedly told him he'd win another ring in 2016. After the Patriots won it all that year, Bündchen told him, "You're lucky you married a witch; I'm just a good witch." Whatever Bündchen is doing, it seems to be working for him.