Tom Hanks Didn't Like the David S. Pumpkins Sketch When He First Read It
One of the most popular Saturday Night Live sketches of 2016 was "Haunted Elevator," which gave birth to David S. Pumpkins. But although this sketch would turn out to be extraordinarily popular, Tom Hanks didn't like it when he first read the script.
Former Saturday Night Live cast member Bobby Moynihan recently appeared as a guest on Late Night with Seth Meyers, and he mentioned the fact that Tom Hanks actually didn't want to do the sketch at all.
"Tom Hanks, in between dress and air, not a fan of the sketch," Moynihan said. "Thought it was very bizarre. In between dress and air, was like, hey, I think Chris Hemsworth would make a great David Pumpkins."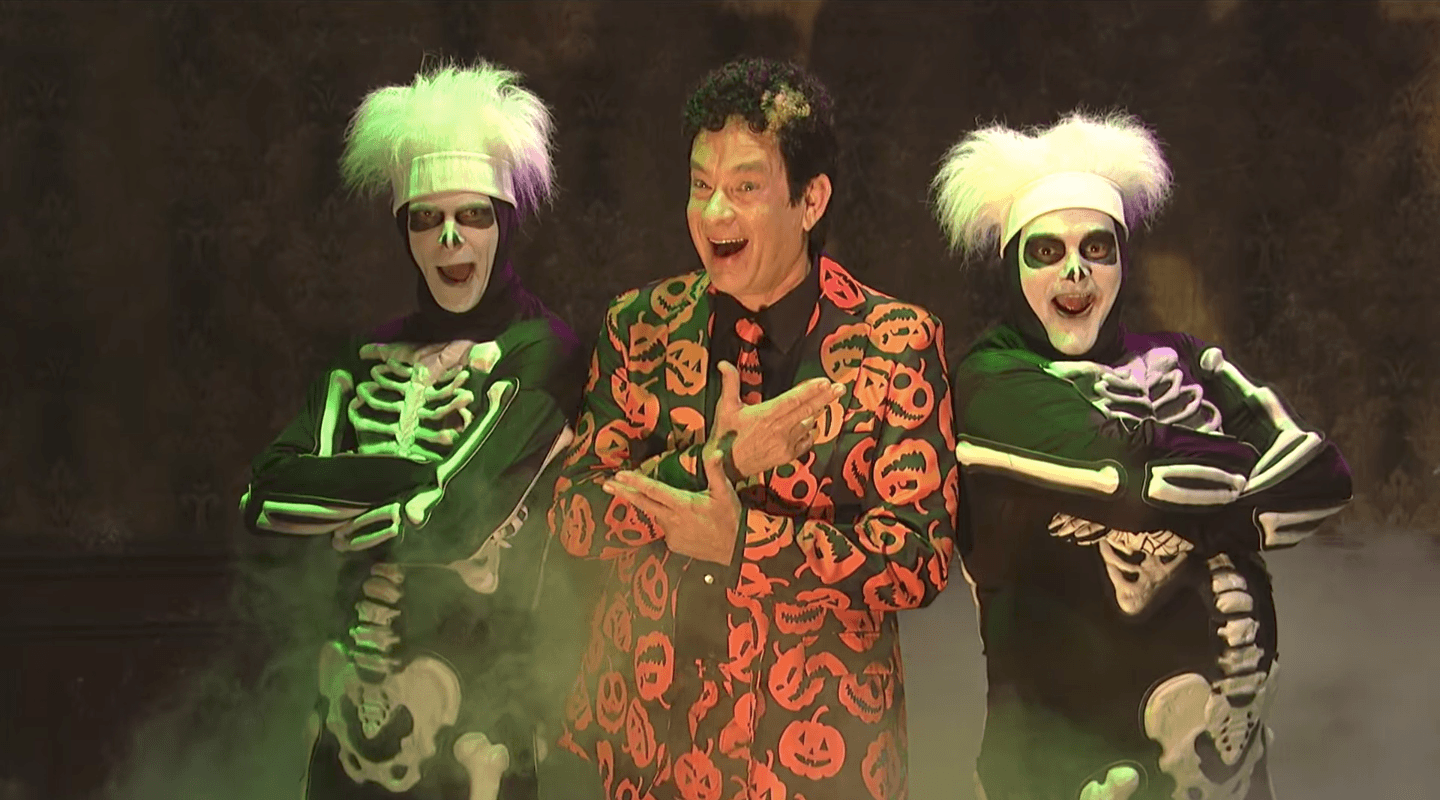 Chris Hemsworth was hosting the following week's episode of Saturday Night Live, so Hanks was suggesting that they remove the sketch from his show entirely because he didn't like it. But in the end, the David S. Pumpkins sketch stayed on Tom Hanks' episode, and he ended up coming around on it.
"But now he's very happy with it," Moynihan said.
Clearly, Tom Hanks ended up being happy with the sketch, as he returned as David Pumpkins on the season finale of Saturday Night Live in May. This wasn't a sequel to the original Haunted Elevator sketch, though. Instead, David Pumpkins appeared at the end of a Rap Song sketch in which the song becomes increasingly crowded with other artists. This time, he was "David S. Pimpkins."
Recently, Tom Hanks tweeted a photo of a script for a new David S. Pumpkins sketch, suggesting he's returning as the character on Saturday Night Live soon. That probably won't happen until October, but it's possible that Hanks was recently filming a digital short that will air as part of an episode next month.
Any questions? Hanx. pic.twitter.com/6rv6Cxx3DH

— Tom Hanks (@tomhanks) September 14, 2017
While speaking on Late Night with Seth Meyers, Bobby Moynihan explained that the David S. Pumpkins sketch was inspired by a video of an Indian man dancing.
"There's a video of an Indian guy dancing around, and every once in a while he stops and the music stops," Moynihan said. "And we thought that was really fun, and we were like, 'Let's write something where we're dancing.' And then it was Halloween, and we said, 'There's no Santa Claus for Halloween.' So we were like 'Okay, so if we make this guy, and we're his side dancers…' And Mikey [Day] was like 'How about David Pumpkins?' And I was like 'How about David S. Pumpkins?' And the rest was history."