Tom Hanks is Mr. Rogers' Doppelganger in Trailer For 'A Beautiful Day in the Neighborhood'
Thanksgiving will be extra warm this season with a movie about Mr. Rogers in theaters. For those who want to know more about the man behind the popular children's television show, Tom Hanks seems to capture his essence perfectly in A Beautiful Day in the Neighborhood.
The trailer for the film shows the award-winning actor as Fred Rogers, dressed in his signature sweaters and speaking in his characteristic soft-spoken tone. Hanks has nailed the look and demeanor of the Mr. Rogers, and fans are already getting misty-eyed with nostalgia about the chance to see the late Mr. Rogers in a new light.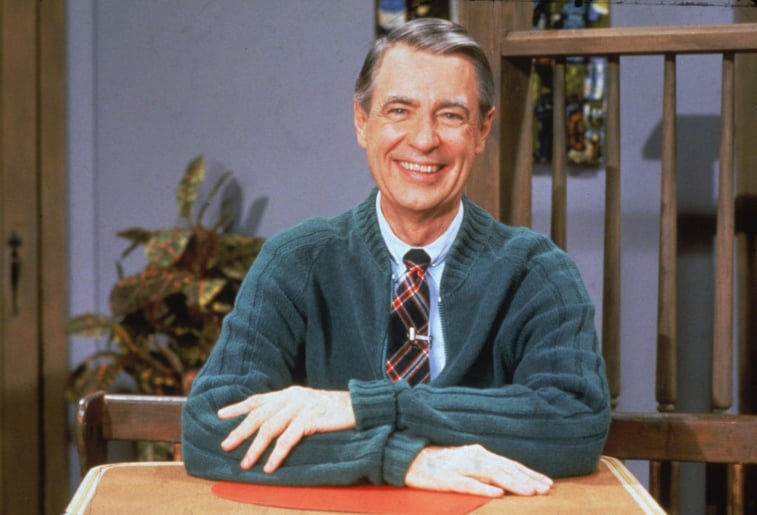 What 'A Beautiful Day in the Neighborhood' is about
Last summer, the documentary, Won't You Be My Neighbor? was released to critical acclaim, and it offered a look into the personal and professional life of Fred Rogers. Long considered a symbol of American decency—especially in the world of children's programming—Mr. Rogers was celebrated in pop culture once again. The creation of that documentary was made possible with the help of Mrs. Joanne Rogers, his widow.
This film is a bit different. Besides seeing what went on while on the set of Mr. Rogers' Neighborhood, fans are along for the journey about how the famous TV host affected one man's life. Sony shared a description along with the trailer that reads:
"Tom Hanks portrays Mister Rogers in A Beautiful Day in the Neighborhood, a timely story of kindness triumphing over cynicism, based on the true story of a real-life friendship between Fred Rogers and journalist Tom Junod. After a jaded magazine writer (Emmy winner Matthew Rhys) is assigned a profile of Fred Rogers, he overcomes his skepticism, learning about empathy, kindness, and decency from America's most beloved neighbor."
The story is less of a biopic and more of a tale about the developing friendship between Mr. Rogers and Lloyd Vogel, the writer who was doing a profile on the TV icon for a magazine. Compassion, patience, and stillness are overarching themes.
The appearance of Daniel Striped Tiger and King Friday is sure to take you back, as will the sight of Hanks changing his shoes. What's really going to get you is the subway scene at the end of the two-minute teaser, where a group of children and adult fans spot Mr. Rogers on the train and sing the show's theme song. Sniffle.
What Mrs. Rogers thinks about the casting
When discussing the book, The Good Neighbor: The Life and Work of Fred Rogers at an event last year, Mrs. Rogers brought up Tom Hanks and the new film. She is quite pleased and provided input for the project.
According to Trib Live, Hanks did his homework, asking her if Mr. Rogers spoke in the same manner all the time (he did) so he could get the smallest of nuances down. Mrs. Rogers saw him in costume during filming in Pittsburgh and thinks "Hanks looks a lot like her late husband, especially with the 'wig and eyebrows,'" and she believes he's a perfect fit.
How the movie honors Mr. Rogers and his legacy
Director Marielle Heller talked to Entertainment Weekly about how she wanted to keep Mr. Rogers alive in the film. Heller shared that scenes were filmed in the same studio where Mr. Rogers' Neighborhood was shot, using much of the same equipment. Props and pieces of clothing were loaned from Mrs. Rogers herself:
"We recreated Mr. McFeely's costume, but his bag is the original. Every tie he wears is a real tie of Fred's. Joanne, his wife, gave us access to his closet and was like, 'Take this stuff, please! I don't know what to do with it!'"
Most of all, she wanted to capture his quiet nature and charm, saying that they had to work with Hanks to get that part right.
"He's got a loud voice; he walks into a room and you know that he's there! He shakes everyone's hand, he's really funny, there's never an awkward moment when you're around Tom Hanks; Fred allowed for awkward moments. Fred sat in silence and stillness in a way I don't think Tom naturally does. Tom Hanks naturally makes everyone comfortable, puts everyone at ease, and makes everyone feel great. Fred disarmed people by asking a question and then sitting and staring at you until you answered. My challenge as a director was to get Tom Hanks to become less Tom Hanks…. to let discomfort and painful things sit; to not make everything feel okay."
Fans of Mr. Rogers can check out A Beautiful Day in the Neighborhood in theaters on November 22.