Tom Hiddleston Takes On a Very Different Role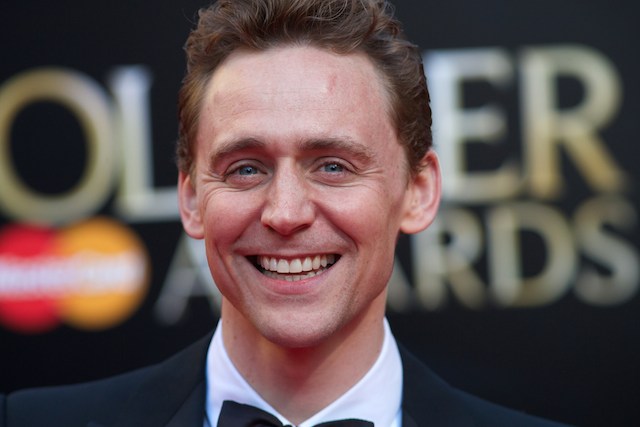 Tom Hiddleston is best known for portraying the villainous Loki in the Marvel universe, but the actor is soon going to take on a very different role. At the Wheatland Music Festival in Michigan over the weekend, Hiddleston took the stage and sang some standards by country music legend Hank Williams Sr. as the actor preps for his portrayal of the troubled and influential musician in the upcoming biopic I Saw The Light. Hiddleston sang the Williams country classics "Move It On Over" and "I'm So Lonesome I Could Cry" at the festival, according to a report from Billboard.
An English actor whom most people know for playing a super villain might seem like a strange choice to play a Southern musical legend, but Hiddleston has at least a little practice portraying a musician. In last year's Only Lovers Left Alive, Hiddleston played the tortured rock musician vampire Adam alongside Tilda Swinton as his vampire wife, Eve. That film, written and directed by Jim Jarmusch, got rave reviews. While the dissonant noise rock that Adam makes is a far cry from Williams' honky-tonk country, the two men are both brooding artists who use their music to give their lives meaning and keep their demons at bay.
Not everyone is convinced Hiddleston is right for the part. According to TMZ, Hank Williams Sr.'s grandson musician, Hank Williams III, has spoken out against the casting of a foreign actor for his grandfather, a man who embodied a very American musical tradition and values. TMZ said that Williams III wanted fellow Southerner Matthew McConaughey for the part.
This isn't the first movie made about the life of the singer-songwriter known as the Hillbilly Shakespeare. In 1980, a little-seen Canadian film called Hank Williams: The Show He Never Gave featured an incredible performance from Sneezy Waters as Hank. That movie isn't a straightforward biopic, but rather speculates about what would have happened had Williams played his last scheduled show. Williams died of an overdose of alcohol and doctor-prescribed drugs at the age of 29 on New Year's Eve 1952 on the way to give a performance that night. Despite critical acclaim for Waters' take on Williams, that movie is not widely known. There was also a musical biopic made about Williams called Your Cheatin' Heart in 1964, starring George Hamilton, but that film isn't very well-known, either.
While Marvel fans probably won't flock to the theaters to see a biopic about Hank Williams Sr., if Hiddleston does pull off a great performance in the first serious biopic about the country music great, the actor could see himself in the running for an Oscar. Academy voters love biopics about troubled musical legends. Joaquin Phoenix was nominated for an Oscar for his portrayal of Johnny Cash in 2005′s Walk the Line, and Reese Witherspoon won the award for her role as Cash's wife and fellow musician, June Carter. Jamie Foxx took home an Oscar for his take on Ray Charles just two years before.
The performances in Michigan suggest that like Witherspoon did, Hiddleston is going to do his own singing in the film and has learned guitar for it. as well. With a script co-written by Williams biographer and expert Colin Escott, I Saw the Light could give Hiddleston a solid chance to take home an Academy Award.
Follow Jacqueline on Twitter @Jacqui_WSCS
More from Entertainment Cheat Sheet:
Want more great content like this? Sign up here to receive the best of Cheat Sheet delivered daily. No spam; just tailored content straight to your inbox.