Tom Holland Has a Special Friendship With 'Avengers' Co-Stars Robert Downey Jr. and Chris Hemsworth
Spider-Man may no longer be a part of the Marvel Cinematic Universe, but as far as Tom Holland is concerned, the actors in that franchise will always be like family.
Holland has said he'll go on playing the webhead for Sony, which has been good to him, just as Disney has been. If anything, Holland is in a position to ask Sony for a raise now that he's carried two Spider-Man movies to huge successes. He may not be able to work with Iron Man and Thor again, but Robert Downey Jr. and Chris Hemsworth will always be around.
Tom Holland is friends with his Marvel co-stars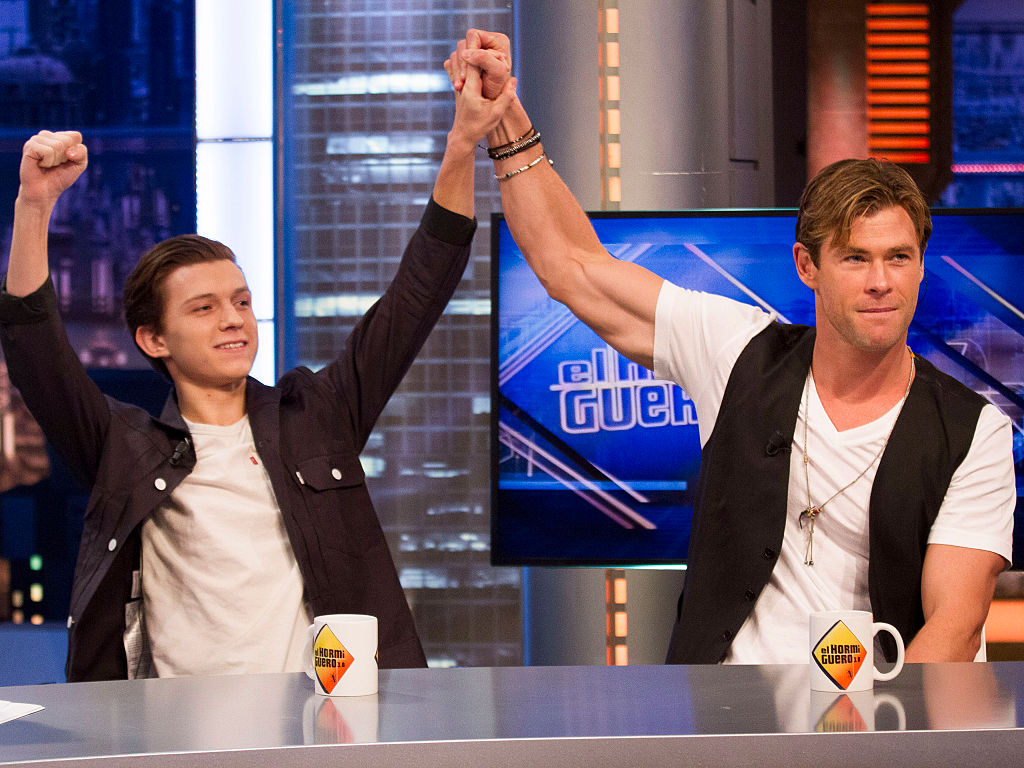 Iron Man (Downey Jr.) was very much the entry point for Spider-Man into the Marvel Cinematic Universe. So much so that Tony Stark became like the Bruce Wayne to Holland's Dick Grayson, shaping his young ward into his image. The connection was so strong that it became the focal point of the ad campaign for Spider-Man: Far From Home, as Peter Parker lamented a world without Tony.
Off-screen, Holland pals around with Downey Jr. so much that after the Sony/Disney split, some fans thought it was a stealth campaign to keep Spider-Man in the Disney neighborhood. The thinking went that Marvel President Kevin Feige did so much to tie Peter Parker to Tony Stark that even Feige would have a hard time retconning their connections.
While Downey Jr. may have brought Spider-Man to the Avengers, it was Chris Hemsworth who brought Holland to the MCU in the first place. Hemsworth worked with Holland on the Ron Howard film In the Heart of the Sea. That film disappointed at the box office, but it paid major dividends for Holland and Hemsworth later. Earlier this summer, Holland and Hemsworth cross-promoted Spider-Man: Far From Home and Men in Black International because both were Sony movies.
Tom Holland and his Sony co-stars
Holland, the onscreen MJ (Zendaya) and Mysterio (Jake Gyllenhaal) have a somewhat different bond, in that they only appeared in the Sony Spider-Man movies and not in the Avengers crossovers. Since those characters are owned by Sony, it's quite possible Holland could work with both of them again. No spoilers here, but we'll note that Marvel characters tend not to have permanent endings.
In fact, Holland and Zendaya have had such good chemistry that fans were convinced they must be dating in real life. Fans were miffed when Holland was seen with a "mystery blonde." Zendaya may be mysterious, but she's not blonde. That was a part of fame Holland didn't like.
"If you do a Google search, I'm not a tabloid person. I don't like living in the spotlight. I'm quite good at only being in the spotlight when I need to be. Um, so…uh…it just was a bit of a shock to the system. It's the first time I've ever kind of been in the tabloids," Holland told GQ.
Tom Holland tries to stay positive
Through the highs and lows of fame, Holland remains grateful for his MCU costars, saying: "I've been so lucky that I've had friends like Zendaya, friends like RDJ, friends like Hemsworth. Now a friend like Jake Gyllenhaal, where I can really kind of confide in them, 'cause they've been through it before."
Holland has followed that example, helping to calm fans' nerves when the Disney/Sony split upended some hopes and dreams. He'll still be Spider-Man for Sony and he has vowed to continue doing right by the character minus the Marvel Studios logo.
"Sony has also been really good to me, and the global success of Spider-Man: Far From Home is a real testament to their support, skill and commitment. The legacy and future of Spidey rests in Sony's safe hands. I really am nothing but grateful, and I've made friends for life along the way," Holland said.