Tom Holland Said a Scene in 'Spider-Man: Far From Home' Makes You Feel Like You've 'Been Punched in the Face'
The hype over Avengers: Endgame may be over, but that doesn't mean the Marvel Cinematic Universe is finished with fans for the summer. We remember when Tom Holland first took over the role of Spider-Man in Spider-Man: Homecoming, and he's gearing up to do it all again in Far From Home. Judging from the trailer (which contains tons of Endgame spoilers), Far From Home leaves a very distraught Spider-Man in the wake of all that occurred in Endgame, and while he attempts to take a European vacation with his friends, he's called to action.
Fans get to see familiar characters as well as new ones, and Holland himself even said there's a scene in the film that's a serious punch to the face. Here's what's going on.
We're seeing some new faces in Spider-Man: Far From Home
Through the years of Spider-Man films, we've seen the Green Goblin, Electro, and Carnage, to name a few — but this time, we're seeing famed actor Jake Gyllenhaal team up with Holland as Mysterio. Digital Trends notes in the movie trailer, Nick Fury, played by Samuel L. Jackson, explains that Mysterio is from another planet altogether but has since been able to travel to our Earth. This (as well as other conversations in the trailer) confirms that the MCU contains alternate universes that may bring in other characters over time.
As far as Myserio is concerned, fans are excited to see what Gyllenhaal will bring to the character. Holland told a group of journalists, including Collider, that while fans will traditionally think of Mysterio as a villain, that's not the case here, as "he's sort of a new addition to this world of heroes, and sort of my teammate throughout the movie." Holland adds that their relationship is "very much big brother, little brother."
Holland says the heart of the film is very similar to what we saw in Homecoming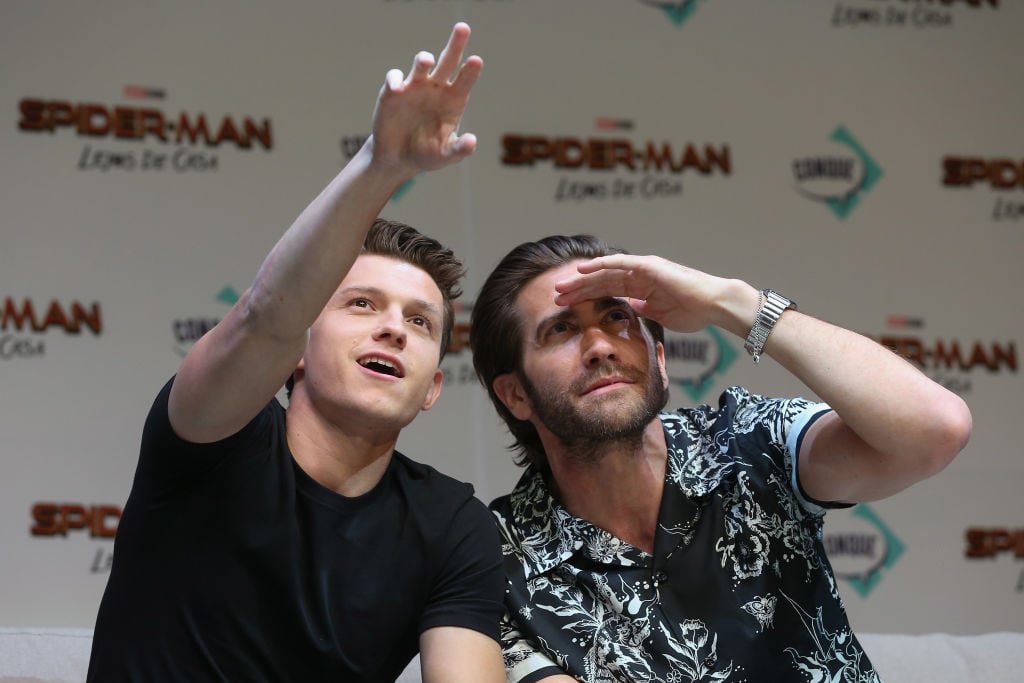 Spider-Man: Homecoming was a ton of fun, and fans are interested to see if Far From Home will give a darker vibe since it's coming off the heels of the Avengers drama. Judging from the trailer, it certainly looks like we'll be getting some intense moments — and it looks like Peter Parker will be bringing out the stealth Spider-Man suit, too. Screen Rant notes they're thinking the suit will help take out the elementals visible in the trailer, which sounds like a seriously tense undertaking.
For fans who love Spider-Man's jokes, and quips, the trailer guarantees there will be plenty of that, too, however. And Holland told Collider that the "heart" of the film is very much in line with what was happening in Homecoming. He noted that "it's really about Peter and his friends and the kids, and the light-hearted humor that they have and what happens when a group of Americans go to Europe, you know."
Holland also said there's one scene that's a serious gut-punch
We're expecting plenty of fight scenes, interpersonal drama, and love to be the center of Spider-Man's world in Far From Home. And Collider notes Holland mentioned during his interview that there's one scene in particular that he says " audiences will feel like they've been punched in the face. Even filming it, I remember walking out and then watching it again on the monitors and asking Jon like, 'Are you sure that's okay?'" Holland then noted that director Jon Watts admitted people were going to "hate this scene" because of what happens. And while Holland is known for accidentally giving spoilers away, that seems to be all he'd say about the shocking movie moment.
Will the scene include Peter's love interest (who seemingly figures out quite easily that he's Spider-Man, given what occurs in the trailer), or could something possibly happen to Aunt May? Since Holland noted there's still an extreme focus on Peter Parker's relationships with his friends, perhaps this is something to take note of.
Check out The Cheat Sheet on Facebook!