Top 5 Films to Watch This Weekend, Starting With 'Gravity'
This weekend is set to be dominated by a film opening to such immense buzz that some of the box office predictions coming out of Hollywood almost seem conservative as a result. Warner Bros.' (NYSE:TWX) 3D space epic Gravity, directed by Alfonso Cuaron and starring George Clooney and Sandra Bullock, is set to tower over the competition at the box office this weekend, but that doesn't mean there aren't a variety of studios aiming for movie-goers who aren't interested in science-fiction — or can't purchase tickets to Gravity because they're sold out.
Among the wide releases this week and box office holdovers, Sony (NYSE:SNE) will be debuting one of its films that's received early Oscar-buzz leading up to release. Captain Phillips, starring Tom Hanks and directed by Paul Greengrass, will be released in about 800 theaters on Saturday night, ahead of its October 11 release date.
Based on the true story of a cargo ship overtaken by Somali pirates, the film is believed to be Sony's best shot at an Oscar this year and, along with Gravity, represents the first push towards the Oscars. Here's what you can expect from the top five films at the box office this weekend.

1. Gravity (Warner Bros.)
Warner Bros. is being cautious with its predictions for Cuaron's Gravity, with expectations of a box office take around $35 million in its first weekend. However, industry analysts are much more optimistic about the film's first weekend prospects with the general prediction being that the film will make upwards of $40 million in its first weekend. But given the huge buzz for the film, even $40 million seems low for the 3D space feature, even if Gravity is sure to be strong holdover from week to week at the box office.
Warner Bros.'s cautious estimate revolve around October being a normally slow period at the box office. The studio points towards the similarly adult-skewing dramas like David Fincher's The Social Network ($22.4 million domestic) and Martin Scorsese's The Departed ($26.9 million domestic) as reference points for its estimates — The Social Network and The Departed were released in October in 2010 and 2006 respectively.
Yet, those films didn't offer the kind of pure spectacle that Gravity is purported to offer movie-goers along with unanimous critical acclaim. As of this writing, Gravity has received the rare distinction of being 100 percent Fresh on review aggregator Rotten Tomatoes when filtered for "Top Critics" — the film reviewers designated as having the most clout in the film criticism community. The overall score isn't far behind, currently sitting at 98 percent Fresh.
Check the trailer out below.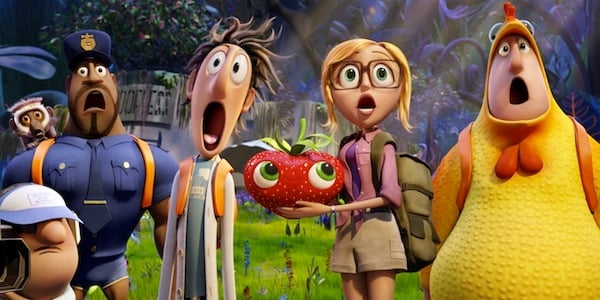 2. Cloudy With a Chance of Meatballs 2 (Sony Pictures Animation)
Sony Pictures Animation's Cloudy With a Chance of Meatballs 2 easily took number one at the box office last weekend with $35 million, which marks the fourth-biggest September opening of all time, and the film is expected to take the number two spot this weekend in a movie lineup saturated with adult-skewing dramas. While some industry analysts had expected the film to make upwards of $40 million, the final take falls in line with what Sony had expected from the film's opening weekend.
Cloudy With a Chance of Meatballs 2 cost Sony $78 million to produce and has benefitted from a strong CinemaScore rating of A-minus. The film's 2009 predecessor, Cloudy With a Chance of Meatballs, became a surprise hit for the studio when it debuted in late September with $30.3 million and went on to gross $245.8 million worldwide. Given the film's strong box office take and it's ability to easily be distributed overseas, it seems likely that Cloudy With a Chance of Meatballs 2 could end up performing better than the first film when all is said and done.
Sony worldwide president of distribution Rory Bruer told The Hollywood Reporter, "People love this franchise. As good as it will be here, it will even be bigger internationally." He continued, "The film is a big hit for us and has something for the huge family." With no other children's films set for release over the coming weeks, Sony is sure to see continued success with its animated film.
Check out the trailer below.

3. Runner Runner (20th Century Fox)
20 Century Fox's (NASDAQ:FOXA) Runner Runner is the only new wide release this week and it already seems poised for a box office meltdown, even if its first weekend in theaters might push it as high as number three at the box office. Directed by Brad Furman and starring Ben Affleck and Justin Timberlake, the film tells the story of a Princeton University student Richie Furst who goes to confront an online poker site's corrupt owner Ivan Block, and is lured into becoming Block's protégé.
The $30 million thriller from Fox is already getting the kind of critical reception that can doom a film before it ever had a chance. Alonso Duralde of TheWrap writes, "[Runner Runner] provides the world with very little except some great clips for Ben Affleck's eventual Golden Globe Life Achievement reel." Andrew Barker of Variety writes that, "Despite [its] stacked deck of a cast, Runner Runner adds up to little more than a charmless, paint-by-numbers thriller." As of this writing, Runner Runner maintains an 18 percent Fresh rating overall at Rotten Tomatoes after 38 reviews.
Check out the trailer below.

4. Prisoners (Warner Bros.)
Warner Bros. Prisoners, approaching its third weekend in theaters, has benefitted from being one of the earliest Oscar contenders released this year. The $46 million thriller starring Hugh Jackman, Jake Gyllenhaal, and Paul Dano has received strong critical acclaim en route to $46 million domestic as of this writing.
Prisoners, which tells the story of a father obsessed with finding his daughter and her friend after they're kidnapped, has received mostly positive marks from critics making the film one of the first of the fall season to see a consistent box office run due to word of mouth and critical sentiment. A.O. Scott of the New York Times writes, "It absorbs and controls your attention with such assurance that you hold your breath for fear of distracting the people on screen, exhaling in relief or amazement at each new revelation," and awarded the film 4 our of 5 stars.
While Prisoners was never expected to be a huge box office hit, look for the Warner Bros. thriller to continue to see consistent box office takes in the millions as the Oscar season gets closer.
Check out the trailer below.

5. Rush (Universal Pictures)
The Universal-distributed Formula One sports drama Rush disappointed in its first weekend, bringing in $10.3 million and debuting below Prisoners. Even more disheartening for Universal (NASDAQ:CMCSA) is the fact that Rush debuted in far more locations than Prisoners (2,297 versus 3,290). Directed by Ron Howard and starring Chris Hemsworth and Daniel Bruhl, Rush depicts the true story of the rivalry between James Hunt and Niki Lauda revolving around the 1976 F1 championship

For the film's financiers, Cross Creek Pictures and Exclusive Media, Rush is poised to be a hard sell to American audiences where Formula One racing has never captured much popularity. However, the film is expected perform strongly overseas where the film has already captured $14 million.
Despite the disappointing box office take, Rush has had a positive response from movie-goers. The film received an A-minus CinemaScore and according to Universal and the film producers, the polling results show that Rush has been successful with both racing fans and adults seeking dramas. Forty-one percent of Rush's audience identified themselves as fans of F1 and nearly 50 percent of those seeing the film were over the age of 50. Universal and the film's producers maintain that Rush will have strong legs at the U.S. box office and that the foreign box office take will ultimately make it financially successful.
Check out the trailer below.
Don't Miss: 6 Ways the Government Shutdown Affects Hollywood.