Tori Spelling's Financial Troubles Continue
Last week, Tori Spelling was irate when Rosanna Scotto peppered her with questions about her finances on Good Morning New York. Spelling's husband, Dean McDermott, spoke out about the line of questioning, too. He alleged it was "unclassy."  Perhaps, they were so mad because the entire topic is a little raw. While the couple has long asserted that stories about their financial follies were works of fiction, it looks like there is a lot of truth behind the claims. In fact, American Express just pressed the sheriff's department to enforce a previous judgment against the famous couple.
What is happening with Tori Spelling's finances?
Tori Spelling might not want to talk about her finances, but as a high-profile celebrity with financial woes, the truth always manages to come out. According to Radar Online, court documents were filed in the Superior Court of Los Angeles on August 16. The Writ of Execution basically asks the proper legal channels to enforce a monetary judgment. Spelling was ordered to pay American Express $87,000 back in 2016.
The order came just days after Spelling's earning for BH90210 were revealed. She's being paid $85,000 per episode for her involvement. She and McDermott are also on the hook for a bank loan they have failed to pay back. They still owe the bank more than $200,000.
Why are Tori and Dean having so many financial problems?
Spelling has long admitted that she doesn't know much about money. In her book, Spelling it Like it Is, she noted that her family never discussed money and that she didn't know how to function in a world where an endless supply of cash didn't exist. The real financial woes began when she married McDermott, though. Several poor real estate decisions appear to have been the catalyst for their economic downfall.
Spelling and McDermott dropped $2.9 million on a mansion in Encino. In 2011 they sold the property at a loss. According to Nicki Swift, they then purchased a smaller home, but Spelling's wanderlust forced them out. They again took a loss on the property. The family later moved on to renting homes, but they still lived far beyond their means. Their rents ranged from $16,000 per month to $7,000 per month.
While spelling has her own financial drama to deal with, it looks like she's been cleaning up McDermott's mess, too. According to Us Weekly, the mother of five has been covering the rent on her stepson's college pad. In 2018, Mary Jo Eustace opened up to Us Weekly. She claimed that McDermott's checks were bouncing and that she was planning to take him back to court when Spelling stepped in to honor McDermott's missed payments.
McDermott was married to Eustace when he met Spelling. He married Spelling just three months after his divorce to Eustace was finalized. She chronicled the experience in several books.
Do Tori and Dean's kids have trust funds?
Spelling might have only received $800,000 from her father's estate when he died, but it looks like her kids are in for a much more significant inheritance. In 2007, rumors swirled that Liam McDermott, Spelling and McDermott's first son, was set up with a $10 million trust fund by Spelling's mother, Candy.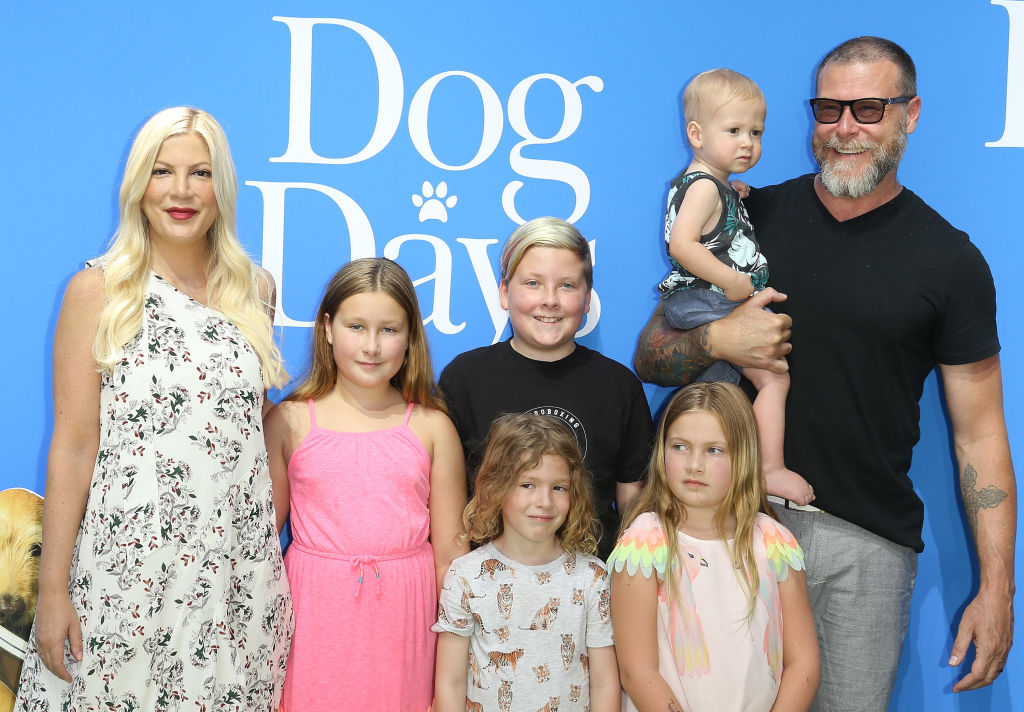 Candy Spelling has alluded to the fact that all of the kids have trust funds, but she's never mentioned how much are in those funds. She didn't reveal how or when the kids can access the money, either.
Spelling is also rumored to be helping the McDermott's make ends meet. According to Radar Online, Candy Spelling is footing tuition bills, medical bills and clothing bills for the five McDermott kids. She is no longer bailing Spelling and her husband out, though. That is likely why they are being forced to pay back the $87,000 they owe American Express via force.