'Touched By An Angel' Producer Shares the Message She Hopes Viewers Took From the Show
Nearly three decades ago, Touched By an Angel brought faith-focused stories to primetime television. The CBS drama, which premiered in 1994, was a hit with audiences, who were drawn to the series and its two main characters: Monica (Roma Downey) a recently promoted angel who works under the supervision of Tess (Della Reese). In a recent interview with the San Diego Union-Tribune, the show's writer and executive producer talked about how Touched By An Angel came to be and the message she hoped viewers took from the show.  
CBS wanted a show about angels 
RELATED: 'When Calls the Heart' Producer Teases Big Developments in Season 8
Fans have a Newsweek article to thank for Touched By An Angel. After people at the network saw an article in the magazine about how many Americans believed in angels, they decided they wanted an angel-focused series. A pilot was developed, which was when Martha Williamson was brought in. She wasn't sold. Williamson — who'd previously worked on The Facts of Life — thought the show's take on angels was all wrong. 
Rather than focusing on bringing people back to life or how angels "got their wings," Williamson proposed something different. She pointed out that most people believed in some sort of higher power, whatever their faith.
"And then I said, 'You can capture a lot of those if you just take the God that people share, the God of Abraham, Isaac and Jacob," she told the Union-Tribune. "That very God is worshipped by Islam, Judaism and Christianity. Why make something up when you've got so much to draw directly from those faiths?'"
The message of 'Touched By An Angel'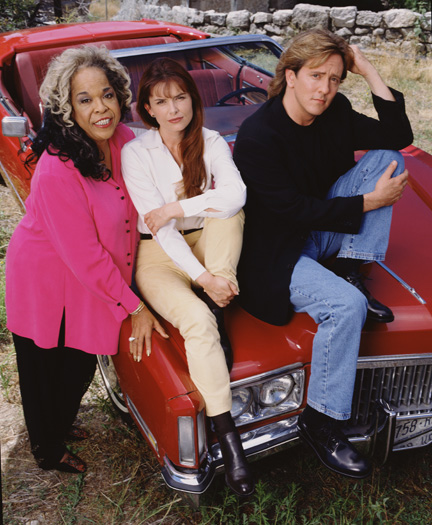 Though Touched By An Angel was aimed at viewers from different faiths, Williamson drew on her own religious beliefs when working on the show. And she said her Christianity was one reason the network wanted her to work on the series. 
"I'm absolutely certain CBS reached out to me because they knew I was a Christian, and I took my faith seriously," she said.
Williamson says the series wasn't afraid to tackle difficult questions, including why God would let terrible things happen to people. The lesson wasn't that God would solve all a person's problems, but that God could help in times of crisis.
"God exists; God loves you; God wants to be part of your life," Williamson said. But it's up to people to make choices, she added.
"And at some point, you have decisions to make in your life because God gave you free will," she said.
Star Roma Downey says playing an angel made her a better person 
Touched By An Angel ran for nine seasons, finally coming to an end in 2003 after more than 200 episodes. In a 2019 essay for Fox News, Downey, who appeared in nearly every episode, reflected on the show's impact, both on viewers and on her own life. 
She wrote that she often received letters from people who reached out to tell her how much a particular episode meant to them. She also said appearing on the series deeply affected her own life.
"Playing Monica for many hours a day, over many years, taught me so much. She made me a better friend, a better listener, a more faithful servant," Downey wrote. "I enjoyed living in her skin, and I think she brought out the best of me." 
Touched By An Angel is currently streaming on CBS All Access. Episodes also air on Hallmark Drama.
Check out Showbiz Cheat Sheet on Facebook!